If you've walked along South Park Road recently, you will have seen a tasty new development in Tremorfa in the form of new café Luvly Grub.  Just under the bridge from Splott, this cute little café caters for all at very reasonable prices and hopes to be a place for people of all ages to go and get great food and drink and enjoy the friendly atmosphere (and free Wi-Fi!).
What better way to spend a Monday afternoon than by sipping a lovely Latte (a very reasonable £1.50 by the way) and interviewing one half of the husband-and-wife team that owns Luvly Grub?
Inksplott sat down with Paul Anderson to talk about the background to the launch of the business and his and wife, Julie Lane's, ambitions for the future.
Inksplott: Thanks for the interview Paul.  Can you tell us when you opened and why you chose this spot?
Paul: We opened on the 5th of December.  We have actually owned the building for 16 years.  We used to provide care services; that was our background.  We opened a care agency here in 2002 and then moved to renting larger premises after we won a big contract in 2010.  Before that, this building originally housed a transport café.
We've tried to bring of LA to Tremorfa with an American-style diner!
Inksplott: What made you open a café?
Paul: We've been out of the care industry for the last two years and took some time off to renovate a farm house we bought.  We were going to launch a burger van, because we've always loved cooking and we love food!  It's always been in the background that we wanted to do something with food.  Julie's had a hairdresser's in Clifton Street for 28 years, but her passion has always been food and she designed 90% of the dishes on the menu here.
Inksplott: So you have a history in this area.
Paul: Absolutely.  Julie's originally from this area and my family's from Portmanmoor Road and Tenby Street.  When I was a kid my grandfather drove Jessie the engine over the steel works and then it went to Splott Park for years.  So my memories come back to this area.
We looked at premises on Splott Rd and Clifton Street and elsewhere in the area.  At one time we even looked outside of Cardiff, but we always had a passion and connection for this area.  There is a lot of unemployment and not a lot of things here and we like to give back and link with a community.
When we ran the care agency, we lived in Rumney for 17 years but always worked from this base.  It's been a good omen for us.  You need luck in business, hard work and luck, and this place has been good for us.  Originally we renovated into offices but then thought 'why not try a café' as there's nothing like what we do here in the area.
Inksplott: Did you have any help setting up the business, in terms of a grant, for example?
Paul: No, we've done it all off our own backs with our own investments; all ourselves except for the help of our families, who've always supported us in our endeavours.
Inksplott: can you tell us a bit about what you do and what's on offer at Luvly Grub?
Paul: What we do is different.  It's more of an American Diner type of burger bar than a normal run-of-the-mill café.  We're totally different from the Imperial on Splott Road or a normal builders' caff.
We specialise in breakfasts and burgers.  We have special burgers and hot dogs, which we designed ourselves.  Some are named after our dogs – either dogs or iconic famous figures, or a mixture of both (we used to have a dog called ELVIS!).  I'm a Man United fan, and we have an English Bull Terrier called Rooney, hence the Rooney Burger.  Rocky, Ali and Tyson hot dogs are named after boxers.  We chose iconic names to our own designed speciality burgers.
The Popeye burger is like a breakfast in a burger.  The Elvis burger is also popular, as is the Luvly Burger (seen in this photograph with accompanying dirty fries and coleslaw).  All burgers are just £4.50, including chips and coleslaw.
We also do dirty fries; cheesy fries and pizza fries.  Dirty fries are covered in cheese and bacon with chillies on top (you can opt out of the chilli topping if you don't like your food hot).  Pizza fries have pepperoni, cheese, onions, burger sauce and relish sauce.
Inksplott: Do you cater for vegetarians?
Paul: Yes we do!  We offer vegetarian sausage and burgers and a veggie breakfast.
Inksplott: you say on your menu that 'Luvly Grub was created to provide tasty home-made food for health conscious to the hearty eater which is reasonably priced.'  The pricing of your food is obviously important to you.
Paul: You have to be realistic this day and age.  When we go into things there's no half measures.  When we decided to go into the fast food industry, we looked at the area that we were going into and were realistic about what people can really afford.  Why should people not have quality at affordable prices?
We tried to simplify the prices.  The dearest meal anyone can have here is £5.50, which is a large breakfast and that's 16 different items on a plate.  And we will only use free-range eggs.
"In a nutshell it's town food at Tremorfa / Splott prices."
We make all the burgers ourselves, and use quality ingredients, so you won't be on a looser if you eat here.
We've lowered the price of the jacket potatoes from £4.50 to £3 – there was a little bit of trial and error at the start.
Our chicken products, like the nuggets, are made from breast of chicken.  We don't use any of that reconstituted stuff.
Inksplott: How do you cater for unusual requests?
Paul: Somebody came in and asked for beef sausage instead of pork and we added this to the menu on request.  We try to cater for people where we can.
Breakfast and chips for £4.50 means that you can pick 6 items to have with your chips and if you want six sausages, you can have em!
We have a regular customer who is dairy free, so what we would do for her, because our mushrooms usually get cooked in butter, is completely sterilise the utensils and cook everything from scratch for her.  She may wait a little longer but she gets what she wants.
There's another regular who comes in and has a sausage and a hash brown for her small child.  You don't have to have everything.  The prices are simplified to allow flexibility.
Inksplott: tell us about some of your offers.
Paul: In the morning's we've introduced a bacon bap / sausage bap and a cuppa for £2 from 7am to 9am.  We are going to be introducing a free refill on drinks.  Try to give a quality product at a reasonable price.
We do subs as well and there's pulled pork on the Rooney burger.  We pack them out.  We try and give people a genuine good deal.
Teas and coffees, it doesn't matter if you have herbal tea, normal tea or normal coffee, it's a quid.  We charge £1.50 for any Lavazza coffee or hot chocolate.  We even keep the price down on our speciality brews.
We're going to introduce tea & cake or toast & marmalade for £2.  Hopefully people will enjoy that and come in.
Inksplott: How has it been so far?
Paul: It's been getting better every week.  It's quiet in the afternoon and in the morning between 7am and 9am, but we're being realistic.  It's January and people are spent out, but it is getting busier all the time.
Inksplott: How many staff do you have?
Paul: at the moment there's four of us.  Julie, myself, Dean and his sister Nicola.
Inksplott: What about your opening hours?
Paul: We're open Monday to Saturday 7am to 4pm.  Our license says until 6pm and when the demand is there, we'll open longer hours.
Inksplott: I love the free sweets on the tables!
Paul: Before Christmas we put mince pies out but then we thought to put out free sweets because it goes a long way with people.  They may want a sweet with their cuppa.
The other thing we do for families is if someone comes in with two small children, and the milkshake is too big, we'll share it into two separate cups so they don't have to buy two and waste a load of it.  We want to give back to customers because there's more chance of them returning.
Inksplott: you seem to want to do good things for the community?
Paul: We do; we've always been like that, even when we had the care agency.  We're hoping to do a fundraiser in the near future in the shape of a Man Versus Food challenge to get the local community involved.
We're picking up regular customers in the area from the doctors next door, the school up the road and the steelworks.  When we've found our feet a bit more, do the challenge and put back into the community.  The man v Food will be along the crazy lines of a Willy Wonka theme!
Inksplott: I look forward to that!  It's really nice in here – very original.  Who did the décor?
Paul: Julie and my daughter Olivia designed the wallpaper (people think that it's tiles but it isn't!).  It's deceiving from outside.  When you come in it's like an Aladdin's cave.  The Nutcracker soldiers were bought at Costco last year.  We had singing Father Christmases before Xmas.  The Nutcracker men look nice and kids like having their photos with them.
We also have a little breakfast bar where people who are on their own can have a bit of privacy.  With the size of the property we tried to think of as many ways of utilizing it for everyday people.  Not everyone wants to sit at a table listening to other people's conversations.  We've had people come in to have a coffee and read their book in peace and quiet.
Inksplott: You don't have a telly in here.  Any reason?
Paul: I don't believe in having a telly on the wall as it can lead to people just staring at a screen. A TV would interrupt people who are having a conversation or want to come in have a coffee and a read of a book.  People interact more without television.
Inksplott: Can you summarise why should people come to you?
Paul: We provide quality products at a very reasonable price in a warm, happy environment.
We give you that little bit extra but don't charge any more for it and give a totally different menu to what you would find anywhere else, maybe even in Cardiff!  Most of the menu has been designed by Julie.
We have music in the background, have free Wi-Fi and we are open to all types of customers; young, old, business people, kids on the way to school.  One boy came in this morning for a burger on his way to school!
Inksplott: Tell us a secret about Splott or something people wouldn't know
Paul: Years ago, before it was The Imperial, the cafe on Splott Road used to use the steamer to warm pasties (before the days of microwaves).
Another thing people might not know is that Splott supplied the majority of families in Llanrumney, Trowbridge, Rumney and possibly Ely when they closed the steelworks and knocked down the block of streets south of Aberystwyth St (in terms of people being moving on to other areas).
What you had in Splott was proper, solid, community families and there's not enough of that anymore, I think.  Most of the old families are gone.  There aren't that many streets left in old Splott which is sad because it is a fantastic hardworking community to come from.  Everyone knew each other back then.
My cousin had the Splott Sports and Social Club, my nanna lived four doors up from the Bomb and Dagger pub and my father's uncle, Sammy Collins, used to have the Wimbourne.
Inksplott: Brilliant names and stunning buildings.  It really is a shame that they were taken away from the Splott community.
Inksplott: Finally, who came up with the name 'Luvly Grub'?
My wife Julie had the hair dressers in Clifton Street and opened a café two doors up called Luvly Grub.  Then she got pregnant with Olivia and couldn't run two businesses at the same time, so the café went.  The name has been there since 1996/7 so it made perfect sense to bring it back.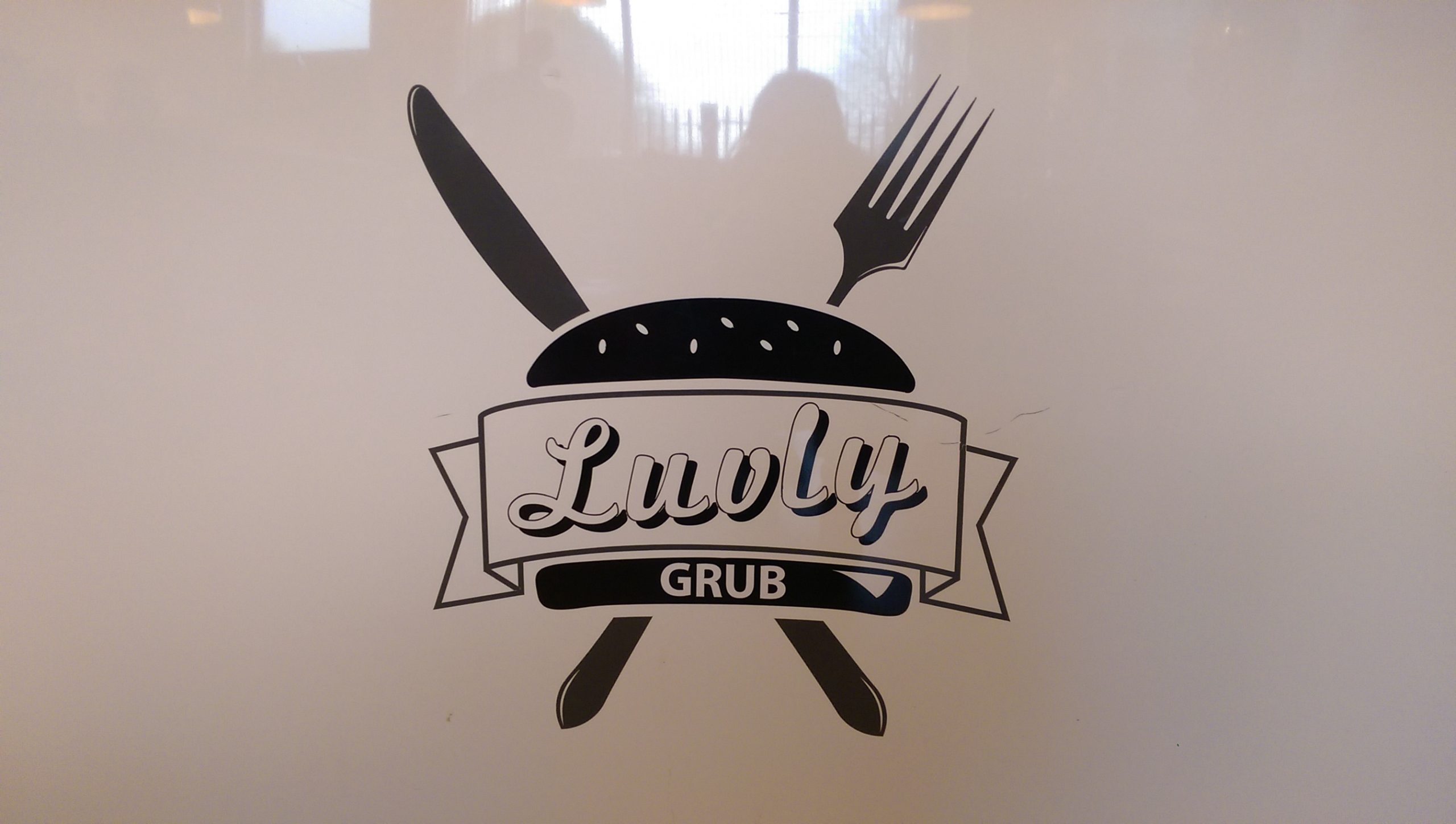 The way Luvly is spelled comes from Julie's father, who used to put in the adverts for Splott Market, 'you luvly people'.  When he sent letters to the traders of Splott Market he's say 'you luvly people, you.'
Julie designed the logo and the web page; she did it all.
Inksplott: Thanks Paul, that's fantastic!  Thanks for your time.
Open 7am-4pm, Monday to Saturday, you can find Luvly Grub at 17 South park Road, Tremorfa, CF24 2LU (next to Coughmore Surgery) or
Call them on 029 20471868
Email them at info@luvlygrub.com
Visit their website at www.luvlygrub.com
Find them on Facebook https://www.facebook.com/LUVLY-GRUB-950860245040470/?fref=ts
Follow them on Twitter @luvlygrub