How an oasis in Splott is helping refugees share their stories through food
For refugees, food is a binding part of their culture. During times of conflict and civil unrest, it becomes a way to bring the local community together and care for one another. For these refugees who are living in Wales, cooking has become a way of expressing themselves and sharing their story with others.
Dani Ebrahim is one of these people. Growing up in Iran, food was an important part of his culture and when he arrived in Cardiff in 2019, he missed the tastes and flavours of food from home. Subsequently, he joined culinary project, The Plate which is run by refugee and asylum seeker charity, Oasis Cardiff.
The project trains refugees and asylum seekers in culinary skills and gives them the real-life experience needed to move into a job in hospitality and catering once they receive refugee status. Many, including Dani, have gone on to become employees at Oasis Cardiff or work in kitchens across the city.
Lead by chef, Matt Davenport, Dani and the rest of the team have built their skills in the kitchen through developing and cooking recipes for multiple events in Cardiff and are now ready to work within a live café setting at Kemi's Pontcanna. The team will share their traditional homemade recipes in a six month pop-up, every Tuesday and Wednesday from 23rd March.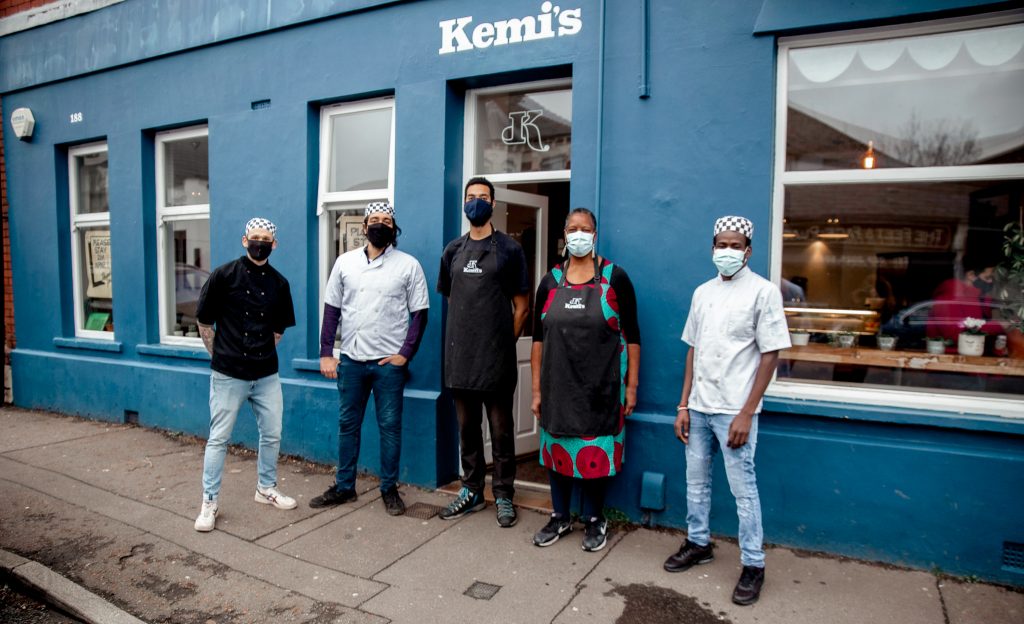 The menu displays recipes from seven different countries, each of which have been passed down through multiple generations and brought here to Cardiff such as an Iranian classic, Kookoo Sabzi, North African breakfast, Shakshuka, Gambian porridge, classic Ethiopian desserts with plenty more options for those who wish to expand their palate and enjoy trying new food.
Dani says,
"When I'm cooking nothing else matters and my mind is completely free. It's an honour to get to share some of the recipes that have been passed through my family, here in Cardiff. It's my way of sharing a part of my journey and saying thank you for welcoming me here."
Hafiz, who is another chef in the project says,
"This is the food that makes us who we are, and we want everyone in Cardiff to be able to enjoy the tastes that reminds us of home."
Matt, Catering Manager at Oasis Cardiff, says,
"Oasis Cardiff is a melting pot of cultural heritages from across the world and that's what has formed the heart and soul of this menu. Cooking can be an incredible form of healing and connecting with others which is what makes each of these dishes so special."
The team will take over the café for six months, and all of the money raised from the project will be put back into the organisation, contributing towards further help, activities and regular training for refugees and asylum seekers who have expressed an interest in cooking and catering.
Kemi shares,
"The menu is full of really unique flavours and I think people will be amazed by what these guys have put together."
Oasis Cardiff:
Oasis Cardiff is a charity that supports refugees and asylum seekers in Cardiff to help them to integrate within their local community. Oasis Cardiff supports approximately 200-250 people daily by providing lunch and dinner 5-days a week, wellbeing sessions, application support, online English classes and more. This includes people from Iran, Iraq, Afghanistan, Sudan, Mali, and Congo among many other countries.
The Plate:
The Plate is a project delivered in partnership with Oasis Cardiff, which aims to involve and engage the local and the wider community in the work the charity conducts with refugees and asylum seekers. The project enables Oasis Cardiff to deliver regular community events, inspired by the culinary prowess of our clients, in which we hope to create a melting pot of cultural food heritages from around the globe.
For regular updates please follow @OasisCDF on Facebook, Instagram and Twitter