Beresford Road bridge closes this Saturday until next March and Cardiff Council has issued the official diversion route.
Despite earlier indications from Network Rail that traffic would be guided down Rover Way and through Tremorfa, the route published today directs traffic down Moorland Rd, along Courtenay Road, Walker Road and East Tyndall Street and over newly opened Windsor Rd bridge.
"Network Rail has conducted a survey across Cardiff of all the main bridges and their usage in terms of traffic, pedestrians, peak times during the day and traffic flow at night and their suggestion to Cardiff Council who, as the Local Authority will advise on the official diversion route, to divert traffic along Rover Way and through Tremorfa." Karl Gilmore, Project Manager, speaking to Inksplott at the residents' meeting in April.
To read the full interview with Karl and fore more information about the closure of the bridge, click here.
The Council has informed Louise Clarke, local Splott resident, that the published route is for non-resident traffic and that residents will use Newport Road or Ocean Way.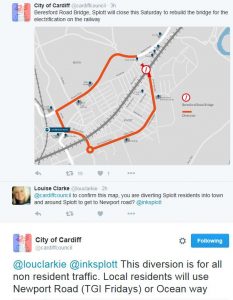 According to Mr Gilmore of Network Rail, Diversion maps will be publicised locally through flyers and posters in shops, libraries etc., and via social media, so Splottlanders can expect to see the route advertised locally from this week.
Do you live close to the diversion route?  What impact do you think the route will have on your day-to-day?
If you were in charge of the diversion route, how would yours differ from the one picked by the council?  Inksplott would love to hear people's ideas.
To have your say on the diversion route, use the comments box below.