This year Cardiff's biggest, boldest, brassiest band celebrate 25 years of making music in South Wales and beyond. Ladies and gentlemen, welcome to Wonderbrass25!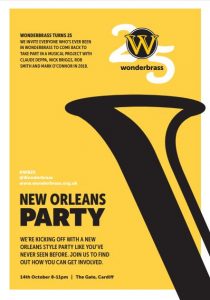 Supported by the Heritage Lottery Fund, Wonderbrass will pull out all the stops with a collaborative, multimedia performance project, launching on October 14th 2017 in The Gate at Cardiff's Made in Roath festival.
For those not in the know, Wonderbrass is a 25 piece band playing music from around the world, in Cardiff and beyond.  Inksplott was delighted to feature a piece on the band earlier this year as lots of its current members hail from sunny-old-Splott.  You can read more here.
As part of the 25-year celebration, the trumpeting troupe will be making films, writing and performing new compositions, developing a digital archive, running collaborative musical storytelling workshops with musicians Claude Deppa, Nick Briggs, Dr Rob Smith and Mark O'Connor and sharing the eclectic mix of  Wonderbrass experiences accumulated over the past quarter century.
But the best thing, I reckon, is that they'll be inviting ALL previous members of the band to join them on stage for a spectacular, roof-raising, ear-splitting, rip-roaring celebratory performance of brand new material in 2018.
The New Orleans-style big band, founded by Dr Rob Smith in 1992, takes a unique approach to music and performance.  Over the years, Wonderbrass has welcomed hundreds of musicians, playing myriad  instruments from harps to sousaphones. The band's unique sound and signature performance style has become iconic of the South Wales performance scene.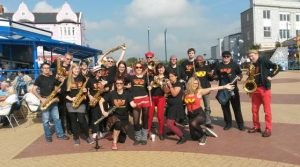 So if you've ever been affected by the phenomenon that is Wonderbrass and would like to share your story you can get in touch with them at WonderbrassWales@gmail.com
To keep up with the project's latest developments and gigs you can follow the band on Twitter @Wonderbrass, via #WB25 or through the Wonderbrass Facebook page and website.