Singing, quizzing, animation, spring cleans, potting, planting and fancy dress; there's lots going on in Splott over the next few weeks and it's mostly for free!  Here's a handy guide to what, when and where.
FREE: Willows Community Choir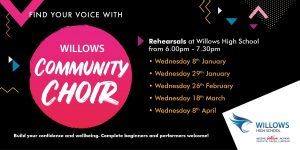 26th February, 18th March, 8th April
Willows High School, Tremorfa
Find your voice with Willows Community Choir this Wednesday 26th Feb from 6pm. Everyone welcome and it's all free!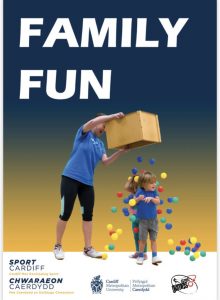 FREE: Sport Cardiff Family Fun
Every Thursday from 27th February to 23rd April
3.30pm – 4.30pm
Oasis Centre, Splott Road.
Family Fun is an eight week, free and fun physical activity programme for the entire family from Sport Cardiff, Cardiff Met and Street Games Wales.  Learn new skills through playing, exploring, and learning games the whole family will enjoy!
FREE: Learn to sew
Five week Basic Sewing Course starting 28th February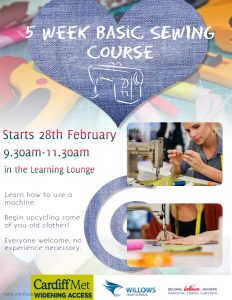 9.30am – 11.30am
Learning Lounge, Willows High School, Tremorfa
Learn how to use a machine, begin upcycling some of your old clothes.  Everyone is welcome and no experience is needed.  Provided by Cardiff Met and Willows Learning Lounge.
FREE: Fancy dress Parkrun
Saturday 29th February
9am
Tremorfa Park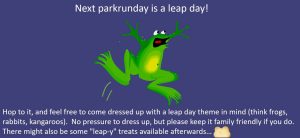 Free, weekly, timed 5k walk/jog/run for all ages & abilities. 9am each Saturday. Organised by volunteers. Register on the website, print your barcode & join in!
The next parkrunday is also LeapDay and organisers would love to see any leaping-themed outfits you want to sport (maybe not horses though – delicate subject!).
https://www.parkrun.org.uk/tremorfa/
FREE to children under 10, £5 otherwise: St David's Day Community Meal and Quiz Extravaganza
Sunday 1st March
4pm – 9pm
The Old Library, Singleton Road, Splott
Join Splott Community Volunteers for a St David's Day Community Meal and Quiz at the Old Splott Library on Sun 1st March at 4pm. £5 per person and bring your own bottle!
An inter-generational Community Celebration Meal with Welsh foods such as Cawl, Leek & Potato Soup, Bara Brith, Welsh Cheeses, Welsh Cakes, etc., together with a fun Quiz about Wales. There will be an Eisteddfod round where folk can sing, play an instrument, recite a poem, etc., to earn additional points for their team. Additional points will also be awarded to each individual who is proud enough to wear Welsh dress or rugby strip. There will be a storyteller, music and a raffle, plus a monetary prize for the winning team. Children's corner with lego and stories for toddlers, but everyone else is encouraged to join in the team spirit. Just £5.00pp, children under 10 free. Bring your drinks of choice but refreshments will also be available. Numbers will be limited so book soon.
More info here: https://www.facebook.com/events/2012467832232915/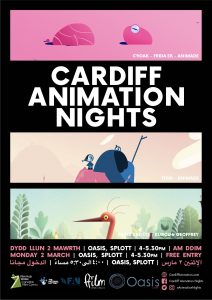 FREE: Cardiff Animation Night 
Monday 2nd March
4pm – 5.30pm
Oasis Centre, Splott Road
For the first time Cardiff Animation Nights is coming to Splott!  An hour of short animation from around the world and suitable for all ages will be shown.
From £1: Mega Seed Sowing & Cuttings Workshop
Saturday 14th March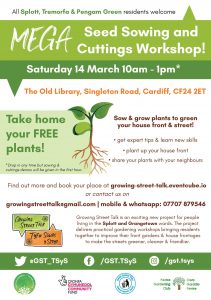 The Old Library, Singleton Road, Splott
On March 14, Growing Street Talk is launching their 1st workshop of 2020 with a Mega Seed Sowing & Cuttings Workshop! All Splott, Tremorfa and Pengam Green residents are welcome to join in. Liz and Michelle want you to grow lots of plants for yourself and your neighbours to help transform your street!
For info & to book: https://tinyurl.com/u49a5yj
FREE: Keep Splott Tidy Big Spring Clean
Sunday 22nd March
9.30am – 12.30pm
Willows High School, Willows Avenue Entrance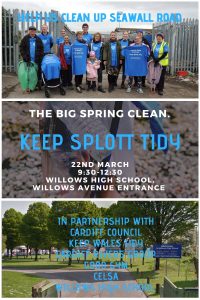 Join Keep Splott Tidy, Cardiff Council, Keep Wales Tidy, Celsa, Good Gym, Keep Tremorfa Park Tidy and pupils and staff from Willows High School to clear Seawall Road as part of the Big Spring Clean!  Equipment will be provided and time credits will be on offer.  The road will be closed, so it's safe for kiddywinks too 😊
Find out more here: https://www.facebook.com/KeepSplottTidy/