Over the next few months, Inksplott will feature interviews with local artists as part of a new series of Splottlight pieces highlighting the wealth of creative talent living in our glorious corner of Cardiff.
We start with Francesca Dimech, an actor, musician and wordsmith living in Splott and currently performing in the play 'Enough is Enough', a dark humour piece designed to challenge, dare, call out and make people think about domestic violence.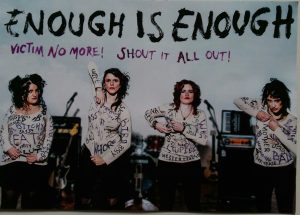 The tour of the play starts today, Tuesday the 24th January, in Newport and can be seen in 24 different venues across Wales between now and the 8th of March.  For a full list of venues and dates, go to www.enoughisenough-theplay.com
Inksplott: Hi Francesca, great to meet you.  Tell us a little more about 'Enough is Enough'.
Francesca:  The play is by Be Aware Productions, a theatre group / company put together to raise awareness of issues that are taboo.  It is a play all about violence against women and the patriarchal system.   We tell stories through songs and is a play in the form of a gig that we're calling 'Artivism'!  It's a protest in the form of a gig.  The songs tell stories of real life women from the UK and their experiences.
Enough is Enough is written by Meltem Arikan and directed by Memet Ali Alabora, both of whom are Turkish nationals living in Cardiff.  Both had recognition in Turkey and put on a play a few years ago called Mi Minor, but the government in Turkey accused them of inciting riots and they are now living in Cardiff in exile.  They put together this production to raise awareness of the issues around domestic violence.
It's a play with a strong message and is a massive emotional roller-coaster.  We are presenting real issues and stating that everyone contributes to the mess that we're in; women and men.  It's about people not speaking out about what they're going through.  Lots of this violence is allowed to happen.  Everything has cause and effect.  Today more than ever it's really important to say these things with Trump in America and the women's marches taking place.
"It feels like more and more men think it's OK to pinch your arse.  This is our contribution to fighting that.  We're presenting questions, not answers, and trying to make people think about the consequences of their actions."
Another message that we're presenting is to not assume.  There's a big assumption that we treat women fine here in the west and it's the east, it's Muslims that treat women badly.  People don't think it's in their culture.  We're trying to put up a mirror to say that you are responsible as well.  Our culture is the same – stop passing the blame.
Meltem has been meeting with women's groups and organisations and has compiled real life stories and put them in to the show.  She wrote a collection of people poems that we turned into songs.  All the stories are punctuated with the poem songs.  It's very gritty, with rock, punk, tango, acapella, ballads.  It's amazing being involved with it.
Inksplott: Is there an opportunity for the audience to get involved?
Francesca: After each performance we're going to hold a 'shout it all out' session which will give the audience an opportunity to discuss with their community the issues raised in the performance.  To talk about the play but think about the issues and talk about what they can do as a community and as individuals to stamp out the violence.  We want people to be angry and challenged.
Inksplott: You're playing at some interesting venues across Wales, like the Talbach Rugby Club in Port Talbot.  Is there a reason behind this?
Francesca:  We don't want to only appeal to theatre goers.  We want to provoke reaction; to make people think and change how they behave.  The tour starts in Newport and we're performing 24 dates all around Wales, specifically in Wales on this tour, which is different – nobody does that.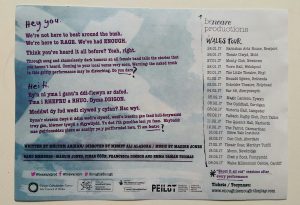 I've been performing since I was 15 in bands and have never done only a Wales tour.  I'm really looking forward to this; it feels really special.  We're going to towns where people feel like they've been forgotten about and ask 'why don't we ever get events?'  We're looking forward to putting on the production for people who don't usually go to the theatre and don't have the chance to see plays locally.  We want to attract people who don't normally go out to shows.
Inksplott: How did you get involved with the play?
Francesca: Accident really.  They had this idea and were searching online for females who wanted to be involved.  The googled 'Cardiff female musicians' and found me performing my Francesca Word Salad piece and thought it was ideal as it was a performance not just music.  They did the same with Maddy Jones, who lives in Cardiff but not Splott, they asked her to get on board and mentioned a Francesca but they didn't know how to get in touch.  Coincidentally Maddy was a best friend (and wrote the music for Enough is Enough)!
Inksplott: It's a small world in this neck of the woods!  Francesca's Word Salad sounds intriguing.  What's it about?
Francesca: Francesca's Word Salad is an act I've been doing since I was at university ten years ago.  It's usually me solo but sometimes with a band.  It's comedy storytelling.  Most of my set is based around characters I've invented myself and stories I've written; dark comedy humour.  I wear different hats through my sets which represent different characters and I've also made characters out of paper plates and have them on sticks in front of me.  It's cabaret.
Inksplott: What did you do in Uni?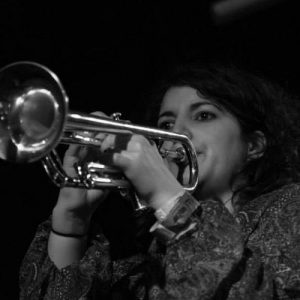 Francesca: I studied Welsh and media studies, which was great.  I wanted to study music but my mother, who is always annoyingly right, convinced me that I could do music without studying it.
In between writing and performing I work as a Welsh language television subtitler.
Inksplott: You have a lot going on!  What else are you involved with?
Francesca: The last five years I have been involved with Fizzy Events,  promoting gigs and putting on gigs and bands, even huge events like award ceremonies.
I've toured and done festivals, I was at the Edinburgh festival in August.  I have an EP which is available on Bandcamp and is called Retribution as it tells the story of all my characters who either seek revenge or have revenge taken out on them.
Also had my own business, which is called Throwaway Music Cardiff.  I'm passionate about recycling and the environment, and I formed it as a project with Adamsdown Arts Association in 2010.  I got involved with Communities First building instruments out of throwaway stuff and recyclables.  I developed workshops that we could run with children.  We worked with Adamsdsown Primary and now I do it off my own back.  I've run the session bilingually at yr Hen Llyfyrgell in town and delivered it all over Cardiff, up the valleys, and as far west as Llanelli.
Inksplott: How come you're in Splott?
Francesca: I grew up first in Grangetown and then in Penarth.  I bought a flat in Adamsdown, where I lived with my friend, and fell in love with the area; it's so close to town!  Being a musician, not having much money, I couldn't afford to live in Canton.  Lots of us doing the same.  I then sold my flat in Adamsdown and bought a house in Splott.
"It's a great community, a stone-throw from everything and the parking is brilliant.  Friends in Canton are jealous that I can park my car!"
There are improvements that could be made to Splott, such as clearing up the dogs' mess and litter, but I find the people in Splott are lovely, and look out for each other.  I have great relationships with my neighbours and I love the hairdressers on Carlisle Street, Intense.
Inksplott: Any other tips on what's in Splott?
Francesca: I'm vegan and Brutons bakery does vegan pastries, which is either brilliant or bad for my figure!
On Janet Street, there's a little shed where the guy fixes guitars and amps.  He has saved me on many occasions!  He's fantastic; one of the best in Cardiff.  Dave Dearnley on Janet Street (029 2046 2953, 31B Janet Street).
Also Splott Market is my favourite.  I've been going to Splott Market with my family since I was a baby.  Wherever we have lived, every single Sunday we would go to Splott Market.  I still go now and bump into my dad there!  I go every week!  Most of the stallholders know me – they've seen me grow up.  They always say hello.
Inksplott: So your family is also a fan of Splott?
Francesca: I have a huge family connection to Splott!  My cousin, who I hadn't seen for ten years, lives on the street up from me.  My nanna moved to Splott from Italy in 1954 and moved to my street!  I also discovered the brown wooden shop off Sanquhar Street was my grandfather's.  There were apparently all these classical Greek facias all over the walls inside!
Inksplott: Do you think that Splott is a cultural community or has a cultural community?
Francesca: There is a big cultural community in Splott but we don't necessarily do things together because there isn't a focal point for us to meet.  People perform in town or go to town or Chapter in Canton or the Gate or the Globe in Roath.
It would be lovely to have somewhere in our community where we could perform.  I wrote a post six months ago on facebook asking 'can we please have a cultural place in Splott'.  I had such interest.  Suggestions to use the church at the end of Splott Road but unfortunately it's derelict.
There needs to be somewhere.  There are four members of the band Wonderbrass that live in Splott.  Rob Smith, the leader, lives in Splott.  He's involved in lots of community events over Wales.
In a band with Andy Regan, another Splottlander, called The School.  I'm in loads of bands!
I know loads of visual artists who live in Splott as well.  There are loads of people and we all meet up but we meet up in Womanby St.
I love this pub though (The Cottage, where we grabbed a quiet corner for the interview), it would be great if it could be embraced.  Seems like it has its own community so I do feel a bit like who are we to barge in and change it, but everyone here is so welcoming.  It would be great to use it more.
There is a growing community of creatives in this area, including DJs, but people have accused us of gentrifying Splott.  We're not doing that!  We're just people.  We're all working class general people, we're just doing interesting creative things.  It's not gentrification. 
Inksplott: what about other potential venues in Splott?
Francesca: Would be nice if we could use East Moors to put on events.  Also the Old Splott Library at the end of Singleton Road.  That sounds interesting.
We need somewhere with a bar.  We're musicians; we like a drink!  To be a valid, exciting, gig-friendly place, it needs to have a bar or allow you to bring your own bottle.
One of my favourite places to play was in Nottingham, where they had a fruit & veg merchant and in the evening, the people who owned it let young people put on gigs.  All boxes of fruit and veg stacked around, bean bags on the floor a PA and bands played and people brought their own bottles.  It was great.
Inksplott: How could creative people in Splott communicate more?
Francesca: Social media is best for getting your stuff noticed.  The best way is to network and meet people in real life.  Go to events; get chatting; go to gigs.  At the mo, can only do that it town or over in Canton.  I went to Inkspot on New Year's Eve though and it was amazing.
Another good thing to do is use a hashtag on Twitter.  Me and my friends have come up with our own hashtag, which is #Sploments as in Splott Moments – and we use that to tell people about what has happened to us in Splott.   Used a lot on Facebook.  We use for good and bad stuff.
Inksplott: Good and bad huh?  Go on, tell us a bad thing about Splott…
Francesca (without hesitation): dogshit.
I played a game once.  Walking to the bus stop I counted how many dog turds there were between my house and the bust stop.  I tweeted the council every day with the number and didn't have a single reply.  It would be 'Today 9…today 14'.  That was the highest; 14 dog turds between my house and the bus stop.
Inksplott: There are a lot of people annoyed about this issue – you're not alone!  Let's finish on a positive note.  Anything else about Splott that you like?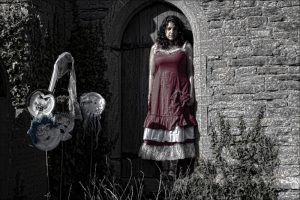 Francesca: I love Splott history.  I'm fascinated by local history.  I follow all the groups, 'Cardiff Now and Then' and all the others.  I looked into the history of my house and discovered in 1891, a ship merchant and his family lived there.  There was another family registered as domestic and they must have been servants.  I can't imagine where they all stayed!
I learned all their names.  I sometimes sit in my living room and imagine I can hear them all.  I told  Maria at Intense Hair Salon and she thinks I'm crazy!
Inksplott: Not crazy, but very, very, interesting!  It's been a pleasure Francesca and good luck with the play.
To find out more about Francesca Dimech, visit her site: https://about.me/francesca.dimech
Coming next in the series of Splottlight interviews with local artists; musician and DJ Thoby Davis.