Forget Bums 'n Tums; it's boxing and hula hooping all the way in Splott! There are many ways of getting fit but, let's face it, some are booooring!  Not so in the lovely land of the speedbump; we have a cornucopia of unusual classes and activities right here on our doorstep, including roller skating and Brazilian dancing.
I'm sure that this is a mere sample of activities on offer, so read on if you're looking for a new challenge or group to get involved with, and get in touch if you know of any regular classes that are missing from the list.  Thanks lovely Splottlanders!
Boxing
Splott Adventure Amateur Boxing Club
This is a new one on me.  Who knew that there was a local boxing club based in Splott which is affiliated to the WABA?  According to the Facebook page, they are a very successful boxing club with Welsh & British Champions at all age groups!
Splott ABC gym times
Monday – Friday 5 days a week
Under 16's 5pm – 6pm
Over 16's 6pm – 7pm
£5. Year insurance
£5 a week subs
All you need to start is a set of bandages and a skipping rope.
293 Moorland Road School
Old White Building on right hand side.
Moorland Road
Splott
Cardiff
CF24 2LJ
All welcome newcomers Male & Female
9 years old – 39 years old
Give the instagram page a follow
@splottamateurboxingclub
#TeamSplottABC
To find out more, you can call on 029 2034 2435 or look at their Facebook page
Dance
There are three main options for Dance in Splott: Just One Dance; Rubicon Dance and Samba Galez.  Each offers its own unique opportunities for getting fit and having fun doing so.  There's also a new kid on the block in Roath offering Irish dancing. Read on for details of the classes on offer:
Rubicon Dance
Rubicon is the community dance development organisation for Cardiff and Newport and was one of the first of its kind in the UK. It was launched in 1976, as the Cardiff Community Dance Project based at the Sherman Theatre, and relocated to Adamsdown in the early 1980s.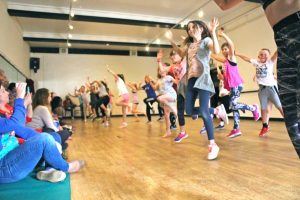 Rubicon offers a range of dance classes at their fully accessible studios in Nora St, Adamsdown, and at community venues including Day Centres, Community Centres, Hospitals and Schools.  They offer classes for young people – from 18 months old upwards – to the elderly.  Their oldest participant is well into her 90s. Tap, Ballet and more contemporary dancing classes are on offer, including lessons for people with learning disabilities.
Adam Lloyd-Binding, Centre Coordinator at Rubicon said:
"We are very proud of being based in Adamsdown – being at the heart of the community is exactly what we are all about."
For a full list of classes on offer, click here
Samba Galêz
Samba Galêz is a community samba band which has been practicing and performing for over 20 years. We play an exciting range of rhythms which is brought to life by the band's dancers who combine Brazilian moves with a fun and modern style. It's a great way to learn something new while getting active! We have a workshop every Saturday morning at Willows High School. For more information on our introductory courses, join our mailing list.
For more information on Samba Galez, read this article
JustOne Theatre Arts – The Dance School
Here at JustOne Theatre Arts we aim to provide a warm, friendly and safe environment for all our students. We follow the I.S.T.D syllabus for our Ballet, Tap and Modern classes. The students we feel are ready will be encouraged to take theses examinations, but it is not compulsory.  We deliver a wide range of classes grouped by age and ability.
PRICING: The first weekly class is £4.00 per session paid termly in advance. Then each additional weekly class is £2.00.
DANCE UNLIMITED: Our very special offer allows our students to take as many of our dance classes as they want for just £12.00pw.
JustOne Theatre Arts – The Theatre School

This is a performance Training for children between 6 and 18 who are interested in performing arts. JustOne aims to inspire and nurture the artistic abilities within each child and give the student a well-rounded experience and training in all three major disciplines: Acting, Voice, Dance.
Technique will be addressed and assessed at the each term and the students will receive a report to summarise their progress and achievements.
JustOne, in addition to having some extremely experienced teachers, we have regular guest teachers and additional workshops for the students to take part in.
The students will have regular assessments through performance and there will be a teacher on hand at the end of each session to discuss any concerns or questions the parent/student may have about their progress in our 'Stage Door' session.
JustOne also run audition prep classes, for those students who have pending auditions or exams that need more 1 on 1 attention. We have teachers who are experienced at choosing suitable drama pieces, song choices and choreography for the individual and school being auditioned.
All our sessions are held in our very own purpose built studio comprising of 2 stunning dance studios, a music room and a large reception.
JustOne Theatre Arts – Adult Dance
If your looking for your first dance class as an adult or even back from a professional engagement we have a class for you. Ballet, Jazz, Broadway, Tap, Contemporary, MUNDO dance, Heels Choreography to name but a few. Call, email or even pop in and see us and we can recommend the perfect class for you. Classes range from £4.50-£6.00
Visit the website here
Reel Fitness Cardiff
Yvonne is a Riverdancer from Ireland, living in Cardiff and offering Irish Dance and Fitness Classes at Roath's arts venue, The Gate.
Classes are held on Thursdays 7pm – 8.30pm in The Gate, Roath, and cost £7 each.
For more information, email reelfitnesscardiff@gmail.com or follow Yvonne on Twitter @ReelFitCardiff
Fitsteps
A mixture of dance moves and aerobics, Fitsteps is a new way of keeping fit and there are classes available in our very own Splott!
Classes run on a Monday and Wednesday night between 6pm and 7pm and cost £5 and £2.50 respectively.  Why do they cost different prices, I hear you cry?  Well the answer is simple!  Monday night is run by trainer Amanda, who takes you through all the steps, and Wednesday night is a more local group, led by Sarah, with a DVD playing up the front to guide you through the dance moves.  The way it was described tonight tickled me: 'Oh, Monday's proper and tonight's more if you haven't got enough room in your living room to do the DVD'.
The classes are open to adults of all abilities (you can easily walk the steps instead of 'dancing' them) and (trust me on this), even the most uncoordinated can take part.  All you need is to dress appropriately and bring water and a towel. By dress appropriately, I mean stretchy stuff and trainers or dance shoes, not top hat and tails.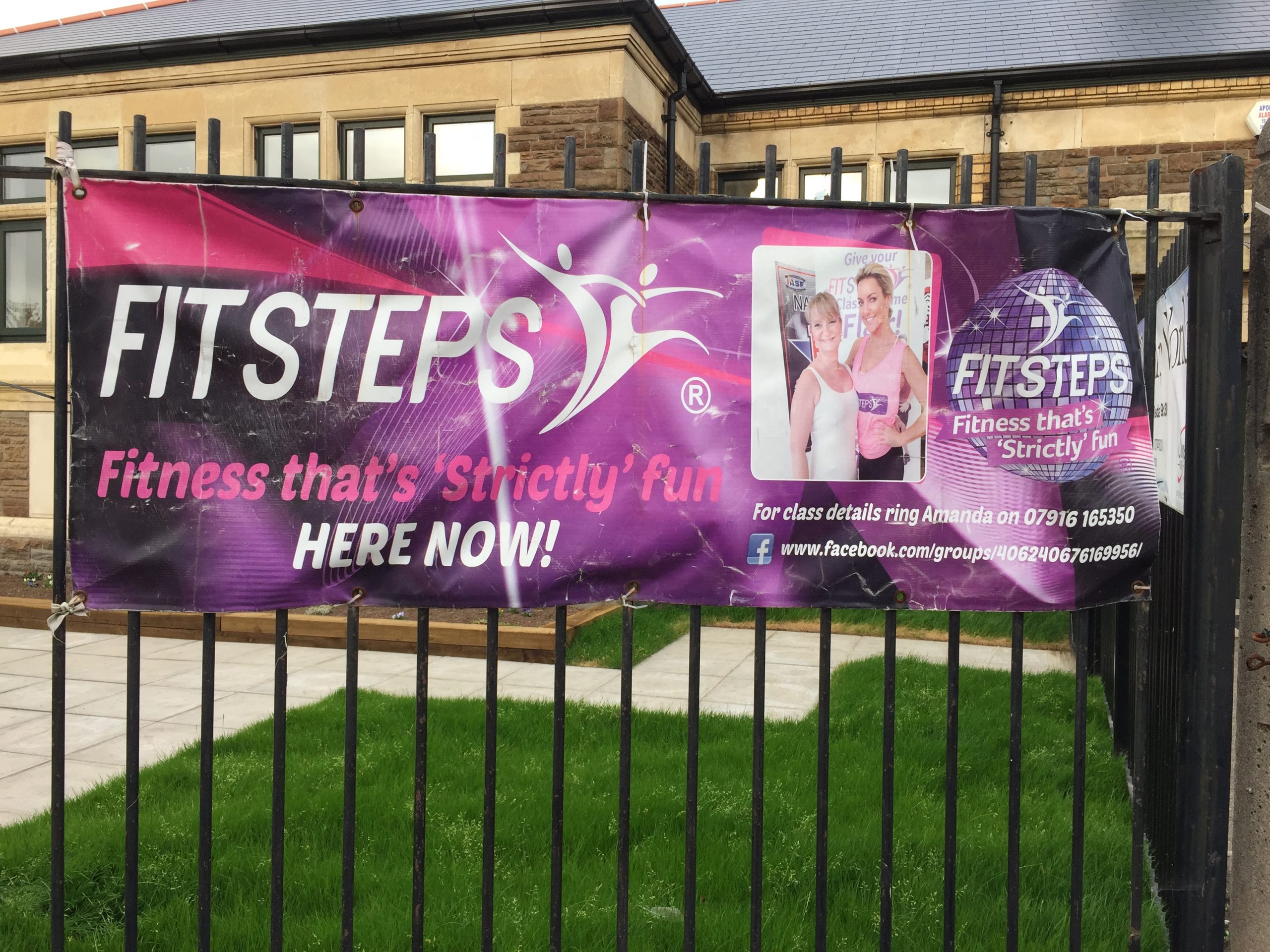 Old Splott Library, Singleton road, Splott
Monday
6pm with Amanda 'Fitsteps' Williamson
For more information, click here
Hula Hooping
Elliecoptor Hoops
Ellie Pilott, founder of Hula Hooping business, Elliecoptor Hoops, and 2016 finalist and runner up in the Cardiff Lifestyle Awards for best Fitness Facility, runs hula hoop classes, events and parties throughout Cardiff, anything from standard beginners' classes to hen parties through to the Welsh Hoop Convention. She also co-runs Sparkles Hoop Troupe which is a hula hoop troupe that performs at events throughout Wales.
Classes run on Tuesday evenings between 6-7pm at the Nofit State Circus venue on Four Elms Road in Adamsdown.  Classes cost £5 each, just bring a bottle of water and wear something comfy that you can move around in (leggings, jeans, trackies etc).
Visit the Facebook page for more information or read the Inksplott interview here.
Roller Skating
Tiger Bay Brawlers
Tiger Bay Brawlers roller derby team is proud to be Cardiff's only women's flat track roller derby team.  Their mission statement is:
"Tiger Bay Brawlers are a competitive roller derby team dedicated to providing women aged 18+ the opportunity to play flat track roller derby in a safe and enjoyable environment. We strive to promote the growth of both the league and the sport through high-level skater performance and excellence in officiating. We provide athletic entertainment whilst maintaining our focus on competition and physical advancement."
Tiger Bay Brawlers' learn to skate classes run on a Thursday (6-7.30) and a Sunday (12-1). Sessions are £3 per person and for these sessions there's no minimum commitment required – you can dip in and out if you want.
Find out more here
Running
Girls Together Splott
Girls Together Splott offers a female-friendly running group every Thursday. The group meets and leaves from The Old Library in Splott. Please check out the Facebook group for more information.
Swimming
STAR Hub
Swimmers of Splott can head to the pool at the Better STAR Hub on Tweedsmuir Road, Tremorfa.  Recently there have been free swimming slots advertised, so it's worth getting in touch with them at the STAR Hub and finding out when these are.  If you volunteer and earn Spice Time Credits, you'll be pleased to hear that you can exchange them for a free swim.
To view the timetable for the pool, click here
Yoga
Yoga Boat
Yoga Boat is the local den of zen.  Based just off Broadway in Adamsdown, this bendy business offers high quality yoga tuition from experienced teachers, in the form of regular yoga classes, courses and workshops.
They also offer a wide range of yoga:
Restorative Yoga 
A soothing practice to encourage relaxation for body and mind. This gentle class is designed to refresh and restore. Soft candlelight and the use of bolsters and blocks help to bring you to a state of deep relaxation.  Bring a blanket for optimum comfort!
Hot Yoga
In these classes the room is heated to around 38 degrees centigrade to increase suppleness in the body and to focus the mind. You will get sweaty in this class so don't forget your towel and water!
 Ashtanga yoga
Ashtanga yoga is challenging physical practice. It follows a set series of postures developed by the late Sri K Pattabhi Jois.  Classes are taught in either a 'led' or 'Mysore' (self practice) style.  Our Ashtanga teacher, Liz teaches a led  class on Wednesday evenings. We don't currently offer Mysore style.
Yoga Plus+
If you're looking for a little bit more from your yoga, then this could be the class for you.  Yoga plus+ is for those who are interested in delving a little deeper.  Every month we will take a different aspect of yoga as a theme and explore it over four weeks. The classes are 90 minutes long and will incorporate an asana (posture) practice, but also look at other aspects of yoga, for example, yoga philosophy, pranayama (yogic breathing), advice on how to develop a home practice or ways to integrate yoga into your day to day life.  These classes are best booked in blocks of four but can also be booked on an individual class basis (subject to availability). Check the 'Workshops' page and  Booking Bug for the coming month's themes.
Prices for single bookings:
7am 45 minute classes – £7
All hot yoga classes  – £9
Yoga Plus+ classes £10
All other 60 and 75 minutes classes £8
Find out more here or follow on Twitter or Facebook for the latest updates.
Twitter: @YogaboatC 
Zumba
Fitness with Dessi Exclusive Classes
Open to all, 16 years and older
St German's Church Hall (Adamsdown Day Centre), Star Street, CF24 0JY
Wednesday
STRONG by Zumba
6.00-7.00pm
Participants need to bring a mat or a large towel as there are floor exercises at the end of the class, and of course plenty of water
Zumba Fitness
7.10 – 8.10pm
Just bring water
£5 for one class or £8 for both
If you bring a newbie to class you get £1 off the class (or £1 off both classes if you bring them to both)
No booking needed
Friday
Zumba Fitness
6.00 – 7.00pm
Just bring water
Find out more here http://desislava93.zumba.com/classes
Zumba Gold at Moorland STAR

10.30am Monday mornings at Moorland STAR Community Centre, Moorland Road.