Set up to fight against the tide of landfill that threats to engulf and pollute, Repair Cafes fix things for free that would otherwise be thrown away.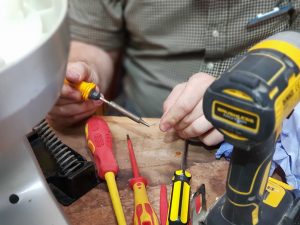 Splott Repair Café, set up last month, runs on the second Saturday of the month, from 10-2 at the Oasis Centre (69 Splott Road CF24 2BW).  Take your broken belongings down tomorrow, Saturday 12th May, to the lovely volunteers and see if they can be fixed instead of thrown away.
Volunteers will show you how to fix electrics, clothes, IT, toys, woodwork – pretty much anything that you can throw at them. What's more it's free, and you can get tea and cake while you're waiting.
Splott Repair Café is one of five helped by Repair Café Wales. The others are in Grangetown, Penarth, Cathays and Caerphilly. The founders, Joe O'Mahoney and Cerys Jones, wanted to 'help reduce the waste problem in Wales and teach people the fixing skills that are being lost'.
If you are interested in getting something fixed for free, or would like to volunteer once a month, search Repair Café Wales on Facebook, Twitter or Instagram, or contact repaircafewales@gmail.com