Proposals to invest more than £1m in public open space in the Adamsdown area of the city have been revealed and residents have been invited to input before plans are finalised.
Design improvement plans for nine parks, playgrounds or areas of public open space in the ward are being brought forward to improve the local environment for residents.
The areas set to benefit are:
Cemetery Park
Brewery Park
Anderson Fields
Adamsdown Square
Howard Gardens
Adamscroft Place
Tharsis Close
Star Street
Blanche Street.
More than £1m worth of Section 106 funding, resulting from new developments in the area including a number of student accommodation and residential developments, is available for the schemes which could include new or refurbished equipment in parks in the area, the installation of Multi-Use Games Areas (MUGA), repairing and upgrading footpaths, planting feature trees and opportunities for community garden or planting space in the area.
According to this quick guide published by the National Assembly for Wales, "a Section 106 agreement (S106) is a legally binding private contract between a developer (or a number of interested parties) and a Local Planning Authority (LPA) that operates alongside a statutory planning permission.  Such agreements require developers to carry out specified planning obligations when implementing planning permissions and are the result of negotiations on these matters between the parties. An agreement may be entered into to prescribe the nature of development, to secure a contribution from a developer to compensate
for any loss or damage caused by a development, or to mitigate a development's wider impact."
The Adamsdown 106 money would have been generated by the development of the Howard Gardens site and Cardiff Royal Infirmary site for sure.
Cabinet Member for Culture and Leisure, Cllr Peter Bradbury, said:
"This is a great opportunity for us to invest in Adamsdown's public open spaces and we're keen to know the views of people living and working there about how we can improve the area.

"We've come up with a number of ideas so this is a chance for people to let us know what they think before we bring forward detailed design and implementation plans for these schemes."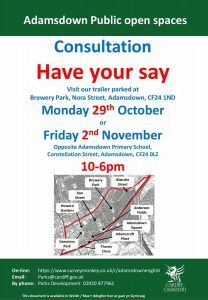 Friends of Adamsdown Parks commented:
"It's great, it'll be a real boost to the area, hopefully they can create more spaces for young people and nature! (We need more pollinator friendly planting and more kid friendly spaces!)"
The local community will be able to find out more about the proposals and ask any questions at two open days in the area. The Parks Development team will be at Brewery Park (Nora St side) on Monday, October 29, 10am – 6pm  and at Anderson Fields on Friday, November 2, 10am – 6pm to provide further information.
Members of the public can also have their say on the improvements by completing the online
survey here:
English survey: https://www.surveymonkey.co.uk/r/adamsdownenglish 
Welsh survey: https://www.surveymonkey.co.uk/r/adamsdowncymraeg
The survey closes on Monday, November 19.