As you may be aware, the Welsh Government's Communities First Programme will end on 31st March 2018, affecting the services currently delivered from the Splott Road office.
Many people will be very sad to say goodbye to STAR Communities first, which has served Splott, Tremorfa, Adamsdown and Roath very well for a number of years.  Take a look at the infograph to see just how well.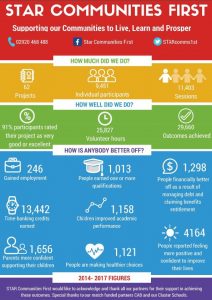 The following statement has been issued updating service users of the changes:
Following the decision to end Communities First (CF), two new grants were announced by WG, to be managed by Cardiff Council (CCC) – The Employability Support Grant (CFW plus) and a Legacy Fund, aimed at retaining the best elements of CF, and we remained hopeful that we would still be able to deliver some of the much needed services that have been developed in the STAR area.
Following consultation and discussions with Cardiff Council we have been informed that CCC will be retaining the CFW plus grant to deliver services in-house and a decision regarding the use of legacy funding has been delayed until at least spring with any replacement services unlikely to begin before Jan 19.
This means CCHA who host the STAR CF programme will not receive any further funding from CCC after 31 March 2018  and It is with regret that I am writing to confirm that all existing STAR Communities First services will end in the coming months.
The Communities for Work (CFW) project, currently delivered by us in STAR will continue until 2020, however the project and the staff employed to deliver it will transfer to Cardiff Council at the beginning of March.
All services delivered by CF staff – Learning, Health, Community Involvement and Prosperity Support – will end on the 1st February, and the Splott Rd office will close for drop-in services from this date. Courses that are already booked in will run until Feb half-term (19 Feb), some courses run by partners will continue beyond this date in different venues and participants will be informed of any changes. The CFW service appointments will continue until the end of February and existing participants will transfer into the new structure. I am sure CCC will provide further details going forward.
For the past five years through consistent feedback and positive evaluations, we know the great impact our services have had for the more than 10,000 participants that have used them, and we are disappointed that they are not continuing.
As a Housing Association we remain committed to providing good quality services and support to some of the most vulnerable people in our communities and as such we will endeavour to continue to develop our work and to, wherever practical, deliver similar projects and support in the future. This includes the provision of our in-house employability programme (JETS) for CCHA Tenants either out of work or experiencing in-work poverty.
Attached is an infographic highlighting some of our key outcomes for the last three years. I would like to take this opportunity to thank all our partners for your support and your contributions towards the delivery of the CF project and theses amazing outcomes for participants. We hope that many of these relationships will continue to be developed and support our future work.
Kind Regards
Su Wade & the STAR CF Team
I, for one, find it very sad that STAR Communities First will be no more after 31st March. Just look at what they achieved!  For example, 4,164 people reported feeling more positive and confident to improve their lives!  Look at all the parents more confident in supporting their children, the people who gained qualifications etc. The programme encouraged people to make better, healthier choices. It may not have worked in other areas, but it sure did work in ours and will be sorely missed.
Hats off to the awesome people who have worked for our community over the years. 
You were fabulous!