Here at Inksplott we like to promote local businesses so was delighted when Henry from Black Dragon Coffee got in touch to tell us about his new mobile coffee business.  Available to book for fetes, fairs and functions, Henry and his team travel all over Wales and beyond with their mobile coffee van, delivering delicious cappuccino creations and other coffee delights.  Read on to find out more about this Splott-based business.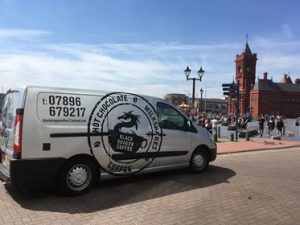 Inksplott: Hi Henry, thank you for being interviewed for Inksplott.  Can you tell us a little about yourself and your business, Black Dragon Coffee?
Henry: Hi Inksplott! Well I have a little van from which I run a mobile coffee bar business which provides real espresso coffee, steamed hot chocolate, ice cream milkshakes and snacks to your event or business all in one self-contained package.
Inksplott: How did you get into this?  Can you please tell us a little about the history of your business?
Henry: Well like many of your readers I have a fondness for good coffee. A few years ago I happened upon a Franchise opportunity for a mobile coffee bar and spent a few years learning the ins and outs before striking out on my own. We finally finished rebranding in May and now we are out and about getting that caffeine buzz to those who need it!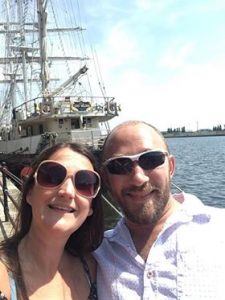 Inksplott: And how come the business is in Splott?
Henry: Splott is a great place and we enjoy living here but being mobile I suppose I am actually based all over Wales.  I really enjoy the travelling aspect of the business – every time I go out I get to meet new and interesting people and experience some of the passions that drive them. From sports to social there is always something different that makes each visit special.
We are looking to expand more locally by providing a coffee round for any businesses and offices that would like freshly ground coffee delivered to their door.
Inksplott: What's your speciality?
Henry: Well I am pretty proud of my cappuccinos but I think the thing Black Dragon Coffee really brings to the table are our ice cream milkshakes topped off with squirty cream and sprinkles.
Inksplott: What's your best story since setting up the business?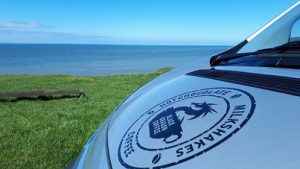 Henry: Well I've met a lot of people and been to a lot of interesting events over the last few years but I have to take my hat off to the ultra marathon runners from Pegasus Ultra Running who ran a 40 mile coastal route from Porthcawl to Barry the other day. An amazing feat and hats off to every one of them.
Inksplott: Tell us a secret or something about Splott that we won't know.
Henry: I'm sure some people know of him but there is a guy who lives in a top flat just down the road from me that often plays his music loudly out of his open windows all day long. We call him Music Man and he is the soundtrack to our summer. I can understand how some people can find him irritating but I think he has excellent taste in music.
Inksplott: Any exciting plans or events on the horizon?
Henry: Well continuing the sporting theme we will be supplying the Midnight Mountain Marathon in Usk.  We will also be attending the Ain't Nothing but a Hound Day charity dog shows in Barry, Roath and Newport this year which are always a great family day out.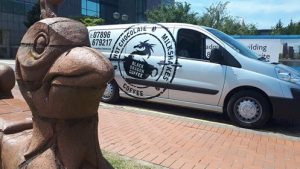 Inksplott: How can people follow you online?  Do you have Facebook, Twitter or a website?
Henry: You can find us on Facebook at The Black Dragon Coffee or drop us an email to blackdragoncoffee@hotmail.com
Inksplott: That's great – thank you so much for the interview!