Want to feel less stressed and more relaxed?  Rhian Pitt offers holistic massage, Indian head massage and will soon be offering baby massage courses from her business in Splott.
Inksplott: Hi Rhian, thank you for being interviewed for Inksplott.  Can you tell us a little about yourself and your business, Rhian Pitt Holistic Massage?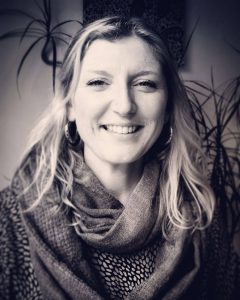 Rhian: Of course! I'm a holistic massage therapist and I have a little therapy room in my home in Splott. I've recently moved back to Cardiff after some time away and it feels good to be back!
The business is aimed at the whole community really.  I think that massage is often thought of being a bit of a treat or a luxury and can be really expensive (in spas etc)…but it's such a beneficial thing for our health. It can help reverse physical and mental symptoms of stress, something that we all seem to be suffering from these days! In so many cultures, massage is a normal part of daily life and used to prevent ill health as well as provide pain relief.  I would really love to be able to make massage a more affordable and accessible therapy for the community. I offer discounts for carers, teachers, nurses etc., as they spend all their time looking after other people and, in my experience, don't often give the same amount of care to themselves.
Inksplott: How did you get into this?  Can you please tell us a little about the history of your business?
Rhian: I trained about 4 years ago but before that I had always had a fascination with how powerful human touch is and how our mind and body are so intrinsically connected. When we're stressed, we have all sorts of physical reactions. For example, a stomach ache might be caused by anxiety but over time this can develop into IBS (irritable bowel syndrome). Massage is amazing because it can work on the symptoms but it can also reverse the feelings of stress and anxiety that are causing the symptoms in the first place. It's an area where research is still coming out all the time and, luckily, the results only seem to be positive.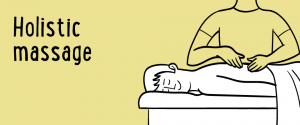 Inksplott: And how come the business is in Splott?
Rhian: Because that's where I live! I moved here just after Christmas and I've been blown away by the Splott community.
"Last month, my boyfriend dropped his wallet with some cash in it and a 15 year old boy returned it with the money still in it!"
That doesn't happen in many places anymore. I grew up in a village and Splott has the same sort of feel to it.  I've lived in Cathays, Roath and Canton before, but I have never experienced a community quite like Splott. It's special.
Inksplott: What's your speciality? 
Rhian: I offer holistic massage, Indian head massage and will soon be offering baby massage courses too.  But no two massages are the same and I think that's what makes it special.  There's a consultation before the treatment and then I can work to what that person needs that day. It could be mental, emotional or physical. We all respond differently to pain and stress so it's important that the massage isn't just a routine. I can work gently or I can do deep tissue. It depends on what the client wants.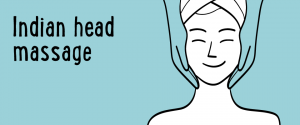 Inksplott: What's your best story since setting up the business?
Rhian: Ummmm. Well I found out about a group called PIP (People in Pain) through the STAR website. It's a wonderful group of people who meet once a week in the Old Library. They all suffer from pain (arthritis, fibromyalgia, grief, depression…) and they can support each other and be in a space where other people can understand how they feel. Activities range from Tai Chi, Yoga, crafts, music lessons but sometimes it's just a cup of tea and a chat with people in the same boat. Living with pain or a disability can be a very isolating thing but this group really brings people together. I have been volunteering there and offering head and hand massages. It's a very humbling experience to be able to give massages to people who really need it and who wouldn't normally reach out or think that they could afford it. It's been really helpful knowing about this group as I have been able to signpost some of my clients who suffer from chronic pain to it.
Inksplott: Tell us a secret or something about Splott that we won't know.
Rhian: Ha! Funny you should ask that – my dad visited at the weekend and he's been Splott swatting whilst researching past family in the area. He was coming out with all sorts of facts about Splott's history. I didn't know John Humphries grew up here?! But even after all his Splott swatting, he didn't know about the existence of my favourite place in Splott….but I've only ever seen one other person there so I might have to keep that one a secret 😉
It feels like there's lots of secrets waiting to be uncovered here. There's things going on everywhere, like the PIP group I mentioned earlier. If you're interested in yoga, there's also a lovely little studio on Broadway called Yogaboat. Yoga, like massage, is really good for the mind as well as the body and they have some lovely classes there.
Inksplott: Any exciting plans or events on the horizon?
Rhian: Ooh lots! I'll finish the Infant Massage Course in a few weeks so then I'll be able to start running some classes in Splott. I'm looking at venues at the moment (suggestions welcome!!) or if a few mum/dad friends get together, I can do it at their houses …possibly even followed by a massage while one of the other parents babysits your child! Or at my house (and I'll even bake a cake). Lots of options and I'm really flexible so I think I will be guided by the mums and dads of Splott and what they want. I'm also going to be helping Helena at the Tramshed Studios in Grangetown plan their therapy room, and do some work over there. But that's not Splott so…….
Inksplott: Never mind!  Sounds like you're already busy over this side of town!  That's great – thank you so much for the interview!
Rhian: You're so welcome, thanks for having me.
To find out more about what Rhian can offer, check out her website or find her on Facebook