What has got Splottlanders and Adamsdownians tweeting and facebooking this week?  It's been a hot week on the social media platforms in #Splott and #Adamsdown and we take a look at what's got people talking online…
Splott Beach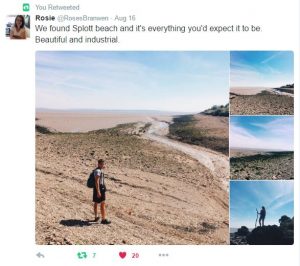 On Monday the sun was shining, the sky was blue and Inksplott took off on a mission to finally find the infamous but well-hidden Splott Beach (which, until recently, we didn't know existed!).  Following some sound directions, the beach and coastal path was discovered, photographed and facebooked.  A tweet went out linked to the album and fellow intrepid explorers took up the challenge, leading to some lush local photographs being circulated and catching the attention of @WalesCoastPath, who encouraged people to send in more piccies of our little patch of the coast.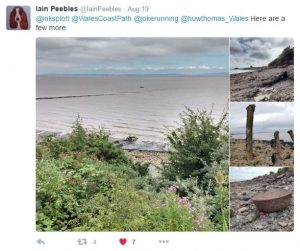 Find Splott Beach for yourself by crossing Moorland Park and heading south to the big roundabout on Rover Way with the trees on it (the one that you can turn off to the helipad), keep left and head towards the steel works.  Cross the road (carefully – those lorries are fast and furious) and you'll find the entrance just before the advertising billboard.
If you would like a sneaky preview, view the Facebook album here: http://bit.ly/2bsHVpF
Demolition begins on Splott/Adamsdown Bingo Hall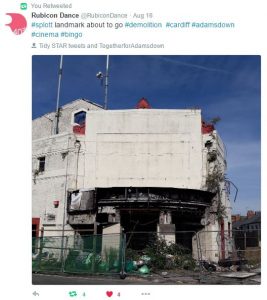 Thanks to Rubicon Dance in Adamsdown, we were made aware that demolition of the ruined Bingo Hall at the end of Pearl Street has begun.  Plans to build 47 apartments including an underground garage were given the thumbs up earlier this year.  For more information on the new build, view here: http://inksplott.co.uk/splott-bingo-hall-redevelopment-the-revised-plans/
Moorland Road Community Centre & Splott Play Centre Survey
A shout out went out this week for opinions on these two essential services.  The two centres would like people to tell them what they think of what's on offer and what they'd like to see in the future.  The survey is super-simple and only takes a moment, so please click on the link and let them know your thoughts.  It could really help shape the future of two much-loved local centres.
https://www.surveymonkey.co.uk/r/PXLYWHG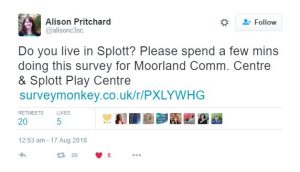 UK Census Data Publishes Strange Splott Statistic!
From out of the blue this week, UK Census Data tweeted that 94 people in Splott were born in Scotland!  By clicking on the link, we found out that 74% of Splott's 13,261 residents were born in Wales, 11% in England, 0.71% in Scotland, 0.18% in Northern Ireland, 0.50% in the Republic of Ireland, 4.1% in other European countries and 9% were born outside of the EU.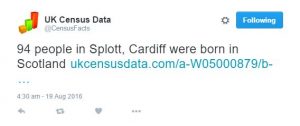 To see the stats for yourself, click here:
http://ukcensusdata.com/a-W05000879/b-KS204EW#sthash.KQaDVPFL.dpbs
From Splott to Split – one man's ambitious charity bike ride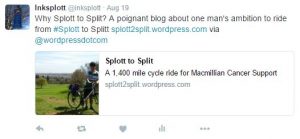 On the 31st August, Bob Fannin will start his epic 1,400 mile bike ride from our very own Splott to Split in Croatia to raise money for Macmillan Cancer Support.  Bob was diagnosed with liver cancer in 2013 and after successfully undergoing treatment and being given a new lease of life, Bob decided to do something epic:
"I had heard of the town in Croatia called Split, so, when I came across a place called Splott in Cardiff, Wales, I thought, these two places are phonetically married, it's high time they were joined up. So, to celebrate this second life, and to raise £20,000 for Macmillan Cancer Support, I want to cycle from Splott to Split. Simple!  It's a 1,400 mile ride, I am sixty one, and no great cyclist, but I'll do it.
Splott to Split will start at noon on the first August this year and end on August 31st in Split."
To read more and make a donation, read the blog here: https://splott2split.wordpress.com/
STAR Centre and Library closing soon – alternative services promoted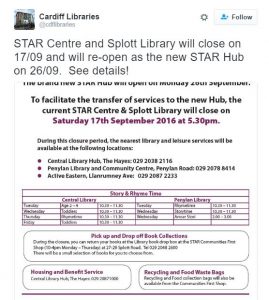 On the 17th of September, STAR Centre and Library will close its doors after serving the Splott community since the eighties.  The library and most of the sport / fitness facilities will relocate to the new STAR Hub, which is set to open on the 26th September.  In the nine days in-between, users of the library can go to the central library in the Hayes, Penylan Library or Active Eastern.
For more information on STAR Centre versus the STAR Hub, what we're gaining and losing, view this article: http://inksplott.co.uk/star-centre-to-star-hub-what-are-we-gaining-and-what-are-we-losing/
Beresford Road Bridge Temporary Footbridge
Local resident Gareth Edwards tweeted today that it looked like Beresford Road Bridge temporary footbridge was about to open.  If anyone has any feedback on the bridge, please leave a comment at the bottom of this article: http://inksplott.co.uk/update-on-beresford-rd-bridge-following-open-residents-meeting-3/

Keep Splott Tidy launches on Sunday the 21st August…
…and lots and lots of people have been supporting the initiative by signing up to the event, sharing posts on Facebook and tweeting about it (thank you all very much!).
Come rain or shine, we'll be at the Neath Street entrance to Moorland Park Sunday morning at 10am to start the very first Keep Splott Tidy litter pick and clean up our streets.  With the amount of interest generated, we've got our fingers crossed for a fantastic turnout.
For more information, click on this link to the event: https://www.facebook.com/events/302172590129324/ or read the article here: http://inksplott.co.uk/residents-rise-up-against-litter-keep-splott-tidy-launches-on-21st-august-2016/
That's all for now.
It's been a super week on social media – please keep tweeting and facebooking and sharing information about #Splott!