Game on!  On the 3rd of April, local youth football team Splott Albion Under 16s will play a German exchange group as part of a fun day of football organised by a local mother of three.
Stephanie May is 44 and lives in Tremorfa with her husband and three children aged 23, 22 and 15.  As well as being in her third year BA Hons youth and community work student at Cardiff Met University, Stephanie is also an FAW C Certificate qualified coach and manages an Under 16s boys' football team at Splott Albion.
She has organised a youth exchange with a team in Germany with the hope of bringing the community together and building new relationships (but most importantly that the day is fun and enjoyable for all!).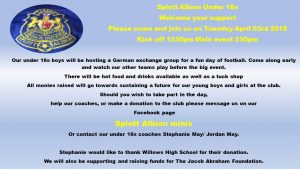 As a youth worker, Stephanie works closely with different youth groups, including the Boys and Girls clubs of Wales. They have been arranging youth exchanges with Germany for many years and asked if Steph and her team would like to be part of this year's exchange.
Students will be invited to the Splott Albion pavilion (behind the STAR Hub) and have a day of youth and cultural exchange as well as a game of football.  As a youth worker and coach who lives in the area (and a mum), Steph realised what a massive opportunity the exchange provided for all involved and the local community.
Steph told Inksplott: "I am proud privileged and excited to be holding such an event and looking forward to hopefully building future relationships."
Splott Albion
Splott Albion is very much a community club that has re -established itself over the last 3 seasons, so involvement is for everyone. They have boys and girls' teams aged 7-16 who go to different schools in not just the STAR area but outside.
Steph said:
"Bringing together these young people encourages making new friends, learning about cultures, religions and crucially allows relationship and friendship building. Social inclusion in a diverse relatively underprivileged area is crucial to the future of young people, in supporting their social and cultural needs. Sport is a massive vehicle for this. I very mush hope that the community as a whole will come and watch the match and be proud of what has been achieved by both club and community."
Best story since setting up the group?
"As much as I love football, and I am an avid fan of Cardiff City and a season ticket holder, my coaching skills it has to be said were not the best and our first few matches were questionable to say the least.  We didn't give up and by October half term we had our first win. The overwhelming feeling of pride happiness and team spirit was much better than I imagined and inspired me to improve for the team.  Coinciding with my course I took on the Football Association of Wales C Certificate in course managing to seek funding from Sports Cardiff. This qualification now allows me to professionally coach young people up to the age of 19.

"In May 2016 we attended an ESF football tournament at Butlins Bognor Regis. The team came away with the fair play award for the Under 15s category. This was huge as out of 16 teams this award represents integrity, fairness, respect and conduct on the pitch, which in my view means much more than results. This reflects the team, the respect and social skills that myself and the boys have achieved together."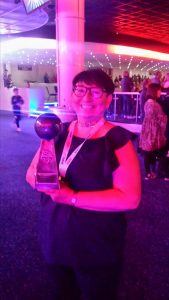 Community involvement
The community as a whole have had involvement at many levels.  Willows High School has generously donated money towards supplying food and drinks for guests.  Splott Albion will have the younger children playing before the under 16s match and will also be providing food and drinks from the Splott Albion pavilion. The Jacob Abraham Foundation will have a stall raising awareness of suicide intervention and intervention and provide sign posting were young people can get help.
Steph's inspirational message:
"My family are what inspired me to encourage young people in my community. My children have attended Baden Powell and Willows High School. My son will leave Willows this year to go on to Cardiff and Vale College and my daughters have both attended college and university. They have achieved this with the support of both parents, being free to make their own decisions and being allowed to be themselves in whatever path they choose. Others in this area are not so lucky, they maybe young careers for parents or other children, have only one parent at home or maybe living with extended families. They maybe refugees or living in supported accommodation. My children have given me the inspiration to help others to gain confidence, social inclusion, be part of a group or team and live happier healthier lifestyles. If I can help one person every day then I have reached my goal."
What a lady!
Good luck Steph and keep on doing all the fantastic stuff you do to help the young people in our community.
The youth exchange football fun will start at 12.30pm with the main event kicking off at 2.30pm.  Head down to Splott Park and cheer on the players!
You can keep up with Splott Albion through their Facebook page