On May the 4th, the people of Splott will go to the polls to select their Councillors for the next four years.  In the build-up to the elections, Inksplott has run a series of interviews with candidates. Next up is Rhys Cisuelo, a candidate for Plaid Cymru.
Inksplott: Hello!  Thank you for being interviewed for Inksplott.  Please tell us who you are and which party you represent.
Rhys:  Hi Inksplott, my name is Rhys Cisuelo (Sis-welo) and I'm standing for Cardiff Council with Plaid Cymru – The party of Wales.
Inksplott: Why did you become a member of that party and for how long have you been a member?
Rhys: I've been a member for nearly 3 years now. I've been interested in politics for quite a while now and every year I see little benefit for Wales, we don't have a voice that represents us – that's what attracted me into becoming a member.
Inksplott: Can you tell us a bit about you and Splott?  Do you live here?  How long have you lived here?  Why did you move here?
Rhys: I grew up in Marion street and apart from university I have lived there my whole life. I'm currently living in Pengam Green which is still part of our elector ward. I've always loved the closeness of family and friends being near and I am very proud of where I come from and I couldn't be prouder to want to represent that.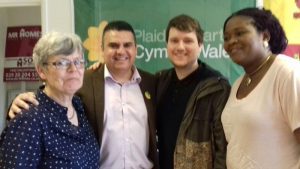 Inksplott: Please list your top three 'successes in Splott'.
Rhys: As I haven't been a councillor or elected official before I can only say what I've positively supported and where I'd want to go. I was strongly against the closure of the STAR centre. Having lived right by the centre I was deeply concerned about its closure and the lack of facilities now in Splott itself. I supported the community in the fight to keep the Splott University building. Despite what our current councillors say – they could have been more proactive in saving our local heritage. I'm also in correspondence with the 50+ forum in our community. There are many more groups in our area and I am open to working with everyone for our best interests.
Inksplott: Please list the three things that you wish you could have done but they didn't quite happen and why.
Rhys: Moving on from the above question; I generally wish I spoke louder and knocked more doors in the fight to save our STAR centre as well as our University building. The heritage of our area is dying out and we are losing what makes Splott, Splott. Moving forward I want to fight for our local services, keep our streets clean and tidy, get our potholes repaired and work with all our services to reduce crime and deprivation in the area.
Inksplott: Please list your top five commitments to Splott if you are to be elected.  What are you going to do for us?
Rhys:
I want to clean up our streets, more bins, more waste collections for them.
Work with our local services to lower crime in our area.
Be local, be seen, be heard and listen to the people of Splott, Tremorfa and Pengam Green.
Get our roads repaired and resurfaced.
Tackle car crime and dangerous driving in our community.
Inksplott: Please tell us why people should vote for you.
Rhys: I went to both Moorland Primary and Willows High School; I've got many friends and family in the area and I want nothing but the best for where I'm from and where I live. For too long there's been too little change – it's time to get some local people in who understand the needs of our community. We have a council that's imposed cuts to our services whilst raising taxes above the average, why are we paying more for less? It's time for people to be represented and to be heard. With your vote, I promise to be seen, to be heard and to listen to your concerns.
Inksplott: How can the people of Splott get in touch with you and tell you what they would like?
Rhys: All our information to contact us is on our handouts we've been delivering. We have a mobile contact number if people want to call or text and share their concerns. If you need more info and you're online. Please visit us on www.facebook.com/plaidstpg. As a councillor, I want to be seen, heard and available for our community and the people within it.
Mobile: 07398870318
Twitter: @plaidsplott
plaidsplott@gmail.com
Inksplott: Please tell us a funny story about Splott.
Rhys: I remember as a child during the summer holidays we would have summer activities in the STAR leisure centre. It used to be so much fun and I have many happy memories from those times.
Inksplott: This is your free space to tell us anything you like.  Off you go!
Rhys: This isn't an opportunity for me as a career, this is an opportunity for me to fight for where I live and where I love. I want Splott, Tremorfa and Pengam Green to be heard just like every other ward in Cardiff is. I want our fair share of services, of time, of care and the respect we deserve.
Thank you.
Inksplott: Thank you Rhys.  Good luck in the election.
For more information about local councillor elections, click here