Splott is full of creative folk, from musicians, poets and writers to dancers, graphic designers and artists. This week's Splottlight is all about the easel as a local artist tells us what drives his drawings.  Introducing an insight to the world of freelance artist and illustrator Patrick (Gino) Coombes.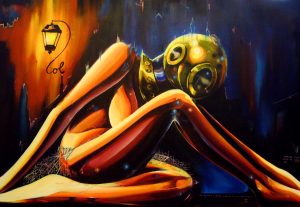 Inksplott: Hi Patrick, thank you for being interviewed for Inksplott.  Can you tell us a little about yourself and your work?
Patrick: My name is Patrick (Gino) and I'm a support worker with the Salvation Army but also a freelance artist and illustrator. Much of my art is based on what I see on a day to day basis in my work including people, mental health struggles and addictions.
Inksplott: How did you get into this?  Can you please tell us a little about the history of your art and how you became an artist?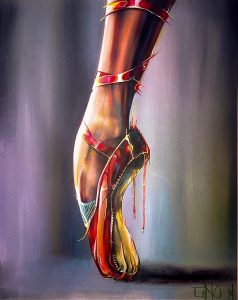 Patrick: I've always been into painting and drawing.  I find it as a way of managing stress, looking into new ideas and ultimately expressing myself. I graduated from Swansea with a degree in Fine Art – Painting and Drawing. When painting canvases, I work in acrylic and gel pen. My work centres around themes of work, sex, gender, depression, anxiety and hope. I seek to try and turn negative subject matters into something beautiful, vibrant and sometimes humorous. I also do murals, children's book illustrations and art nouveau themed work.
Inksplott: And how come your art relates to Splott?  Are you local?
Patrick: The piece that I have submitted is related to Splott but is part of a series of 5 Cardiff postcards (other areas include, Roath, Penarth, Cardiff Bay and Barry).  I have always loved art nouveau and the 1930s, Agatha Christie influence from my upbringing in Devon, so I wanted to try and make a chic, vintage themed poster advertising Splott Market.
I have been living in Cardiff for 9 years and in Splott for 3. It's a great area but could do with a decent pub. I wanted to try and celebrate Splott by acknowledging that it is a cool, vibrant and community centred borough which is definitely on the up!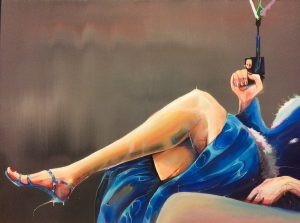 Inksplott: What do you think of the art scene around here?  How would you like to see it develop?
Patrick: I think that the art scene on an individual level is pretty good. The issue is that the Arts Council funding is often wasted and misdirected by being pumped into projects which promote overtly conceptual, talentless, elitist projects and exhibitions under the umbrella of 'modern art.'
I would like to see the scene developed by having funding, to encourage actual skill and talent in painting and sculpture (particularly amongst young people) and to make art that the Cardiff Community could relate to and be proud of. Art should be for everybody, which is why I created the postcards because it's a little piece of art that anyone can afford and display.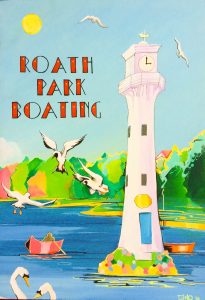 Inksplott: What is your speciality?
Patrick: My specialities are acrylic painting and probably being versatile and genuine. I like to make things beautiful and eye-catching in my art and hopefully produce work that people can appreciate.
Inksplott: What's your best story since starting out?
Patrick: I like the idea of people buy my art and hang it on their wall. Also having people who have seen my work about my own mental health struggles, coming to say that they could relate to it or that it helped them. That is always nice.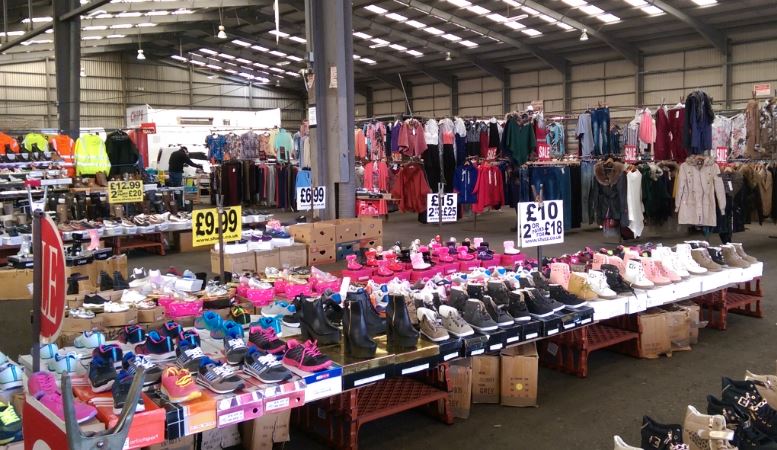 Inksplott: Tell us a secret or something about Splott that we won't know.
Patrick: I don't know if it's true but in my job I visit a lot of the Cardiff hubs and I think that the STAR centre is the only one with a swimming pool.
Inksplott: Any exciting plans or events on the horizon?
Patrick: I will be getting my new children's book 'Franklin and Dot's Alphabet Soup' published later this year and I am very excited about this.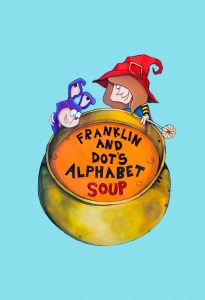 Inksplott: How do people find you?  Do you have a website / social media?  How can people interact with the project?
I have a website www.pgcoombesart.co.uk (this has all of my work on there) and I am also on facebook if people would like to drop me a line.
Inksplott: That's great – thank you so much for the interview and good luck with your book release!