As January comes to a close and the Christmas treat cupboard is bare at last, thoughts may turn to the pile of presents still stacked in the corner or stuffed under the bed.  Socks and toiletries are given in their dozens at Christmas, and these items can be of real use to people who have very little. One Inksplott reader has given it some thought and has a solution that will help people directly here in our Splott community.  She would like to tell you about it.  Meet Natasha…
Hi Inksplott
I'm Natasha, a Splott resident.  I'm getting in touch as I want to talk about something to do with our community and would like you to know how you might be able to help.
After the last binge of Xmas gifts from my in-laws, I literally had to sit down and process what had just happened.  Do I need all of this?  I grew up with little and have been lucky to now live a comfortable life.  So, what do I do with my "comfort"?  I had a bit of a revelation.  I went back to my roots of remembering what it was like to grow up with very little, to be content with very little.  
I also recently encountered an asylum seeker who was telling me about what it was like to have no money.  I heard some pretty shocking things which kick-started my slow little brain…and accelerated my  human/e heart.  When you have a runny nose, it's annoying enough not to have a tissue.  What is it like to have your periods and not have sanitary towels?  How much public toilet paper can one store?  There's lots of basics stuffs that we take for granted, but when you don't have a penny to your name it's a different story. 
Anyway, so I went to the Oasis Centre and asked what I could do and what they needed.  I think we can all do our little bit, very simply.   I believe in informing people and letting them know and decide for themselves.  We have a citizenship responsibility to contribute to our community.  The Little Prince (book by Saint-Exupéry) said that he was responsible for his rose.  I feel that our community is a rose for which we share a responsibility.  I talk about citizenship as I had to take a citizenship test and I actually took an oath to become a citizen.  So it means a lot to me.
I'm getting to it Lynne, this is the thing about me, I am slow getting to the point.  The point is this is what they need:
Toilteries:  deodorants, toothpaste/brush, soap, sanitary towels, razors, body cream
Socks and underwear: apparently this is a much needed stuffs which people never actually think to donate
Sugar and coffee: I've been told the centre goes through kilos of these, literally.
We could even chuck in tissues for a runny nose.  People can donate what they have and what's left over.  These aren't my words, but the centre's.
I would like this message to go out to our community because after talking to one of my friends, she replied: "I didn't know about this".  Well, if the message is out there, people can know about it.  
My personal commitment is to do what I can when I can for the centre.  Why do this alone when I know that our area is full of people who want to do the same.  That's the thing, I read an interview on Inksplott recently; I read Francesca Dimech's and I share a lot of those views.  So, how do we get all these people with similar views together?  If I like marmite, how do I get to know who else likes marmite down my street?
Why is the Oasis Centre so special?   It's not.  It's about our compassion for the people using the centre; our neighbours and future citizens of this country and city.
Thanks for reading,
Natasha Applasamy
https://twitter.com/NApplasamy
So there we have it, a letter from the heart with a simple message: share what you don't need that may be useful to someone else.
Perhaps other readers may want to do the same as Natasha, or even organise collections in their streets?  Sometimes all it takes to start something amazing is for one person to take the plunge and go from 'I could do that' to 'Look at me, I'm doing it!'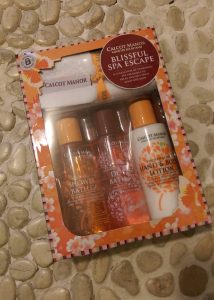 For me personally, I will be parting with this lovely little gift set that I was bought for Christmas (insert piccie).  It's not that I don't like it, it's just that I had lots of lovely little gift sets for Christmas and I haven't opened this one yet!  And as I had lots of lovely little gift sets for Christmas, I actually don't need it.  So I will be strolling to the Oasis Centre in the next few days and dropping it off, along with a few bars of soap and tubes of toothpaste.
This isn't about having a clear out and dumping stuff at the Oasis Centre; it's about supporting their core needs.  If we all give a little, it could make a massive difference.
Oasis Cardiff is a center for Asylum seekers and Refugees.
They are open 5 days a week, Monday to Friday from 9.30am to 4.00pm.
The centre offers ESOL classes, employability workshops, dance classes, a women's only area, mother and toddler groups and support with letters and phone calls regarding asylum and refugee issues.
Oasis Cardiff also provide a safe space to relax, meet new people and share stories and experiences.
If you would like to read about the Oasis Centre and the work that they do, visit their website here