Last week, an Inksplott reader asked if I had run an article on all the local fitness classes on offer:  "Have you done any articles on where to exercise in splott and surrounds? I know about the women's running group, the hub classes etc., but am sure there are loads more and would love to find out!" (thank you Ruth Mercy!)
Inksplott has featured certain sports clubs, like Girls Together Splott, Splott Albion Minis football club and Splott Phoenix Bowls Club, but there hasn't been a single article capturing most of what's going on, keep-fit-wise, in one place.  That article is in progress, thanks to a shoutout on social media that received an incredible response (which is why the article will take a few days!) but some of the responses have been so fantastic that they deserve articles of their very own.  More individual posts will follow, but first up and launching the Splotlight Series on 'Fitness and Fun in Splott' is Adamsdown gem and much cherished Rubicon Dance.
For those not in the know, Rubicon Dance delivers outstanding dance practice that enriches creativity, encourages learning and increases happiness and wellbeing.
Rubicon is the community dance development organisation for Cardiff and Newport and was one of the first of its kind in the UK. It was launched in 1976, as the Cardiff Community Dance Project based at the Sherman Theatre, and relocated to Adamsdown in the early 1980s (and yes, we are very jealous here in Splott, but thankfully it's just over the bridge).  Rubicon is one of the 69 Arts Council Wales Revenue Funded Organisations.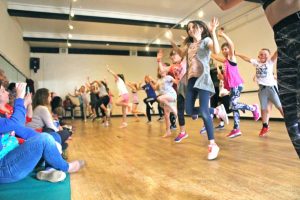 Rubicon offers a range of dance classes across Cardiff and Newport, at their fully accessible studios in Nora St, Adamsdown, and at community venues including Day Centres, Community Centres, Hospitals and Schools.  They offer classes for young people – from 18 months old upwards – to the elderly.  Their oldest participant is well into her 90s.
They have run classes for people with learning disabilities for over 25 years and most of their participants have been attending for many years.  In addition, their newer classes for young people with learning disabilities have proved very successful, and they have performed at several events across Cardiff including The Accolade Awards, and the Fragile X Flashmob.
Adam Lloyd-Binding, Centre Coordinator at Rubicon said:
"We are very proud of being based in Adamsdown – being at the heart of the community is exactly what we are all about."
In 1986, Rubicon's One Year, Full Time Preliminary Training Course was launched, in response to a demand from dancers who wanted to explore the art form more fully. The course grew, as did the demand and has now become fully accredited course; providing for many, bedrock for vocational training and dance related careers.
It's the only course of its kind in Wales. It is a stepping stone for students of different ages, abilities and experiences to develop their skills and technique. It's a challenge, where training is about nurture; developing good quality and integrity in dance practice. It's an opportunity to discover talent.  Learners will see how dance transforms and engages people by participating in sessions and supporting Rubicon's youth provision, education and school work, people with disabilities, adult over 50's groups in community centres in Cardiff and Newport. But most importantly, it's an opportunity to learn how to support each other, in an environment where learners can reach their full, creative potential.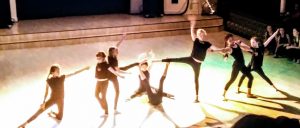 In addition to all this, Rubicon offers training opportunities, mentoring opportunities, work placements, bursary schemes, a summer school, workshops and much more.
Here's the latest adult programme:
Centre Programme for Autumn Term 2017 4th September – 8th December
Half Term 30th October – 3rd November
Ballet classes start 14th September
Classes for Adults with Disabilities start 18th September
Adult Classes
Monday
Dance for Disabled Adults
1:15-2:15
£33.00 per term
Barre Concept
6:00-7:00
£5.50 per session
Tuesday
Dance for Disabled Adults
1:15-2:15  £33.00 per term
Bharata Natyam
6:30-8:00
£65.00 per term
Wednesday
Beginners Ballet
6:30-7:30
£5.50 per session
Contemporary
6:30-8:00
£6.00 per session
Thursday
Dance for Adults with High Support Needs
9:45-10:35
£4.00 per session
Dance for Disabled Adults
11:00-12:00
£33.00 per term
Intermediate Ballet
6:00-7:00
£5.50 per session
Advanced Ballet
7:00-8:30
£6.00 per session
Tap Beginners/Level 1
7:00-8:00
£5.50 per session
Tap Level 2/3
8:00-9:00
£5.50 per session
Friday
Dance for Disabled Adults
1:15-2:15
£33.00 per term
Here's the latest programme for children/young people:
Centre Programme for Autumn Term 2017
4th September – 9th December
Half Term 30th October – 3rd November
Monday
Youth Contemporary 9-13 years
5:00-6:00
£3.00 per session
Tuesday
Junior Nubrico*
8-11 years
4:15-5:15
£3.00 per session
Young Nubrico*
12-14 years
5:15-6:30
£3.00 per session
Nuworx: *Street Performance Group 14 years +
5:15-7:00
£5.00 per session
Bharata Natyam Beginners 8 years+
6:30-8:00
£65.00 per term
Wednesday
conFUSION: * 13 years +
4:30-5:15
£3.00 per session
(Performance group for young people with learning difficulties)  Fusion:  12 years +
5:15-6:00
£3.00 per session
(Dance for young people with learning difficulties) Junior Street 8-12 years
4:30-5:15
£3.00 per session
Junior Nuworx*
5:15-6:15
£3.00 per session
Thursday
Nubrico:* Contemporary Performance Group 15 years+
5:30-7:00
£4.00 per session
Friday
Boys only Dance 7 years +
4:45-5:30
£3.00 per session
Boys Re:BOUND -in Partnership with ReBourne* 9 years+
5:30-6:45
£3.50 per session
Saturday
Family Session (Adults with Toddlers)
9:30-10:15
£3.00 per session
Toddlers Dance 3-4 years
10:30-11:15
£3.00 per session
Boys only Dance 7-10 years
10:00-10:45
£3.00 per session
Ballet for Children 5-7 years
10:45-11:30
£3.00 per session
Infants Dance 5-7 years
11:30-12:15
£3.00 per session
Ballet for Children 8-12 years
11:30-12:15
£3.00 per session
Junior Dance 8-12 years
12:30-1:30
£3.00 per session
*Audition/Invitation only
To find out more about what's on offer, visit the website or follow Rubicon on Facebook or Twitter:
Website
Twitter @RubiconDance
Rubicon Dance, Nora Street, Adamsdown, Cardiff, CF24 1ND
Tel: 02920 491477
Email: info@rubicondance.co.uk