A seven-year-old boy in Splott has been collecting food donations for a local food bank to help people affected by the roll-out of Universal Credit.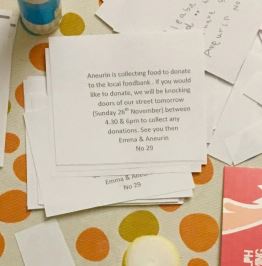 When Emma Brute came home from work and told her son, Aneurin, how she and fellow colleagues had been collecting food to donate to the local food bank in light of the roll out of Universal Credit, highlighting the reality that people in most need, will be without any money for a minimum of 4 weeks, Aneurin said 'I want to help.'
What followed was truly heart-warming.
Emma and Aneurin sent a Christmas card to everyone on their street asking for food donations.
The card read:
Aneurin is collecting food to donate to the local foodbank.  If you would like to donate, we will be knocking doors of our street tomorrow (Sunday 26th November) between 4.30 & 6pm to collect any donations.  See you then, Emma & Aneurin, No 29.
Accompanying the card was a hand written note from Aneurin:
Please give us some food to help people who don't have food.  Thank you, Aneurin, No 29.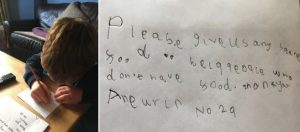 Only a few of hours later, a neighbour, Chloe, knocked on the door with arms full of goodies. She had received the card and wanted to donate.
The next day, mother and son prepared their 'sleigh' (a pull-along trolley) and put a box outside the front door for any early donations when they popped out to run a few errands.  When they arrived home, they had a pleasant surprise: donations had started to pour in!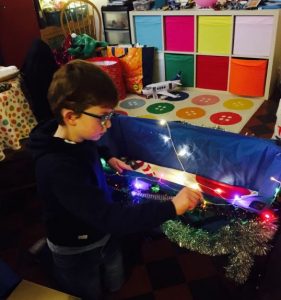 When collection time came, Aneurin and Emma dressed up in their very best Christmassy outfits, (Aneurin wearing an elf costume, Emma, a Christmas pudding!) and went out knocking the doors of all the neighbouring houses that had received Christmas cards the night before.
The response was fantastic and soon the sleigh was bulging with donated food from their generous neighbours.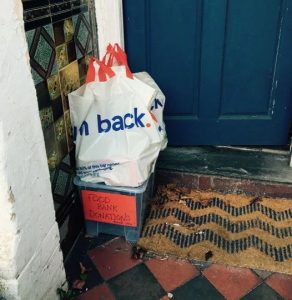 Writing in her blog, The Good Stuff, Emma said:
"We met lots of our neighbours. Aneurin was so happy everyone knew who he was. Our neighbours were so generous."
Donations have continued to pour in:
"The door hasn't stopped knocking and we are still receiving donations.  It's sad that we have to do this, but it shows what people can do by working together.  I'm so proud. A big thank you to all of our wonderful neighbours. Well chuffed!"

Emma & Aneurin

We're the best team."
They certainly are!
Emma's hopeful that their experience will encourage other people to set up food collections in their streets too:
"We would love it if you could share our story. Maybe it will encourage other Splott folk to do the same."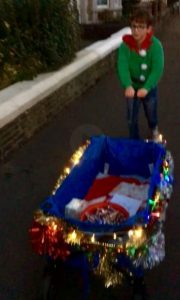 What a wonderful, inspiring story to start the week.
Good on Emma and Aneurin and all the kind neighbours who donated food.  It's great to see such community spirit in Splott.
To find your nearest foodbank, click here: https://cardiff.foodbank.org.uk/locations/
Here is the Splott Foodbank:
St Saviour's Church
Splott Road
Splott
Cardiff
CF24 2BW
Opening times:
Wednesday 1pm – 3pm
Thursday 6.30pm – 8pm