With Splott Lidl demolished and the shiny new store not due to open until December 2016, Splottlanders may be wondering where to go to buy their usual basket.  The answer may be closer to home than people think.
There are some great local businesses in Splott and Adamsdown selling quality produce at decent prices.  In this article, we take a look at what's on offer on Splott Road and Clifton Street and what makes these shops special.
For the meat eaters:
Danish Bacon, 27 Clifton Street
Kevin Wilson's Quality Butchers, also known as the Danish Bacon shop, has been on Clifton Street since 1978 and sells fresh meat and poultry along with cooked meats, pies and pasties.  Kevin has managed the shop for the last seven years and gave Inksplott an insight into what's good about this particular butcher:
"Our speciality is that you can have as much or as little as you like.  There's no restriction on value or price – you can come in and have one sausage or one slice of ham, which you can't usually get in the supermarkets, and you can physically see what you're getting."
Not only can you buy a single slice but you can also decide how thick you want it and
they'll adjust the slicing machine accordingly.
Kevin's gave some tips on what items are the best value at the moment:
"I like slow roasting and we do beef ribs on the bone.  Four or five hours in the slow cooker – there's nothing better.  They work out around £4 to £4.50 a piece and that will feed a good three adults.  We also make our own burgers, all handmade, plain or chilli and they are £0.99 each or six for £5.  We have an offer on sirloin and rump steak at the moment.  Sirloin is £15 a kilo which works out around £3.50 to £4 for an 8 ounce steak and they are very, very good quality."
Having sampled joints, cold meats and the burgers from Danish Bacon, I can
wholeheartedly say that the meat here is of stunning quality and the burgers are a particular delight!  I also like the fact that the carrier bags they use are 100% biodegradable and the cold meats are wrapped in paper bags which can go in the green recycling bag after use.
Kevin has a background working for butcheries in big supermarkets Tesco and Sainsbury's, followed by a stint in an independent butchers in Canton, and jumped at the chance to manage his own shop.
The shop has a loyal customer base but Kevin told Inksplott that it's a challenge running a small business in today's times:
"Things are difficult, I won't lie – all small businesses are finding it difficult, especially with Aldi and all the other supermarkets."
Last year, one of Cardiff's oldest butcher's shops, JW Todd and Son Butchers in Clifton Street closed after 131 years of family trading because of declining trade.  The message is clear – if we want to keep butchers on our high streets, we have to start using them.  Shop Splott!
Other options:
Sean's Butchers, 5 Clifton Street
Specialises in home cooked products.  Read a review here: http://www.yelp.co.uk/biz/seans-butchers-cardiff
To see Sean's and Kevin's butchers in more detail, have a look at this mini-documentary called 'Butchers & Barbers' made in 2012:
Fruit & Veg:
Pippins, Clifton Street
Pippins is an absolute treasure-trove with row upon row of fresh fruit and vegetables for sale.  For the bargain hunters out there, head to the back of the shop to the
'everything 50p' rack, where bags of potatoes, apples, onions and lots of other goodies are on sale for – you guessed it – 50p!  What a steal!
I can recommend their vine tomatoes, they are super-tasty, and they always have something interesting for sale, be it a speciality cabbage or an exotic root vegetable that's odd shape and colour entices you to buy it and try it.
Pippins also sells a range of cakes and biscuits and has an impressive spice section at the front of the store.  Every week there's something new or something on offer, which
makes the weekly shop a bit more exciting!
What I particularly like about Pippins is how old-school it is.  Whenever I go in there, people are chatting; to each other or the lovely lady behind the counter.  Prices are marked up on fluorescent stars and there's none of that misleading '3 for the price of 2' nonsense.  Your shop is quickly calculated at the till not by a scanner but by the lady herself (in her head) and if your shop comes to £21, for example, she'll say 'just give me £20 darling and call it even.'  Try getting that service in a supermarket.
Other options:
Splott Market, Lewis Road – Saturdays and Sundays from 9am
For an article on Splott Market, visit here: http://inksplott.co.uk/splott-market/
Eggs:
The Farmer's Yard Pantry, Splott Market
At the entrance of Splott Market these days you are greeted by the lovely people from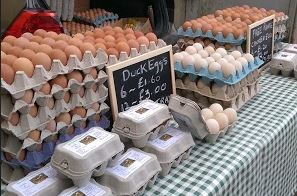 Top Yard Farm selling their free-range chicken and duck eggs.
On a visit to the market, I spoke to Linda, from Top Yard Farm*, who told me that she was there selling the eggs for her son:
"Our egg production started off when my grandson had a birthday.  He showed an interest in hatching eggs and we got him an incubator.  Well the production grew and we utilised an empty building on the farm and we now stock 500 Warren hens and a 100 Cherry Valley ducks.

We are here in Splott every Sunday.  This is our eighth week and we're finding it very successful to give the people in Splott the choice of buying free-range eggs if they want to.  It's a very ethnic-orientated market and the people are friendly, there's a good atmosphere and we really enjoy coming down here as well as the selling and promoting of a Welsh free-range egg."
Thanking Linda for the interview, I headed off with six duck eggs in my bag for a very reasonable £1.60.
Cheese & Wine Lovers:
Benedito's of Cardiff, 15 Splott Road
Benedito's Portuguese Delicatessen at the top of Splott Road is a bit of an institution in Splott – it's been there ages and sells almost everything you could imagine:
Fine wines, beers and spirits, Meat, Cheese, Fish & Seafood,
Poultry & Game, Soft Drinks, Tremocos, Tinned and Packet Foods,
Olives – Olive Oils, Biscuits, Cereals, Portuguese cakes, Nuts, Bread, Pasta, Vegetables, Confectionery and Ice Cream!
You can buy a bottle of Portuguese green wine and some delicious cheese and olives to nibble on as you drink it.  You can also buy salt cod here and a number of different hams and sausages.
According to the website, 'whatever the occasion you will find all the ingredients for that special meal' in Benedito's.
For more information on the deli, click here: http://www.beneditos.co.uk/
Bread & Pastries:
Carlisle's, 16 Splott Road
For a mind-boggling selection of super-yummy breads, cakes, pies, pasties, sausage
rolls and other delicious items, Carlisle Bakery on Splott Road is king.
They have some super deals on as well, like buy any pasty and get chips for 50p, coffee and a cake for £1.65, breakfast roll with tea or coffee for £2.30 (the list goes on and on).  You can also buy a Jamaican pasty for a pound!
The Danish pastries are sublime and the bread is delicious.  Carlisle bakery is a true
local gem and a tasty one at that.
Top tip: try the sausage rolls.  They are the business.
Other options:
Baker's Dozen, 17 Splott Road
What I love about this bakery is that, in addition to the usual bread and pastries, they sell good quality meals in tupperware for between £2 and £3, making them excellent value and really handy for people who are less than Nigella Lawson in the kitchen.
Like in Carlisle bakery, the staff are friendly and uber-helpful and are never too busy that you can't have a chat with them.
Ania's Delicatessen, 144 Clifton Street
Thanks to a recommendation on Twitter, I now also know about Ania's Delicatessen, also known as the Polish Bakery, at the top of Clifton Street (Newport Road end), where you can get two drinks and two cakes for £2.50!  What a bargain.
For more information, click Ania's Delicatessen.
Brutons the Bakers, 31 Carlisle Street
Established in 1898, Brutons has a number of bakeries in Cardiff.  For more information on Brutons, go here: http://www.brutonsthebakers.co.uk/
Nata & Co, 118 Clifton Street
Andamsdown has a great claim to fame in Nata & Co, widely known as the Portuguese Bakery, which opened its first store on Clifton Street a few years ago.  So successful has this venture been that they now have two sister-stores: one in the city centre opposit the castle and another down the bay just up from The Packet.
The coffee and cake are exquisite and the staff are always smiling, even when the queue is out the door.
For more information, click here: http://www.nataandco.co.uk/
Flowers and Plants:
Rolfe's Florist, Splott Road
For anyone looking to brighten someone's day with a bunch of flowers, or do a little
planting in the garden, head to Rolfe's.  It's a beautiful boutique florist right in the heart of Splott which offers flower arrangements, bedding plants, little shrubs and some lovely ornaments, ideal as gifts.  Rolfe's Florist has been on Splott Road since 1967 and is a highlight on the street.  I love seeing the splash of colour as I walk past.
To see what Rolfe's has to offer, go here: http://www.rolfestheflorist.co.uk/
Bits and Bobs:
There are a few stores on Clifton Street selling hardware items, pots and pans, fuses, hoover bags and other handy things (like superglue – why have I never got any superglue?).  Between them all, you can pretty much find what you're looking for.
For books, clothes and brick-a-brack, head to Tenovus charity shop on Clifton Street.  It's run by some lovely volunteers who take great pride in their shop and it's really well organised inside.  Most of the peperbacks in there are 75p each and I've found some gems (once I'd moved the whole Twilight series to one side).
So there we have it, a quick guide to shopping local.  Supermarkets may have everything under one roof, but where's the fun in that?  I much prefer pootling from shop to shop on a Saturday morning and having a chat along the way.
If I've missed your favourite haunt, please let me know in the comment box.