Splott Market is open every Saturday and Sunday morning and is a great place to spend an hour on the weekend.  There are stalls galore offering a boggling array of goodies, from fresh veg to dog blankets.
There are stalls selling clothes, shoes, household appliances, cookware, pet food, pet wares, make up & perfume, handbags, tools, PPE (Personal Protection Equipment), DVDs, fruit & veg and meat.
Highlights for me include the cookware stand (yes, I do need a garlic crusher, thank you!) and the meat wagon, which is fondly dubbed 'Tenner Lady' as whatever price she starts at, the lovely lady on the microphone will always end up selling it to you for a tenner (unless it's Christmas time and you're buying half a pig, in which case she won't let it go for anything less than £25).  My favourite purchase from Tenner Lady was a massive joint of beef that she sold me for, you guessed it, a tenner (and slow-cooked with mushrooms and onions, it was divine!).
The market is brilliant for fruit and veg and there is a diverse range of produce for sale.  Some of the fruit needs to be eaten within days, not weeks, but the value for money is exceptional.
The market also caters for the hungry.  There are at least three fast food vans selling breakfast rolls and burgers and the all-important cups of tea.  If that's too heavy on the belly you may want to try a samosa (the best in South Wales according to the self-made sign and having sampled a few, am inclined to agree), or a donut or Welsh cake perhaps.  The jacket potato stand is always tempting as is the twister potato crisp on a stick (a favourite with the children).
This morning's mission was very targeted: to track down Tupperware cereal containers (having got sick of cereal going soggy in the box).  I became distracted, however, on spying an egg stall by the entrance.
I love it when this happens; a stall I hadn't seen before!  What wondrousness!  I quickened my pace and introduced myself.
I spoke to Linda, from Top Yard Farm*, who to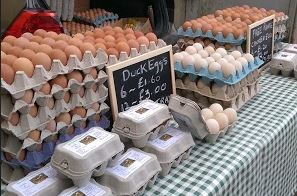 ld me that she was there selling free-range chicken and duck eggs for her son:
"Our egg production started off when my grandson had a birthday.  He showed an interest in hatching eggs and we got him an incubator.  Well the production grew and we utilised an empty building on the farm and we now stock 500 Warren hens and a 100 Cherry Valley ducks.

We are here in Splott every Sunday.  This is our eighth week and we're finding it very successful to give the people in Splott the choice of buying free-range eggs if they want to.  It's a very ethnic-orientated market and the people are friendly, there's a good atmosphere and we really enjoy coming down here as well as the selling and promoting of a Welsh free-range egg."
Thanking Linda for the interview, I headed off with six duck eggs in my bag for a very reasonable £1.60.
So there you go, a snapshot of Splott Market.  It's worth a visit if you live local or are in the area.
Oh, and for those wondering, the mission was a success: two plastic containers for cereal were purchased from the cookware stall at the bottom of the market from a lovely chatty man who sent his assistant to the lock-up to get them.
*To find out more about Top Yard Farm, visit their Facebook page: http://on.fb.me/1UJWBCi