Reported instances of vandalism, criminal damage, abuse and anti-social behaviour have recently risen in Tremorfa and Splott, culminating last night in an incident on Aberystwyth Street which left car wing mirrors shattered and plastic casings in pieces.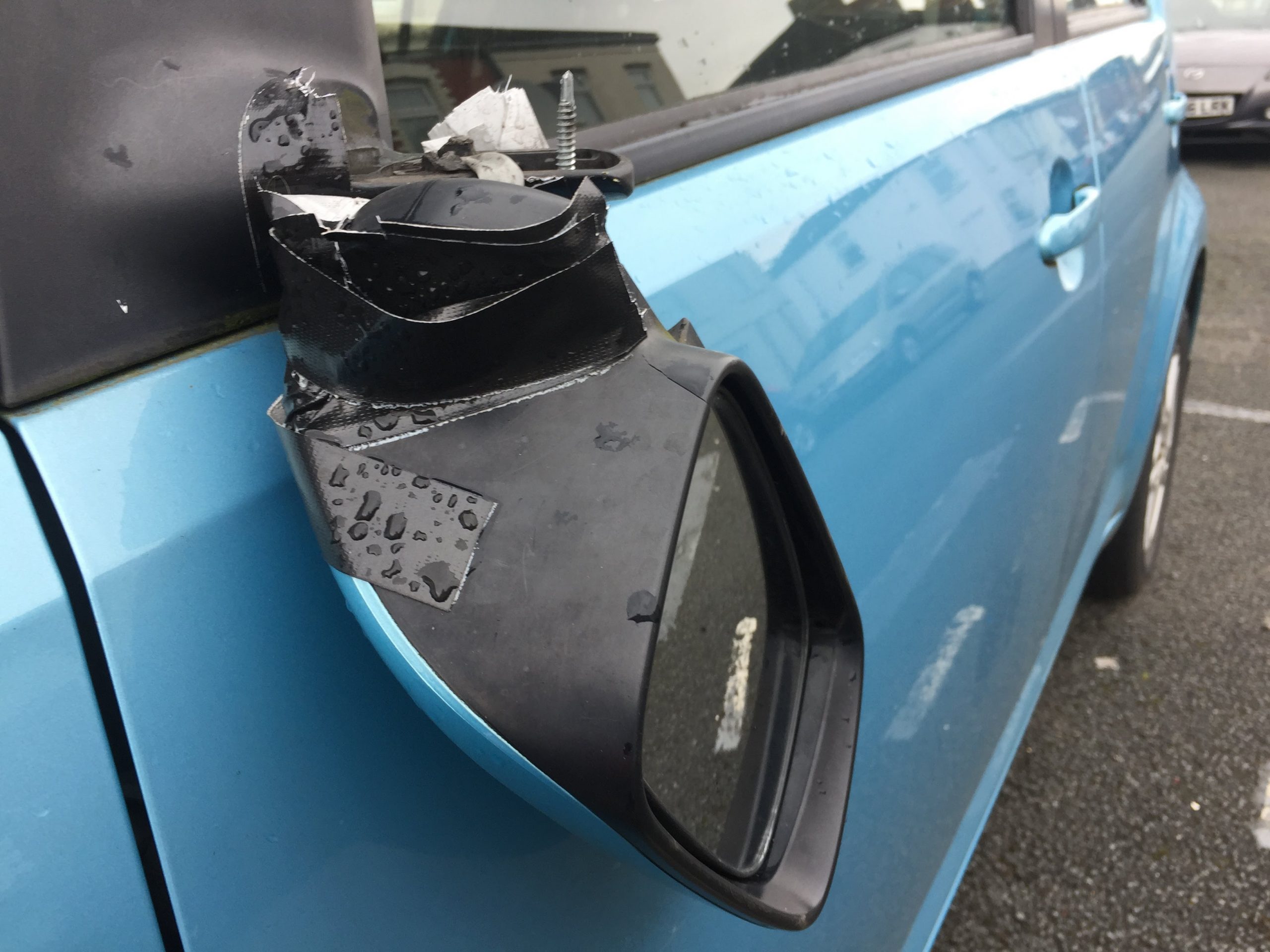 At 6.30pm a group of teenage boys on pushbikes rode down the street smashing and bashing any wing mirror that wasn't tucked in, leaving three cars with smashed mirrors, two of which were beyond repair and hanging off or in pieces on the floor.  The boys were heard to shout 'Fifty Pounds!" at each other as they gathered on Singleton Road, before riding off down Hinton Street towards Moorland Park.
Police were called and, after taking statements, drove around the streets of Splott and Tremorfa to look for the gang.
Inksplott reported the incident on social media and was soon receiving notifications of similar occurrences.
@AndyGwaith warned 'Splotties' that the wing morror smashing idiots were 'back at it'…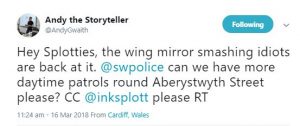 On Facebook, Zara Michelle England commented 'This happened to us over and over on Splott road disgusting appalling behaviour, this is why I campaigned to get CCTV pointing down the main road,' indicating that this has been a problem in Splott for some time.
Rhian Marden commented:
"They done my car over my mums in Aberystwyth street last Sunday reported it to 101 was kids on bikes then little shits."
Shortly after the warning went out on Inksplott, Emma Sellar reported: "My car just got done in Tremorfa!! So angry."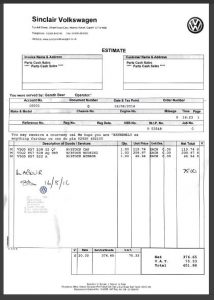 Local resident Darren Aldridge posted a photograph on Twitter of a bill for £451.98 and tweeted: "£50? More like £500! They don't even know how much damage they cause. What will happen to them if caught though? I don't think they actually fear any consequences."
Worryingly, one Splott female cyclist made a report to Police on Thursday 15th March after being driven off her bike by a group of teenage boys on bikes while cycling near to Cardiff Paint Supplies on Carlisle Street, causing injury to her and damage to her bike.  Needless to say, she was very shaken and distressed by the experience.
She told Inksplott:
"I was cycling over to yoga in Grangetown at around 6.15pm (on Thursday 15th March) when a group of about 8 boys cycled out into the road in front of me at the junction of Ordell Street and Carlisle Street.  I hung back to let them pass as they are always cycling dangerously and I didn't want to get in the midst of that.  When I thought they had gone, I continued on but then another 4 or 5 more came around the corner and I ended up in the midst of them. 

"Immediately they began cycling and swerving close to me and I asked them to be careful.  At this, they turned nasty and began cycling at me, pushing me into the oncoming traffic on the other side of the road.  This was at the curve in the road where Carlisle Street becomes Sanquhar Street.  At this point, one said: "Do you want to get fucked up love?" and cycled at my back wheel causing it to skid out from under me, throwing me across the road, injuring me and damaging my bike in the process.  I reported it to the Police and it's being treated as assault, but it has left me really shaken and scared of running into them again.

"I would like to add that I am very thankful to the kind guys who pulled over and helped my and my bie out of the road.  I was a crying mess and they were lovely."
On the 15th of March, @pipsixtwo reported on Twitter that kids were throwing stones at the windows of busses and cars, causing the window nest to her on the bus to shatter.
Pip told Inksplott: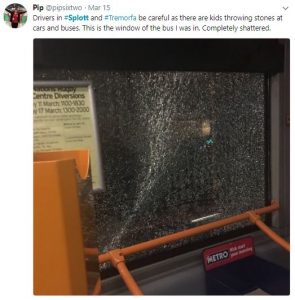 "I was on the way back from town on the bus, as it passed under the bridge by Cloughmore Surgery a group of kids on bikes between the ages of 11-16 threw a rock, shattering the glass of the bus. The driver was quick to pull over and assess the situation. After speaking to him, apparently it happened to another driver in another area of Cardiff recently too. This is coupled with recent vandalism in both Splott and Tremorfa parks by similar gangs. It's frustrating when the few spoil it for the many. So many people I talk to want to see change, and ring 101 when there is a problem. But we need to tackle the problem rather than dealing with the aftermath."
Local councillor Jane Henshaw tweeted that local schools, Baden Powell, Willows High and Moorland Primary were all burgled this week, which may or may not be completely unrelated to the teenage cyclists committing crimes against cars, busses and cyclists, but demonstrates a worrying rise in criminal activity in the area.
*see bottom of article for more reports of antisocial and criminal behaviour
South Wales Police gave the following advice to local residents:
If you see or hear a crime taking place, call 999
If the crime has already occurred, call 101 and report it
By reporting the crime or anti-social behaviour, more resources will be allocated to the area
The clearer description you can give of the perpetrators, the more likely they are to be identified and caught
Check your CCTV if you have any to see if the act was caught on camera
In the age of the smart phone, maybe someone can catch them on camera, but residents should never put themselves in danger to take a photo of the perpetrators.
If anyone has information about the identity of the boys on bikes or teenagers throwing stones at bus and car windows, please report it to South Wales Police.
Lastly, please stay vigilant and stay safe.  Let's look out for each other and work together to nip this behaviour in the bud.  We don't accept it and we don't want it in Splott and Tremorfa.
IF YOU KNOW WHO THESE BOYS ARE, PLEASE REPORT THEM TO THE POLICE.
*Incidents reported to Inksplott following release of the article:
Laura Lola Stephenson reported on Facebook: "We've had a rise in kids kicking/punching our front door + throwing stones at our windows. Saw two of them with a parent yesterday and considered saying something (especially being heavily pregnant – I could do without it!), but as it was midday + the boys should have been in School, not sure she'd have cared."
Jonathan Swain reported on Facebook: "There was a crowd of lads down by the Hyb who were running into the road in front of cars."
Inksplott replied: "I've also had this but on the Zebra crossing on South Park Road – they hide around the corner and then run out in front of the car when it's almost too late to stop. You're having a heart attack and they're all pointing and laughing. One day, someone won't be able to stop in time."
Jonathan Swain replied: "My wife was out running and felt very intimidated by them- and she's no fainting flower. Someone is going to get hurt."
Charlotte Kate also responded: "There were a group of kids doing this on Splott road on Tuesday too. And I've caught them in the act kicking wing mirrors off cars, called the police. I hope they catch up with them….
Thanks for posting, will keep an eye out."
In response to the article, The Waiting Room tweeted: "Probably not the same, but a bunch of kids on bikes crashed Adamsdown Sq park Weds 6.30pm, shared/necked a ltr bottle & a couple of joints while shouting & acting aggressively. Once finished they disappeared in the direction of Splott."
Hazel Chudley reported on Facebook: "I've had four wing mirrors smashed this year. It's at the point where I just tape it back on – they don't last long enough to make it worth replacing! Thanks for reporting on it."
Tamsin Stirling reported on Facebook: "My wing mirror got broken off yesterday evening – Hinton Street. It's happened several times before – v aggravating."
Julie Ann Pope commented on Twitter: "I've had my moped stolen, numerous counts of antisocial behaviour and intimidation, spitting and during the snow they attacked bus by bombarding it with snowballs preventing an elderly lady from getting off. They hang out around Zoka Cafe most days."