How many times do you walk past a building and give no more than a cursory glance? Probably every day.  This is exactly what I've done with St German's Church in Adamsdown the whole time I've lived in this area, which is going on 12 years now. But attending a remembrance service inside the church last night opened my eyes and changed my perspective and I'm now enthralled by the majestic buildings still left in this part of Cardiff. I hope to investigate all of them, in time, but will begin with this 19th century marvel that stands proud on Planet Street.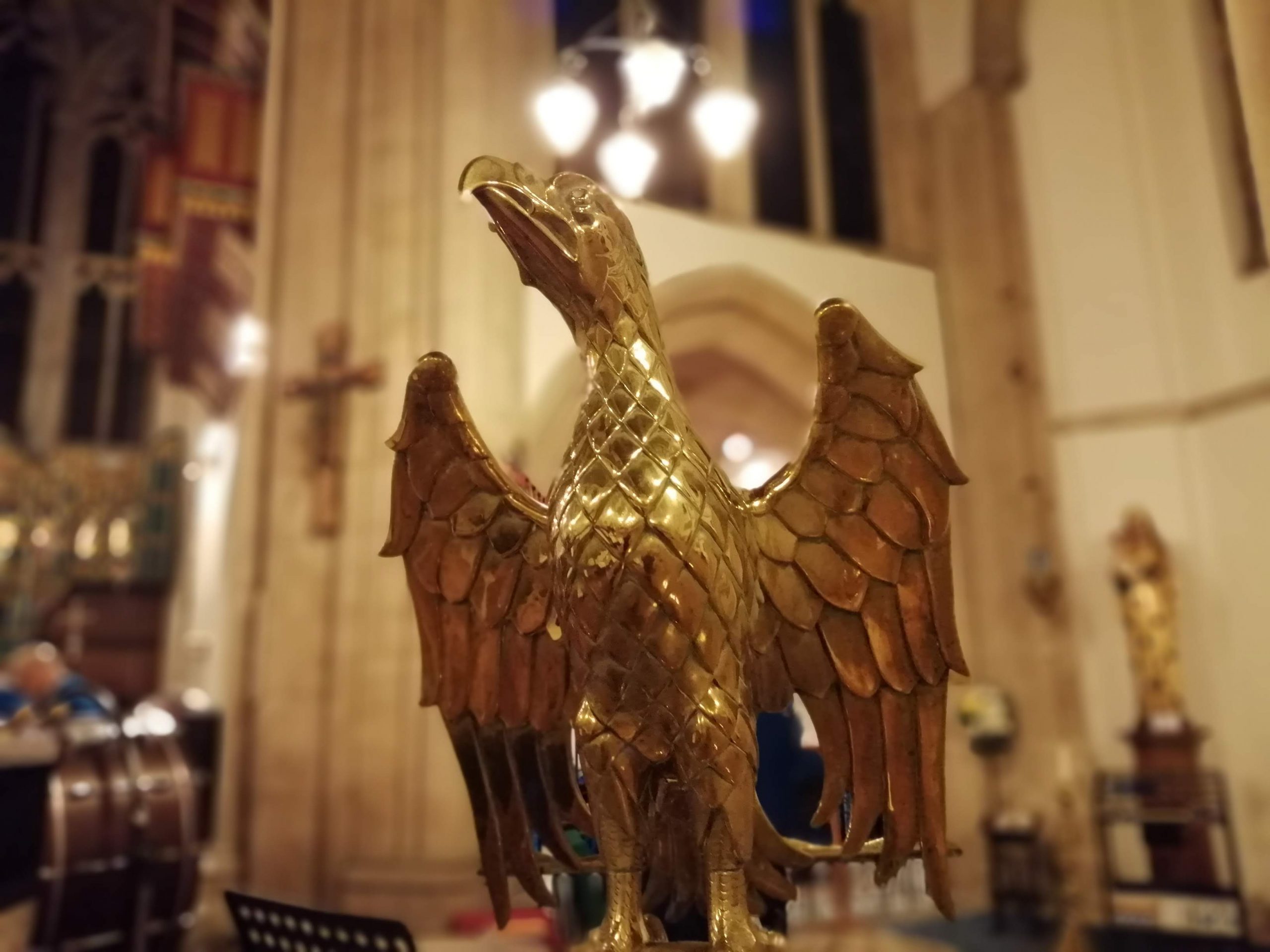 From the outside, it's statuesque, and, as I found out, the inside is just as spectacular.  High, vaulted ceilings, beautiful stained glass windows, a gold eagle lectern; inside the building is a feast for the eyes.  But why is the church there, sat in a suburb of now modern Cardiff? A handy guide for visitors told me a little more.
The proper name of what we know as St Germans is the Church of St German of Auxerre and it was opened in 1884.  Maths isn't my strong point, but I make that 135 years!
It was built due to a population explosion in Roath, which incorporated Adamsdown back then.  Between 1872 and 1884, the population increased from 8,000 people to 40,000, and there was a massive, and immediate, need for new churches in the area.  Imagine that; in 12 years, there was a 400% increase in people living in this part of Cardiff, due to the opening of Bute Docks and the coming of the railway, and many of them were Catholic, and looking for a place to feel a connection to.
Father Frederick W. Puller arrived in 1872 and found a parish church only capable of seating 300 people and a small chapel, converted from a barn. He knew that something needed to be done and, by September 1874, an iron building was erected in Adamsdown and dedicated to St German.
St German was a 5th century bishop of Auxerre in Gaul, now France, who visited Britain to preach Catholicism and, by all accounts, 'passed through Roath on his way to Wales'! This would have meant travelling along old Via Martima, or as we know it now, Newport Road (got to say, liking the old name!). Father Frederick W. Puller, the first parish priest, felt that the name befit a new church being built just behind the road that German had travelled along and the name was born.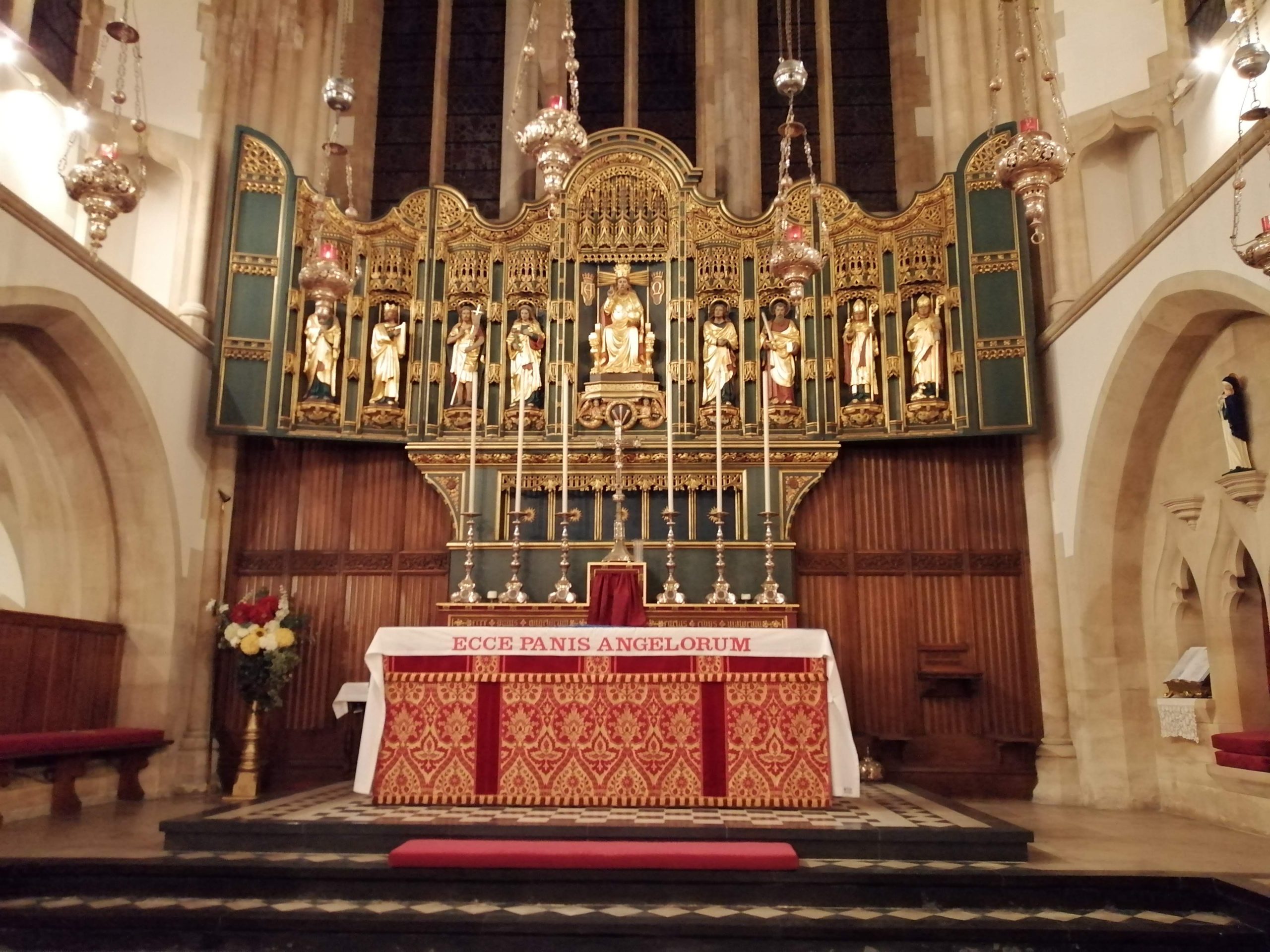 Knowing that the iron building wouldn't last and wasn't large enough, Father Puller's successor, the Reverend Charles Smythies, set about raising money for a new church and raised almost £5,000 by 1881. This is worth approximately £330,000 today according to the national archives, which is mind boggling.  Can you imagine building something as magnificent today for £330K?!
The Rev' Smythies was successful in his fundraising and the eminent church architect of the day, George Frederick Bodley, was engaged and the land was donated by Charles Lord Tradegar, hero of the Charge of the Light Brigade.  At a service presided over by the 84 year old Bishop Ollivant of Llandaff, Charles Lord Tredegar laid the foundation stone in April 1882, which can still be seen in the north chancel wall.
St German's Church formally opened on the 1st of October 1884 (St German's Day) and eight services were held to celebrate, the first being at 4.45am.
The church is built in local Swelldone stone, with Bath stone dressing and a Welsh slate roof (of course!).  The flying buttresses on the outside that support the sanctuary roof are the only ones in Cardiff.  The slender spire, called a fleche, is slate-covered and has a sanctus bell.  There's so much more on the inside to be enjoyed, I would encourage anyone to go and visit, religious or not, to see the magnificent architecture and interior, including a font, carvings, sculptures, stained glass windows, the oak pulpit and the brass eagle lectern just to name a few.
One of the internal elements that stands out is the organ; one of the finest in Wales, built by William Hill and Sons of London (who erected the organ in Westminster Abbey).  Costing £1,000 and used for the first time on St German's Day in 1885, it was originally blown by hand, but in 1900 an electric fan blower was added.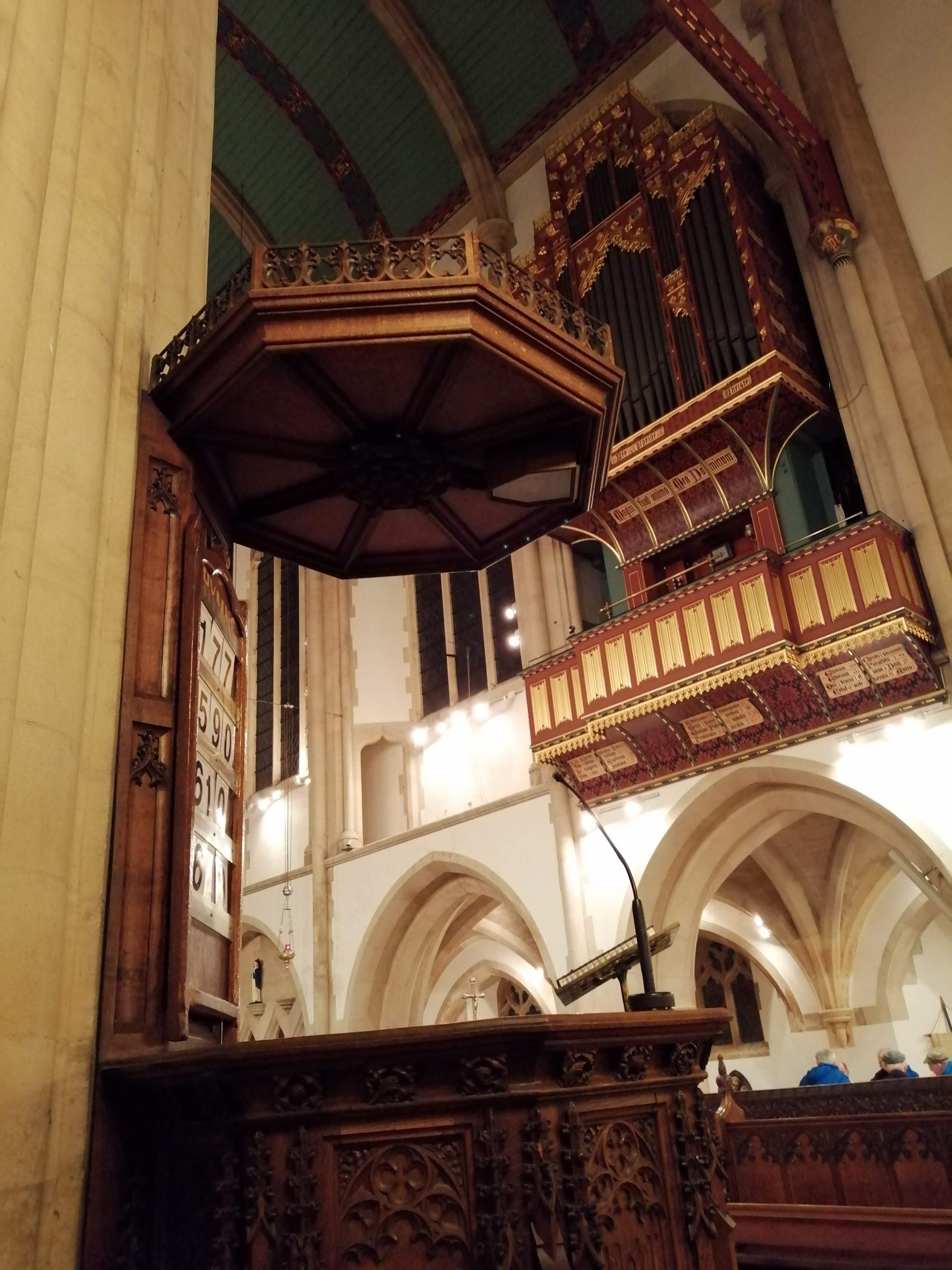 There is much more to say about the inside of the building, but rather than give it all away, I would encourage you to visit for yourself and see the splendour with your own eyes.  Please do pick up one of the printed guide books and have a read; the history is fascinating.
When you leave, perhaps you will glance at the metal sculpture outside; a 12 foot Calvary by local sculptor Frank Rope, erected in 1965, showing Christ on the cross flanked by the figures of the Blesses Virgin and St John the Evangelist. This replaced the stone Calvary depicting the same scene, which was destroyed in an air raid in 1941 which also killed one of the nuns, Sister Teresa. The new, metal, sculpture, was erected in her memory.
It seems fitting that I learned all of this local history during a remembrance concert.
I hope that you have enjoyed learning a little more of the history of one of our beautiful buildings.  I hope to explore more in the coming months.
To find out more about St German's, visit the website here: https://www.saintgermanwithsaintsaviour.org/