If you've walked by Splott Park lately, you may have seen Jon Belcher; a lawyer living in Splott who pledged to run every day in January to raise money and awareness for refugees and asylum seekers.
Jon, who works for the Cardiff branch of commercial law firm Blake Morgan and has lived in Splott since 2002, is no stranger to running; it's one of his hobbies.  He's even completed a few marathons, including the London Marathon, but when 2017 rolled around, he decided to push the boundaries and set himself not one, but six challenges.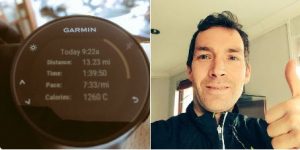 Jon decided to sign up to a non-stop 100 kilometre race taking place in July called Race to the Stones.  100K is further than he's ever run in one go before and Jon started to think about what he was going to do to train in the six months running up to the race.
That's where the six challenges came in.
Jon also wanted to raise some money for a good local cause and, last autumn, post-referendum, turned his thoughts to the Oasis Centre in Splott:
"Post referendum there was a lot of nastiness, unpleasantness, an increase in hate crime and unpleasant things in the paper about immigrants and refugees, in particular, and because I live in Splott, just around the corner from the Oasis Centre, I knew about them and the work that they did, so it seemed to me to be a good idea to put the two together and try to raise some money for the centre and also raise the issue of how life is pretty tough for refugees." 
Jon came at the challenge from two directions; to challenge himself on a personal level and do something a bit different this year but also to raise money and awareness and to try and do something nice for the community.
"I thought is I ran every day for a month it would build up my fitness and also raise quite a bit of publicity.  It would be nice to change things for the better.  The Oasis Centre does really good work, providing English lessons and being a focal point in the community."
So what are Jon's six challenges?
Challenge No. 1 – Run every day in January.
Challenge No. 2 – Run 40 miles over a weekend.
Challenge No. 3 – Run in a 30 mile race in April, starting in Penarth and finishing in Ogmore.
Challenge No. 4 – Run the London Marathon on the 23rd of April.
Challenge No. 5 – Run 50 miles over a weekend in May.
Challenge No. 6 – The biggie – run the Race to the Stones 100k race in July.
Jon hasn't run 30 miles in one go before, so challenge number three is a big step.  The next challenge, running the London Marathon, will be a good fundraising opportunity and familiar ground as Jon's run it a few times before.
Inksplott asked Jon how the first challenge had gone:
"This January I have managed to run every day and it's been hard on certain days.  Sometimes I run in the mornings, sometimes after work.  I've been pretty lucky; it has been cold but dry.  Rain is the worst!  The end is in sight and I'm looking forward to a rest day on the 1st of February".

"I've been posting every day a photo of the run and my running watch showing how far I've gone and how long it took me.  People can see I've actually done what I've said!"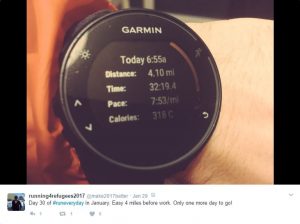 People have been supportive of Jon's challenges and he's received a number of donations from people at work and within the local community.  Now that January's challenge is over, Jon's turning his attention to challenge number two and would like for supporter to continue.
"I'd like people to support me right through until July.  It's really gaining momentum now, more momentum than I thought.  I've received a massive amount of positive feedback, which is good motivation on days when it's hard to get out of door!"
"In the beginning I thought I'd be talking to myself on Twitter!"
Jon came to Cardiff as a student, like many, and lived in Cathays and Roath before migrating to Splott because of lower house prices.
"People have a negative impression of Splott, but I've loved living here.  It's definitely home now.  People have been really supportive.  I've always tried to correct people when they're negative about the area."
Jon's challenge isn't just about raising money; it's about raising awareness too, something he feels is even more important now in the current political climate.
"It's more than just the money; it's about raising the profile and showing that this is a cause worth fighting for.  Over the course of the last couple of days, that's really been brought forward when you see what's happened in the States, it's become even more important to stand up and support the cause of refuges and asylum seekers.  This is what it's about."
Well done Jon on completing your first challenge; it's an amazing achievement and we wish you well for the other five.
To support Jon you can donate here
You can follow Jon's progress on Twitter @make2017better
To find out more about the Oasis Centre and the work that they do, visit their website 
To find out more about Race to the Stones, visit their website