Everyone has a favourite burger, from the classic beef patty to spicy bean burgers or thick wedges of halloumi.  There's usually an avocado in there somewhere!
This half-term, Friends of Willows, in partnership with Tesco Pengam Green, is running a competition to see who can make the best burger in town (well, Splott and surrounding areas!).  And there are awesome prizes to be won!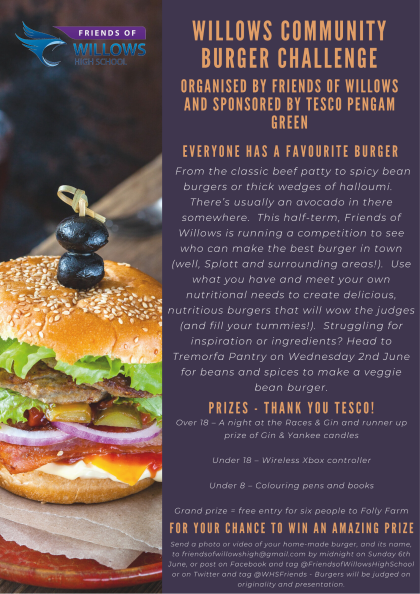 Make your favourite burger and send it in for a chance to win an awesome prize, donated by Tesco Pengam Green, who are massive supporters of the Splott community.
Use what you have and meet your own nutritional needs to create delicious, nutritious burgers that will wow the judges (and fill your tummies!).
 Struggling for inspiration or ingredients? Head to Tremorfa Pantry on Wednesday 2nd June for beans and spices to make a veggie bean burger.
Prizes:
Over 18– A night at the Races & Gin and runner up prize of Vodka & Yankee candles
Under 18 – Wireless Xbox controller
Under 8 – Colouring pens and books
Grand prize = free entry for six people to Folly Farm
For your chance to win an amazing prize, send a photo or video of your home-made burger, and its name, to friendsofwillowshigh@gmail.com by midnight on Sunday 6th June, or post on Facebook and tag @FriendsofWillowsHighSchool or on Twitter and tag @WHSFriends –
Burgers will be judged on originality and presentation.
To give you a helping hand, Cushie, a Willows high school pupil parent has prepared a recipe card and video to help you make a beef burger. Here is the recipe card; video to follow!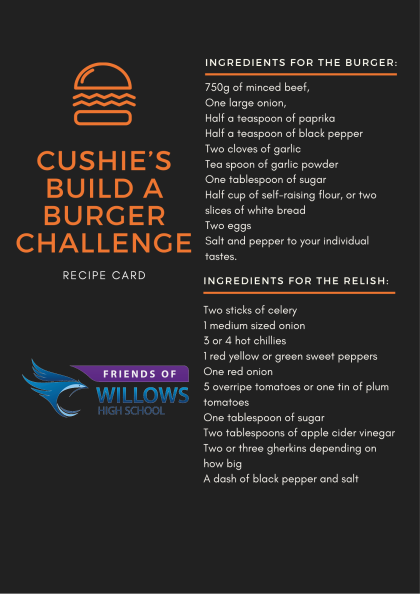 And Jenny, also a member of Friends of Willows and member of the Tremorfa Pantry (and a parent of a Willows High pupils) – and all together awesome individual said:
"If you don't have the ingredients to take part, or you don't think you can build a burger, come to the Tremorfa Community Pantry on Wednesday 2nd June and we will give you the ingredients for a spicy bean burger and help you with a recipe."
Guys and gals; how freaking awesome is it to live in a community with so many lovely things like this happening? So proud of Splott and Tremorfa!