The Wombles of Splott are back again in 2022 to help keep the streets of Splott tidy!
Keep Splott Tidy is a group of volunteers who meet once a month on a Saturday or Sunday to litter pick in different areas across Splott and they have just announced their first three events of 2022.
Join the group on any of the following dates between 10am and 12pm:
Saturday 29th January in Horwood Close (just off Moorland Road)
Sunday 27th February in Splott Park (at the back of the STAR Hub)
Saturday 26th March at the Concrete Triangle of Doom (opposite the Fleurs on Walker Road)
It's fun, it's fulfilling and a great way of making new friends.  Little ones are welcome, as long as accompanied by an adult, and you don't have to bring a thing (apart from your enthusiasm!) as all equipment is provided.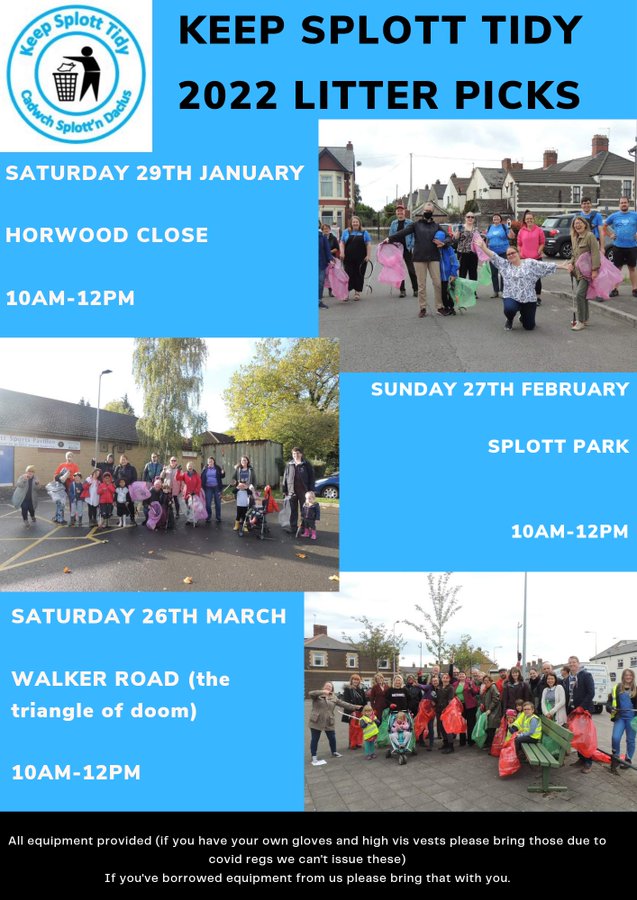 Keep Splott Tidy founding member, Louise Clarke said:
"We are so happy to kick off 2022 with our next 3 litter picks and we're raring to go. We bring positivity to our area and show that with people power, we can make a difference.

We welcome new and existing volunteers to join us. No matter how little you contribute it makes a massive difference and we have equipment that caters for all, so if you fancy bringing your little wombles we have special smaller equipment for them to join in and start them taking part from an early age!"
Keep Splott Tidy is a community organisation established in 2016 that organises monthly litter picks in Splott with the aim to:
Improve our area by conducting monthly litter picks
Raise awareness of responsible litter and waste disposal
Bring the community together and strengthen social bonds in Splott
Increase opportunities for volunteering in Splott
The group of volunteers has been meeting on the last weekend of every month, alternating between a Saturday and a Sunday, to target different areas in Splott and make our home as 'tidy' as we all know it is.  Great community, great people, great place and lots going on.  Time to clean up the streets and make some new friends in the process.
If you're looking for a way of giving back in 2022, look no further!
Follow Keep Splott Tidy on social media: