On the night of Saturday the 9th April, Network Rail went to work installing the first half of the temporary pedestrian footbridge to span Beresford Road & Moorland Road, ready for when the traffic bridge closes in August (if Windsor Road goes to plan and reopens in July).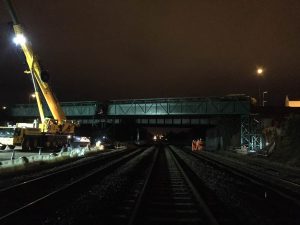 Part one of the footbridge includes two towers and two main bridge spans, totalling circa. 41t in weight.  According to Karl Gilmore, Project Manager, all operatives were on site early to undertake mandatory briefs and equipment checks; so once the last trains had passed, the lifting operation could begin.  All components were installed within 1hr 30mins.
Phase 2 of the pedestrian bridge build is scheduled for this Saturday night, 16th April.
For the top ten things to know about Beresford Road bridge closure, see earlier Inksplott article: http://bit.ly/1Vwqarb