Inksplott: Hi Yukiko, thank you for being interviewed for Inksplott.  Can you tell us a little about yourself and your business Locca Enamel Jewellery?
Yukiko: Hello. My name is Yukiko Wilson from Locca Enamel Jewellery.  Originally from Tokyo, I have been living in Cardiff since 2010 with my Welsh husband.  I'm a jewellery designer and maker as well as a Japanese tea ceremony practitioner.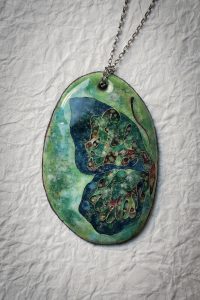 Inksplott: How did you get into this?  Can you please tell us a little about the history of your business?
Yukiko: When I still lived in Tokyo, I saw a programme about a French artist called Rene Lalique.  I was immediately captivated his beautiful enamel work and decided to learn enamelling and metal-smithing. I started taking part in various group exhibitions and fairs both in Japan and abroad.  After moving to Wales, one of my Japanese friends invited me to participate in a Christmas artisan craft fair that she and her Swedish friend organised in Pontcanna.  It was an absolutely fantastic first experience in introducing my work to people in Wales.  With my husband's great encouragement after registering my Hallmark at the London Assay Office, I started Locca Enamel Jewellery here in Cardiff.    The name, Locca, literally means six-petalled flower, it is also another name for snow in Japanese as a snowflake always has a hexagonal shape.  My name, Yukiko, meaning ambition or aspiration in Chinese characters, also has the same sound as the word for snow in Japanese and I was born in January, the snow season, so I thought it would suit my creative work.
I opened my Etsy shop, Locca Enamel Jewelley and joined a local Etsy team called CaVEtsy, Cardiff and Valleys Etsy in 2015.  Besides my Etsy shop, I take part in local craft fairs and my jewellery has been sold at Glass by Design, Penarth too.
I'm truly grateful to do what I love.  I work in respect of the old craftsmanship and to preserve the ancient skills and I value hand-made works that express the nature of the material and human touch.  I hope my work could be a special part of someone's life and for that I would be most honoured.
My late grandmother recommended I learnt the tea ceremony and I studied it for ten years whilst living in Tokyo.  I first demonstrated it in the UK at the Japan Day, hosted by the Cardiff Central Library in 2013, since then I had chance to host many tea ceremonies; often with my friend and a Japanese Koto harp artist.  Amongst the places I've performed tea ceremonies are Cardiff MADE and Waterloo Tea House, Wyndham Arcade.
Jewellery making is a solitary work but I always have company when I host a tea ceremony and this is also a great opportunity to meet new people so I think jewellery making and tea ceremony hosting are a fantastic combination.
Inksplott: And how come the business is in Splott?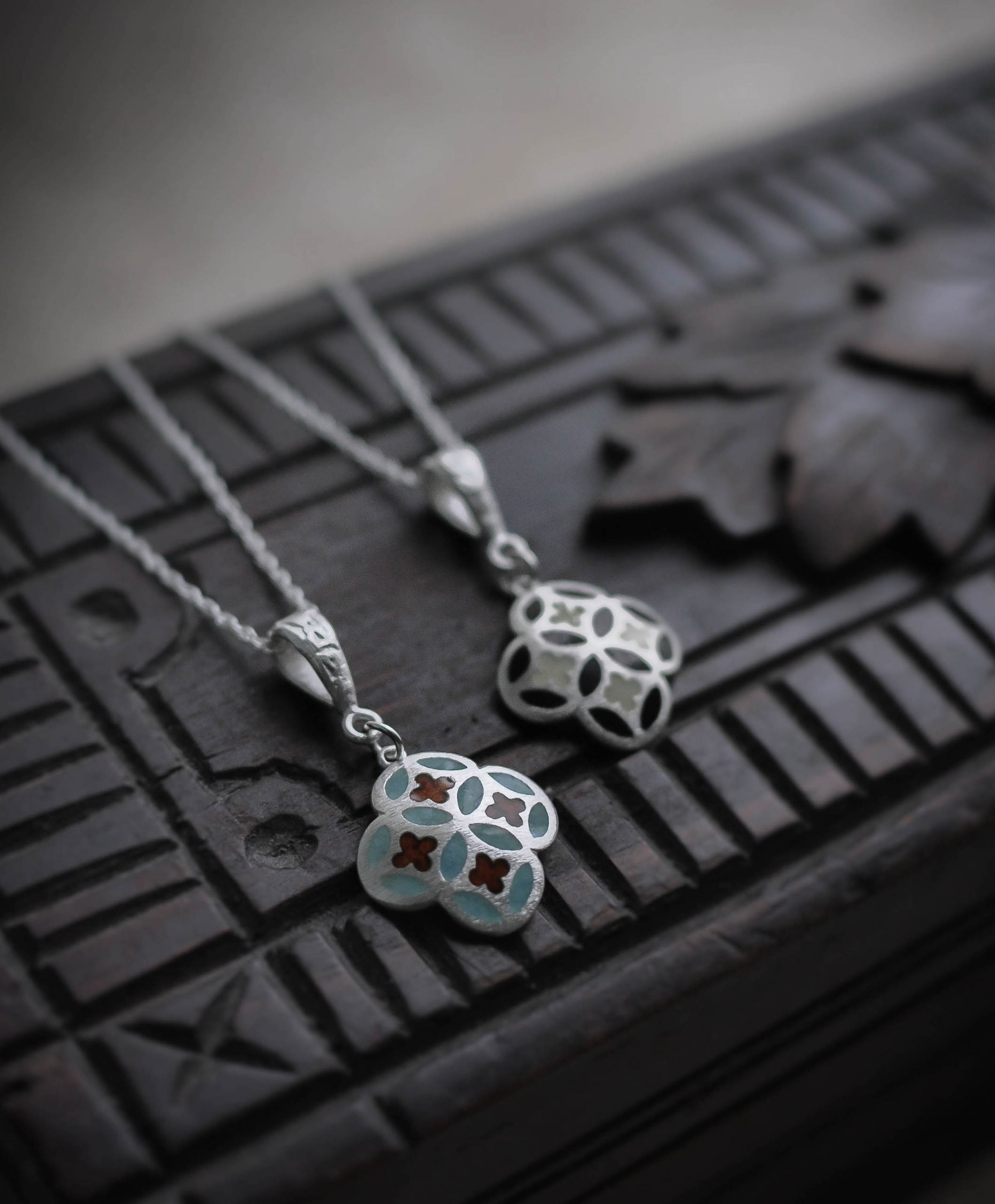 Yukiko: I converted one of our rooms in our home as my studio!!  My studio is still developing and not fully equipped but I love to substitute things at hand for proper gadget or tools – for example I use an antique iron shoe last or an old Welsh griddle plate when I hammer metal.  I don't use any electric machine except my kiln.  I create my jewellery with techniques, which haven't changed in thousands of years.   In this way, I feel a connection to people in the past, who dedicated their life to develop the techniques and to the people who have passed down the tradition to this day.  Now I create new pieces of work in my little studio using ancient techniques – this is a very romantic connection through time and beyond borders.
Inksplott: What's your speciality? 
Yukiko: I specialise in Japanese enamel.  My family runs a handcrafted kimono business in Tokyo and I've been always familiar with the ancient designs, especially the patterns called Edo-komon. These are traditional motifs from the Edo period (1603-1867). The Edo-komon designs consisting of auspicious (lucky) symbols and patterns are the inspiration for many of my designs.  I try to make my work unique to myself as a Japanese living in the UK by combining traditional designs with inspiration from the landscape and natural of Wales.
With the tea ceremony, I specialise in the Chabako style.  Chabako means tea box in Japanese as all the utensils needed for the ceremony fit in a small portable wooden box.  It is a kind of picnic style ceremony.
Inksplott: What's your best story since setting up the business?
Yukiko: Initially I was not really sure if people in this country would become interested in Japanese traditional designs.  Especially because my creations are jewellery so I thought the designs could be too unique to wear.  But whenever I have chance to talk to people at local craft fairs, they all show an interest and enjoy listening to the stories behind the designs.  One design called Asanoha, meaning hemp leaf in Japanese, is famous because as the hemp plant is strong and grows quickly, Japanese people have used the Asanoha pattern for new-born baby kimonos for hundreds of years to wish them strong and healthy growth.  Now the design has become very popular here in the UK and beyond as well for a wedding present or a special gift to cerebrate a new family.
Inksplott: Any exciting plans or events on the horizon?
Yukiko: I'm not doing any events myself at the moment but I help two of our friends organise a traditional Welsh folk and acoustic music evening, called Y Parlwr at the Old Library, Singleton Road, Splott.  It is an absolutely wonderful occasion for people who love music.  Previous artists who have performed at Y Parlwr are DnA, Vrï, Carreg Laffer, Elfen, Gwilym Bowen Rhys, Patrobas.  The next event will be in autumn.  Please check out Y Parlwr Facebook website for more information!!
CaVEtsy also hosts their third Etsy Made Local Christmas event 2017 on Sunday the 3rd of December from 10-5 at Bierkeller, Cardiff.   Unfortunately I can't take part this year but there will be many wonderful local creators' stalls and you will find great seasonal gifts there.  Please visit their Facebook for further information.
Another event I would like to talk about is the Ichi Artisan Market, started by one of our Japanese friends, Mari Wirth, an amazing paper-cut & screen print artist.
The word, 'ichi', in Japanese has many different meanings including 'one' or 'first' and 'a traditional market'.    Ichi was founded to become one of the best places to introduce the work of artists and crafters from South Wales.  The aim is to build a strong platform for artists and crafters to showcase their work.  Applications for Ichi's Xmas fair will open soon for makers.  Please visit the Ichi Artisan Market Facebook Page.
Mari's blog, Tree Leaf Freak is also fantastic and she has been posting monthly seasonal wild plant articles on her blog, called and this is absolutely wonderful.
I'm sure lots of people enjoy wild nature and they would love reading her blog.
Inksplott: That's great – thank you so much for the interview! Splott continues to surprise with the wealth of talent and diversity living here.  If you would like to be featured, you know where I am – drop me a line!