Earlier this year, Inksplott promoted the See It Report It Campaign asking people of Splott, Adamsdown & Tremorfa to call 101 to report any sightings of scramblers and qad bikes being driven on public roads and parkland.  This issue was raised to Splott Councillors Edward Stubbs and Huw Thomas by local residents sick of motorbikes screaming up and down their streets or churning up the grass in their local parks.  The Councillors met with South Wales Police and began an awareness raising campaign to inform residents how they could take action.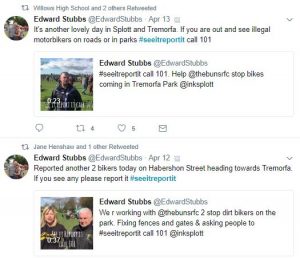 In particular, the campaign aimed to help local rugby football club St Albans prevent bikes being illegally ridden around Tremorfa Park.
Well, the clampdown continues and an update was issued in a recent press release:
Five off road motor vehicles recently seized in joint operation.
Driving off road motorbikes and quads that are not registered with the DVLA on roads or parkland is illegal and enforcement action is taking place.
Cardiff Council and the South Wales Police have been working in partnership to stop and seize of road motor vehicles which are causing a noise nuisance to local neighbours.
The operation started in May when three motor vehicles were seized and destroyed. The operation was followed up on Saturday (July 22nd) when a further two more vehicles were confiscated.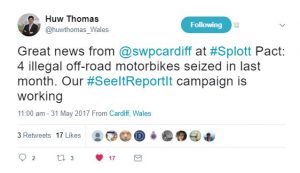 Chief Inspector Joe Jones, from South Wales Police said:
"We know this is a massive issue for the community. Our concerns are that someone could be hurt by these bikes which are being ridden at high-speed and also the noise which is damaging quality of life for residents. Only recently, a 13 year-old boy very luckily escaped with his life after he lost control of the quad he was riding on a public road in Ely and drove straight into an oncoming bus.

"We would encourage the public to report any information regarding off-road bikes by e-mailing opredmana@south-wales.pnn.police.uk. The community are our eyes and ears and if they can tell us who is responsible for off-road bike nuisance and where there are problems, then we can make sure our officers are in the right place, at the right time. To report on on-going incident please dial 101 or 999 if it is an emergency."
Cllr Peter Bradbury, Cabinet Member for Culture and Leisure has endorsed the campaign and is actively encouraging those with an interest in motor sport to visit the all-weather off-road motorcycle facility just off Rover Way and make enquiries on how to register to join the club and use this legal facility.
Cllr Bradbury said:
"Using off-road motorbikes or quads in built up residential areas is anti-social and we receive numerous complaints from residents asking us to take action.

"Cardiff's parks and open spaces are owned by the Council but we do not have the power to stop and seize these vehicles, so we are working with the police to send a clear message that we will not tolerate this anymore and further operations will follow.

"All the motor vehicles that have been confiscated that didn't have insurance are being held in storage and it is likely they will be destroyed.

"We have a facility which is currently free to use off Rover Way. It is simple to register and all we ask is that motorbike enthusiasts using the track volunteer their time to come and help run the facility, so in effect swap track time for volunteer time. We carry out checks on the vehicles to ensure they are safe to ride, ensure all riders are wearing protective equipment and the facility is open for everyone from the age of 7 upwards."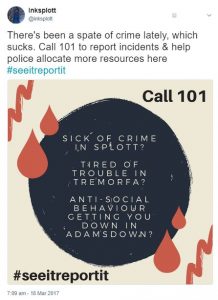 For more information on how to get to Cardiff's motocross facility – visit here
Remember, if you see off-road vehicles being driven around your streets or parks in Splott, Adamsdown or Tremorfa, call 101 or email opredmana@south-wales.pnn.police.uk