Read about inspirational Kerrie, the lady behind this weekend's Zumba-spectacular and find out how you can take part.
"I thought I should probably tell you all a little about why I'm setting up this event and about why this particular charity.
For those of you who don't know me my name is Kerrie I'm 39 years old and a plus size Mummy to one amazing little boy Osian and 5 Angel babies.
I woke up in New Year's Day, hungover and unhappy in some aspects of my life although blessed in others.  Realisation hit that I wasn't happy with my size and fitness and that if something didn't change I wouldn't be the bestest Mummy I could be for my little boy. I also made him a promise that I would lose weight in the hope he would not be bullied for having a fat Mummy when he started school in September.
So I put on my big girl pants found a Plus Size bootcamp, Clubbercise with Anna, carried on with my Zumba with Helen and went back to slimming world.
The Journey is far from over but I have lost 3 stone and found I love running.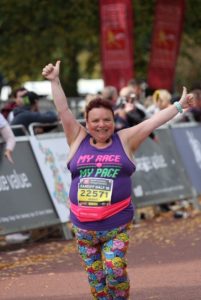 I turn 40 next year and have always secretly loved the thought of the London Marathon so applied and got a charity place running for the Miscarriage Association a charity close to my heart. Having suffered 5 miscarriages mainly in silence apart from the love and support from my Hubby I felt it was time to break the silence, raise awareness and raise some money.
I didn't want to just rely on sponsorship but rather arrange some fundraising events based around things I love….hence the idea for this event.
Plus I am lucky to have some amazing people in my life who believe in me and are supporting me by giving their time.
I thought it might be a good idea to share what good your money will be doing once the Charity gets it.
As you know all proceeds will be going to my London Marathon Charity – The Miscarriage Association.
But how will they spend your money?
Take a look at the figures and see what your money can do:
£5 pays for sending out a pack of 4 information leaflets on miscarriage facts and feelings
£17 pays for helpline support and a leaflet pack for one person
£20 covers the cost of sending leaflet packs to four people
£50 will staff the helpline for an hour (responding to 2 to 5 requests for help)
£100 pays for two hours' work on their social media platforms, reaching out to people affected by pregnancy loss.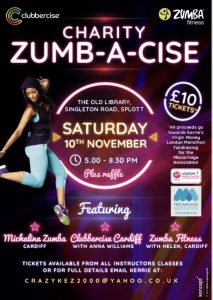 £250 pays for printing 2,000 posters for display in hospitals, GP surgeries and libraries.
£500 contributes to the cost of developing additional online training resources for NHS staff caring for miscarriage patients
£1,000 will cover the cost of researching, writing and producing a new information leaflet".
The Zumbathon will take place at Old Splott Library on Singleton Road this Saturday between 5pm and 8.30pm.  It costs a tenner to take part and there will be three different instructors over the course of the night.
For full details, email crazykez2000@yahoo.co.uk