Splott community outraged as thieves break into local primary schools Moorland and St Albans and steal iPads.
News broke yesterday that Moorland Primary School had been targeted by thieves in the early hours of the morning.
Moorland Primary tweeted: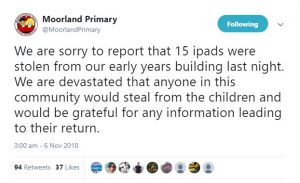 "We are sorry to report that 15 ipads were stolen from our early years building last night. We are devastated that anyone in this community would steal from the children and would be grateful for any information leading to their return."
People from across Cardiff expressed their shock and anger at the theft on social media.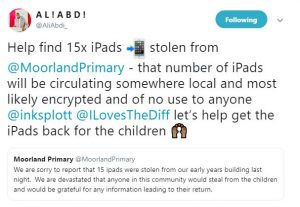 Many urged for help in catching the culprits and seeing the equipment returned to the school.  Ali Abdi
tweeted:
"Help find 15x iPads stolen from Moorland Primary – that number of iPads will be circulating somewhere local and most likely encrypted and of no use to anyone – let's help get the iPads back for the children"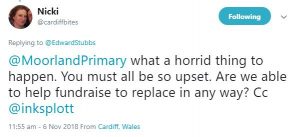 In true Splott spirit, locals asked if there is anything that they can do to help raise money to replace the iPads.  Nicki tweeted:
"what a horrid thing to happen. You must all be so upset. Are we able to help fundraise to replace in any way?"
Andy tweeted:

"Bore da Moorland Primary – how can we help? :)"
I have contacted Moorland Primary to find out how the community can help them and will update you all soon.
Following the announcement by Moorland Primary, local residents commented that St Albans Primary had also been targeted during the night and ten iPads were taken.  Flying STart in Tremorfa has also been affected.
News just in on Facebook that other schools and organisations have also been affected.  Local resident Tamsin Osbourne commented:
"Robbed Tremorfa nursery schools Christmas funds." and "Baden, Ysgol Glan Morfa, Flying start, Moorland, Tremorfa Nursery.  Don't know whether Willows was as well?"
I will try and find out more from Police and local schools / organisations.

In the meantime, please keep your eyes and ears open and report anything that may help catch these thieves.