An application has been made to permanently close New Moors Surgery at 23 Splott Road.  Patients were invited to attend a meeting on Monday 18th April with representatives from the Community Health Council, Cardiff & Vale Health Board and medical staff to view a presentation on the proposal to close the branch.
According to a notice posted in the window, the surgery has now closed but will be open normal time on Thursday the 28th April.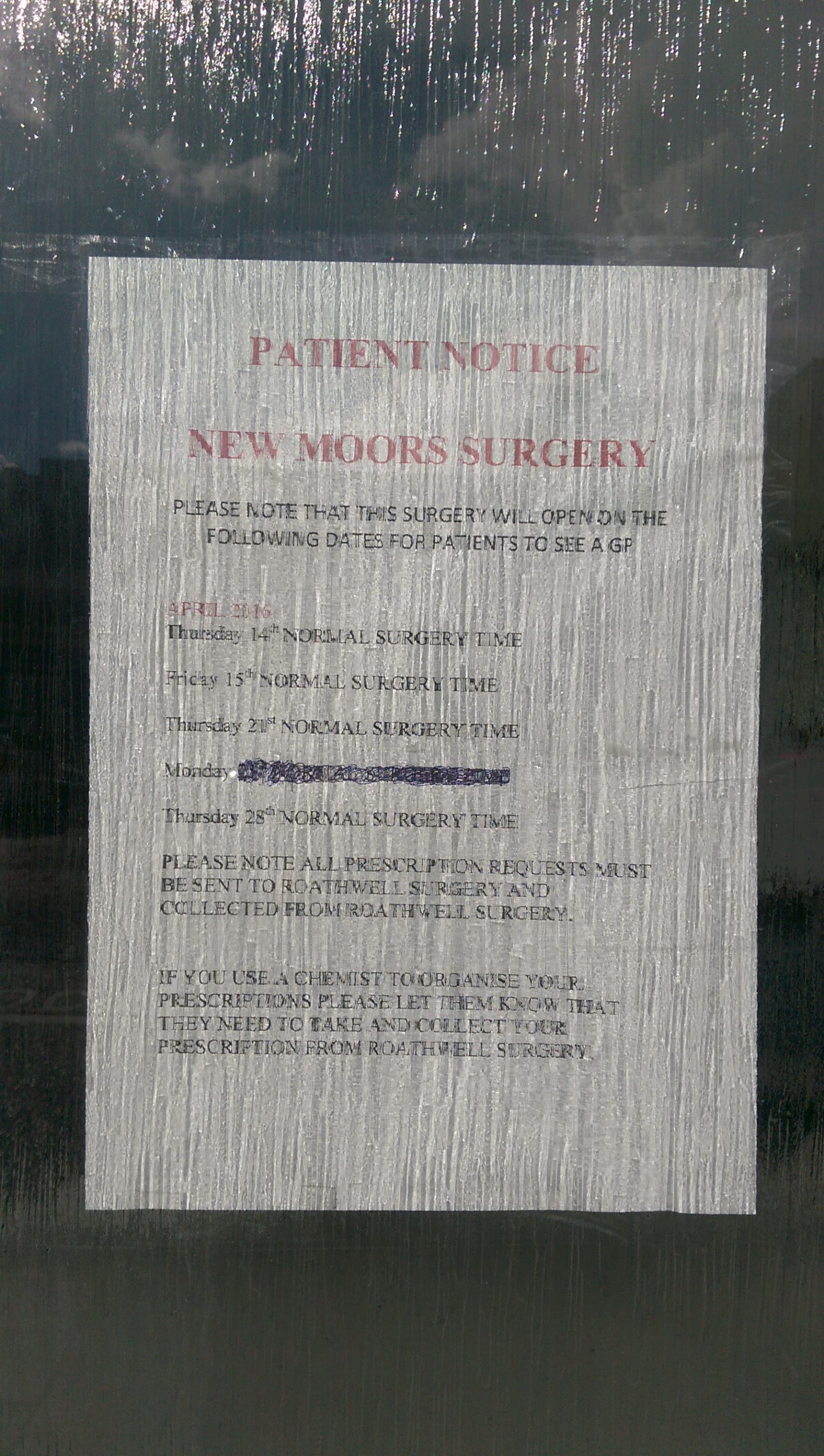 A proposal has been put forward to transfer all patients to sister surgery Roathwell at 116 Newport Road.
According to the same notice, patients are advised to request and collect prescriptions from the Roathwell surgery.
Fore more information on Roathwell surgery, visit the website at http://www.roathwellsurgery.co.uk/
Splott residents can contact the health council to put their grievances across with letters to reach them no later than the 5th May – contact details below.
Email: cavog.advocacy@waleschc.org.uk
Tel: 02920 377407
Twitter: @cavogchc
Address: Cardiff and Vale of Glamorgan Community Health Council, Third Floor, Park House, Greyfriars, Cardiff, CF10 3AF
Splott residents have taken to community platform Streetlife to share viewpoints on the closure of New Moors. https://www.streetlife.com/
New opening times for July have been posted by Jean H on Streetlife:
"These Dates have been advertised for surgery for July on door:-
Friday 15th -Phlebotomist (bloods)-8.30-10.00am
Doctor – 2pm-4pm
Monday 18th – phlebotomist (bloods) 8.30-11.30
Thursday 21st – doctor – 2 – 4pm
Friday 22nd – practise nurse – 9am-Noon
Monday 25th – phlebotomist (bloods)8.30-11.30
Thursday 28th – Practice Nurse -9.00-Noon
Practice Nurse -1.30-2.00
Friday 29th- Practice Nurse – 9.00-Noon
Book appointments as usual for all the above"