Musician, Welsh tutor and Splott resident, Francesca Dimech, is one of the project leaders chosen to participate in Cornerstones, a brand new, innovative programme from Community Music Wales.


Following a successful series of online workshops hosted by Francesca Dimech for Innovate Trust during the pandemic, adults with learning disabilities come together in 'real-life' to take part in an exciting new project based in Splott.
'Cornerstones is an exciting new development programme for fresh thinking and passionate individuals ready to kickstart a career in community music.' Read more about Cornerstones here.
Having delivered online Welsh lessons and singing workshops to adults with learning disabilities throughout the COVID-19 lockdowns and beyond, Francesca has once again teamed up with charity Innovate Trust to deliver the bilingual project, Make Music // Creu Cerddoriaeth.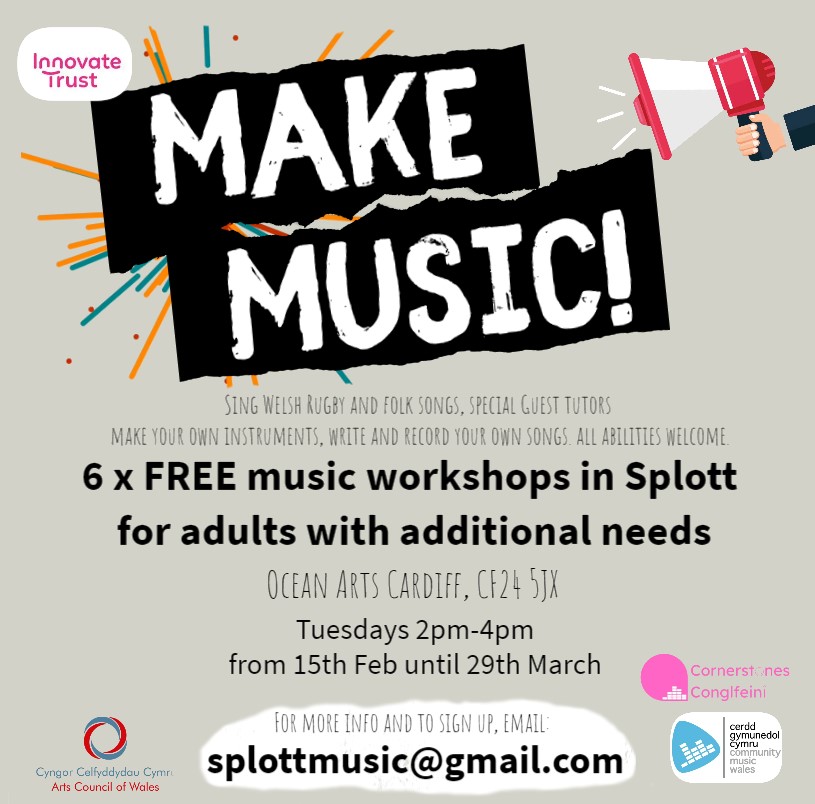 When it comes to the empowerment of individuals experiencing mental-health conditions, music offers tremendous benefits in the promotion of general wellbeing. Providing singing and instrument making workshops, one-to-one support and activities for people with learning disabilities and cognitive impairments, the project aims to increase people's confidence; help them set positive and achievable goals and develop wider community cohesion.

Coinciding with St David's Day and the Six Nations rugby tournament, participants will be introduced to fun, Welsh language traditional and rugby songs.The project will expand boundaries and safe spaces by encouraging participants to build strong relationships, work together to create, perform and collaboratively record their own music whilst learning some Welsh and having fun. All supported by a trained Community Music Wales music practitioner and VIP special guest tutors. InnovateTrust are providing a selection of instruments and participants are also invited to bring their own!
The six workshops will be held at Ocean Arts Cardiff, 2pm until 4pm on Tuesdays, from 15th February and 29th March 2022 (except 15th March). To register a place for yourself or somebody you support, please email splottmusic@gmail.com for a form, or contact Innovate Trust.
COMMUNITY MUSIC WALES is a national arts charity, working across the creative landscape of Wales. INNOVATE TRUST provides supported living services to adults with learning disabilities, mental health conditions, physical disabilities or sensory impairments in Cardiff, the Vale and Rhondda Cynon Taff
Cornerstones is funded by Arts Council Wales.