Keep Splott Tidy launched in August 2016 and celebrates its one year birthday this month. To mark the occasion, there is an evening litter pick in Moorland Park on Thursday 31st August, kicking off at 6pm, and the founders would like to invite along people who have never volunteered with Keep Splott Tidy before.
It's fun, it's fulfilling and a great way of making new friends.  Little ones are welcome, as long as accompanied by an adult, and you don't have to bring a thing (apart from your enthusiasm!) as all equipment is provided.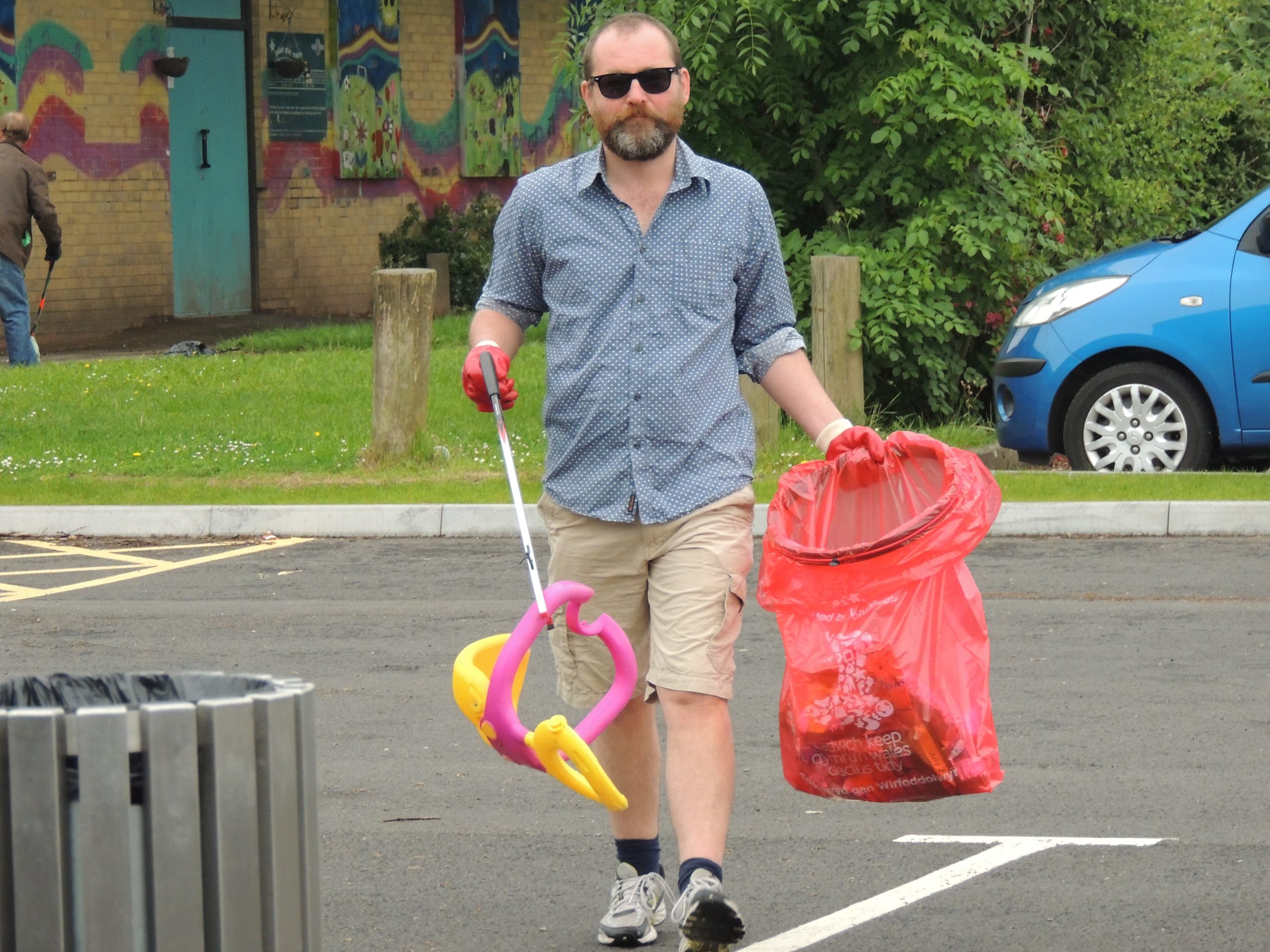 Keep Splott Tidy is a community organisation that organises monthly litter picks in Splott with the aim to:
Improve our area by conducting monthly litter picks
Raise awareness of responsible litter and waste disposal
Bring the community together and strengthen social bonds in Splott
Increase opportunities for volunteering in Splott
Set up after local lady Linda Prendeville got in touch with Inksplott to find out if there was a local scheme for volunteers to help clean up the area, Keep Splott Tidy was launched by Lynne Thomas (that's me!), Louise Clarke and Peter Durrant, who all had an interest in promoting local volunteering opportunities and making the area a better place.
With help from Keep Grangetown Tidy (or Tidy Grangetown – great name!) lead, Dave King, and Gareth Davies from Keep Wales Tidy, the inaugural litter pick was launched.  To our great surprise and delight, more than 30 volunteers turned up for the first litter pick in Moorland Park and surrounding streets and we collected over 30 bags of litter.
Since then, the group of volunteers has been meeting on the last weekend of every month, alternating between a Saturday and a Sunday, to target different areas in Splott and make our home as 'tidy' as we all know it is.  Great community, great people, great place and lots going on.  Time to clean up the streets and make some new friends in the process!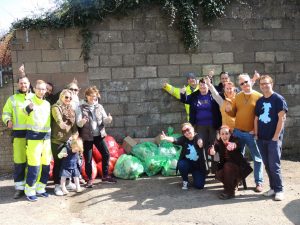 Because that's what happened!  Keep Splott Tidy has become more than just a group of strangers coming together to do something positive.  It's resulted in friendships and more.  There have even been social events (not counting the fact that most of us retire to Luvly Grub or the Imperial Café after each litter pick to tuck into a good old Splott breakfast)!
To fund our own litter picking equipment and group insurance, Keep Splott Tidy held four fundraising quizzes in local pub The Cottage with prizes kindly donated by local individuals and businesses (there's a list at the bottom of this article about our kind supporters).  We were offered prizes galore (including a hand-made guitar by Limerick Guitars for our first quiz!) and people stepped forward to be quizmasters.  The response, as always in Splott, was phenomenal, and we raised over £500 over the four events, which enabled us to get our own equipment, storage, and have money for next year's insurance for the group (the first year's insurance was kindly provided by Keep Wales Tidy).
Communities First supported the group by offering Spice Time Credits for each litter pick allowing volunteers to be rewarded for their efforts with vouchers to be redeemed against activities like free swims at the STAR Hub, free tickets to Cardiff Devils and much more.
We have been joined in our litter picks by local councillors Ed Stubbs, Jane Henshaw and Huw Thomas and a crew from Virador, not to mention the patron of Luvly Grub, who have supported Keep Splott Tidy by offering volunteers free bacon or sausage baps after each litter pick and milkshakes for the children.  We have also had free drinks from Co-op Splott and Splott Nisa after litter picks in their areas.  We really do have a fantastic community here in the land of the speedbump!
Mighty Oaks from little acorns grow, as they say.  From one local lady and her request for information, a whole network of community-motivated people has sprung, all of the same mind: if you want to make a change, then pick yourself up, don a pair of gloves and a high viz vest (optional!), pick up a grabby stick and get litter picking!
Since the launch, one year ago, we have collected over 300 bags of litter (which have always been promptly collected by Cardiff Council Waste Enforcement team – thank you!) and engaged over 100 volunteers.  But we want more!!!
If you would like to join in, please come along to our litter pick on Thursday night at 6pm, meeting at the Neath Street entrance of Moorland Park.  All equipment will be provided and it's open to people of all ages.  Children under 16 must be accompanied by an adult.
For more information about Keep Splott Tidy, keep an eye on our Facebook page https://www.facebook.com/Keepsplotttidy/
Keep Splott Tidy supporters (and thank you from the bottom of our hearts!):
Limerick Guitars
CO-Op Splott
Nisa Splott
Luvly Grub
Masons Autos
Splott Lidl
Marks & Spencer
Tesco Pengam Green
Davies Print
Infinity Trampoline Park
Cardiff Paint Supplies
John James Photography
The Cottage Pub
Daniel James Art
Rhian Pitt Holistic Massage
Keep Wales Tidy
Keep Grangetown Tidy