Cardiff Community Housing Association staff swap their normal office jobs for a "day in the community".
On Friday 24th June, staff from Cardiff Community Housing Association (CCHA) swapped their normal day jobs to work on six different community projects across the city, including Splott Playcentre.  The annual "Day in the Community" is well liked by staff, who appreciate the opportunity to give something back to the local community, as well as bond with their colleagues and work together as a team.
Projects tackled by the staff this year included repainting the day room of St German's Church Hall, gardening at Trowbridge Community Centre, building planters at Llanedeyrn Primary School, taking socially isolated tenants on a day trip to St Fagan's, improving the grounds of Tredegarville Primary School and transforming Splott Play Centre, which is currently undergoing a community asset transfer, led by Seren in the Community.
CCHA Chief Executive Kevin Protheroe said:
"Our purpose is to provide homes and services to people who need them and to help improve the communities in which we work. This was a very direct way of showing our pride in what we do and in the communities where we work. The team worked brilliantly on the day and were a credit to CCHA".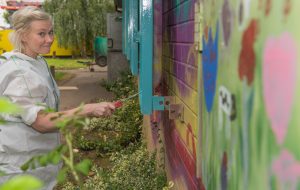 CCHA's contractors were also keen to get involved, and generous donations were given by Morgan Sindall Property Services, Countrywide Grounds Maintenance, United Living, Morganstone and Chris Arlett Decorators. Contributions were also gratefully received from Dulux and Homebase.
Jane Tariq, Senior Playworker at Seren in the Community:
"Splott Play centre and Seren in the Community are overwhelmed by the transformation and the work carried out, and the services users are delighted with all the things growing in the garden. Thank you!"
The "Day in the Community" was also appreciated further afield:
Emma Laing, Headteacher at Tredegarville Primary School said:
"The work is fantastic, we are so grateful for all your hard work. The playground areas are transformed and the children are really enjoying sitting in amongst the plants. Volunteers worked with children from the eco-committee and that the school had a 'Natural Buzz' grant to plant bee friendly plants from Keep Wales Tidy. Thank you so much for all the efforts of your team!"
Ian James, Headteacher at Llanedeyrn Primary School said:
"Llanedeyrn Primary School's motto is 'Together we can all succeed'.  We recognise that the only way for our pupils to achieve excellence is through the whole community pulling together.  I was delighted when I was approached by Cardiff Community Housing Association about providing a working party to undertake some improvement works in our School.  We have a redundant area of the Junior play area which required developing and the team have greatly improved it through their contribution.  We now have an attractive wooded area which includes the planters that the team constructed.  They have been filled with soil and plants which the team brought along with them.  Several children and members of staff have commented on how attractive the area now looks.  I would like to personally thank the team for their efforts.  They worked diligently, swiftly and were a credit to themselves.  I am delighted that other organisations understand the importance of them contributing to the development of our young people."
Splott Play Centre is on Muirton Rd, Splott Park.  Described by Cardiff Council as "a home from home for a lot of children living around the Splott and Tremorfa area", the centre has a large outdoor grassed area with play structure, a soft play room, a pool table and a craft room.
Splott Play Centre provides a free service and can accommodate all children aged 5-14 years old. Parents need to register their child upon arrival. The centre is equipped with wheelchair access and disabled toilets are available.
Do you know of a local community project that you would like to nominate for CCHA's help for their next day in the community?  If so, get in touch with Sam Williams on samantha.williams@ccha.org.uk or 029 2046 8414.