Local organisation CCHA launches new project to help people find employment.
Reach is a new Active Inclusion Fund project hosted by Adamsdown-based Cardiff Community Housing Association (CCHA) and is supported by funding from the European Social Fund through Welsh European Funding Office and Wales Council for Voluntary Action.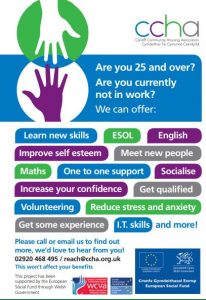 They can help people that are out of work to take their first steps towards employment by working with a mentor and providing a package of support that is tailored to each participant.  Examples of FREE support include confidence building, training courses, ESOL and volunteering opportunities and will not affect any claims for benefits.  The Reach project is open to anyone over the age of 25 that meets the eligibility criteria.
CCHA has been a registered social landlord and providing community services in this area since 1976. CCHA is fully committed to tackling poverty and social inclusion and in recent years has hosted Communities First, the LIFT Project and the European funded Communities for Work Project.  With the recent closure of Communities First by Welsh Government, CCHA identified that there was a need for support for those living in our areas and applied for European funding so that they could fill the gap left by Communities First.  They also have their own in-house employability project JETS which provides support to CCHA tenants to find jobs, education and training.
CCHA has many properties in the Splott area and has a strong link with the community and organisations in Splott through previous work with Communities First in the area.  However, they are able to work with anyone who has a Cardiff postcode.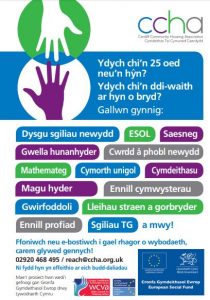 CCHA specialises in helping people to find volunteering opportunities, access training courses and work relevant certificates, and to improve health, wellbeing and confidence so that participants can progress on to further opportunities and improve their circumstances.
Kelly Singer of CCHA told Inksplott:
"All our staff are now in place and we are excited to start working with participants and helping them on their journey. The project will close in November 2019 so please get in touch ASAP to see what we can offer."
If you are looking for support give CCHA a ring on 02920 468 495 or email reach@ccha.org.uk to have a chat with one of their friendly mentors and see how they can help you reach your goals! You can find out more about CCHA and what they do on the website www.ccha.org.uk