As part of our 'Fitness and Fun' series, this week Inksplott talks to Ellie Pilott, founder of Hula Hooping business, Elliecoptor Hoops, and 2016 finalist and runner up in the Cardiff Lifestyle Awards for best Fitness Facility.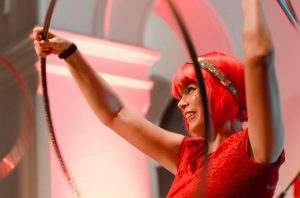 Inksplott: Hi Ellie, thank you for being interviewed for Inksplott.  Can you tell us a little about yourself and your business, Elliecoptor Hoops?
Elliecoptor: Sure! I run hula hoop classes, events and parties throughout Cardiff, anything from standard beginners' classes to hen parties through to the Welsh Hoop Convention. I also co-run Sparkles Hoop Troupe which is a hula hoop troupe and we perform at events throughout Wales (Sparkle's Hoop Troupe has recently been nominated for two awards in the International Hoopie Awards 2017).
My classes run on Tuesday evenings between 6-7pm at the Nofit State Circus venue on Four Elms Road in Adamsdown.  Classes cost £5 each, just bring a bottle of water and wear something comfy that you can move around in (leggings, jeans, trackies etc).
I'm also giving a hooping class in Plasnewydd Community Hall in Roath on Monday 11th September between 6-7pm, so there's plenty of opportunities for people to come and join in the fun! You'll be learning hula hoop tricks, practicing moves, getting a workout and having fun!
The class is suitable for absolute beginners to advanced. If you think you can't hoop, you can! You just need the right sized hoop and some encouragement!  It's also a great way of getting fit.  A recent study found that hooping can burn around 210 calories in 20 mins, but depending on how hard you work, you can burn anything from 7 calories a minute upwards! BOOM!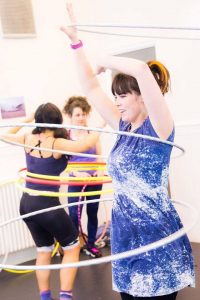 Inksplott: How did you get into this?  Can you please tell us a little about the history of your business?
Ellie: My husband was the lighting technician for the Nofit State tour Immortal back in 2004. There was an amazing hula hooper in the show who really inspired me to try to learn. I was lucky enough to have a few lessons from the performers but it wasn't until Nofit started classes at their Cardiff base that I got totally hooked.  Now I also teach at Nofit State Circus which I great because it feels like I've come full circle!  I have been teaching for around 6 years.
Inksplott: And how come the business is in Splott?
Ellie: Simply because that is where I live!
Inksplott: What's your speciality?
Ellie: Spinning multiple hula hoops on my body at once.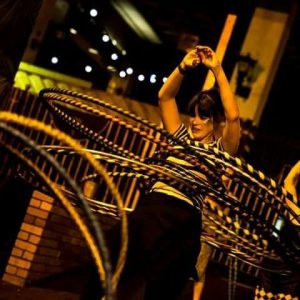 Inksplott: What's your best story since setting up the business?
Ellie: Being a finalist in the Cardiff Lifestyle Awards as best fitness facility!
Inksplott: Tell us a secret or something about Splott that we won't know.
Ellie: I'm constantly playing the lottery so that I can win enough money to buy the vicarage on Metal Street (in Adamsdown)!
Inksplott: Any exciting plans or events on the horizon?
Ellie: I also co-run a circus cabaret which is also based out of Splott called the Mary Bijou Cabaret and Social Club.  Our next event is on 21st October in Bar Ffresh at the WMC.  You should come!
Inksplott: That's great – thank you so much for the interview!
You can catch up with Elliecoptor Hoops on the Facebook Page or follow @sparkleshoop on Twitter.
Ellie teaches Hula Hoop on a regular basis at Nofit State Circus, Elliecoptor hoops and various festivals. To see her class schedule at Nofit State Circus, on Four Elms Road in Admasdown, click here
Classes cost £5 each and you will learn three unique hoop styles from a variety of trainers, followed by an hour-long hoop jam.
Ellie is a co-founder of the Welsh Hoop Convention and Sparkle's Hoop Troupe
Find out more about the Mary Bijou Cabaret and Social Club here