St Albans RFC is celebrating promotion to the top of Wales Rugby Union East Central division after a recent win over Treherbert.
The club, St Albans Sports and Social Club which started in 1896, have two senior teams – 1st and 2nd XV.  The 1st team were second place in the league when they went up against third place Welsh Valleys team, Treherbert, knowing victory would confirm promotion, a loss would mean that Treherbert would seize initiative into the last game of the season and could beat them to promotion.
After a thrilling game, The Buns (as they are known locally, triumphed with a 22-15 victory over their adversities to seal their promotion from divison WRU East Central B to division WRU East Central A.
St Albans RFC currently has two senior teams (1st and 2nd XV), but will introduce a Mini & Junior Section as of next season (2019/2020) which will be 8 age groups Under 7s, 8s, 9s, 10s, 11s, 12s, 13s & 14s. They also have a Tots 4-6 years old activity.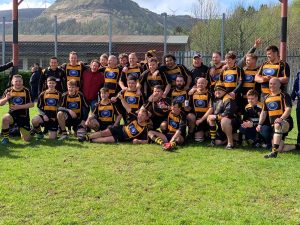 The mini and junior section has seen growth over 400% in the last few seasons through a fees free incorporation to their training, games and also sponsor support of playing kit and equipment. It is the latter (local sponsor support) which has allowed their fantastic volunteers and coaches to provide this fantastic activity to young children from the local community (and they would welcome any further local business support to partner with the club).
The club committee and coaches are looking to build on the recent success (promotion in successive seasons from division WRU East Central C to A). They have come together with the players and mini and junior section to identify a full club ethos that sees all sections support each other.
Michael Thomas, St Albans RFC 1st XV Head Coach, said:
"We are proud to have a number of seniors who are involved in our mini and junior section also. The mini and junior section is being pioneered by our Under 14s and our aspirations are to join up the club pathway Under 7s to Youth and Senior sections. This will mean we represent a full community."
St Albans RFC coupled with St Albans Sports and Social Club are very much a club of the community, with close relationships to local council, litter-pick groups like Keep Splott Tidy, and a function room available to the community.
History of the club (taken from http://stalbans.rfc.wales/club-history)
The earliest information regarding St Albans RFC (or to give it its full name of this time, St Albans on the moors RFC) was in September 1896.  The team was featured in the South Wales Argus giving the first-round draw of the Cardiff & District "Union Shield" in a competition for second teams and newly formed clubs.
It's the year that the St Albans brass band first started, and in the story handed down from the older men of the club, namely Eugene Shanahan, & Pop Gallagher, it was said the club established by a few men who played in the famous St Albans Brass Band and some of their friends from the Splott and Tremorfa area, who were keen to establish a rugby side in the area, their home pitch was on Splott Park and this was where they stayed for 74 years.
In 1914 It seems like most sports St Albans RFC lost best part of its players who went to serve in First World War and sadly many never returned.
It seems the war and loss of so many players did not deter the men of Splott and Tremorfa and the next mention of the Buns was in 1926 when they were mention in the South Wales Echo saying they had won their semi- final and were due to play local rivals St Peters in the final (alas the Rocks went on to win). At this time records shows that their club house or meeting place was in the loft above Perry's coal yard in Neath Street.
Again as the Second World War drew closer many of the buns joined up to serve in the forces.
As soon as this war ended, the buns reformed through some great Splott and Tremorfa names, Dai O'Reilly (Mark Rings grandfather) Glyn Wheeler, Dennis "Dinny" Shanahan, to name a few. From this foundation, the present-day St Albans was formed.
Over the years that followed, St Albans RFC had a few homes, the Bomb & Dagger, Grosvenor Hotel, The Moorlands Hotel (and a few others that perhaps should not be named) but they always played on the pitch that was synonymous with the buns, Splott Park.
Sadly for many, in 1970 the Buns moved from their spiritual home of Splott Park a mile or so down the road to Tremorfa Park. Where for the first time they would have their own club house in the old Billet block house on the old Cardiff airport formerly used as the Rover works canteen.  It was the typical forces H shape building with the one side containing 12 separate changing rooms with a showers unit at the top end.  The club was the central area which contained concert room, bar, lounge, kitchen and skittle alley.  All this opened on to their new playing field that contained 3 pitches and this was very soon the envy of a lot of other clubs in the area.
Over this time, the benefit of having such an excellent amenity meant that the club expanded to four senior sides, a youth side and the Mini and junior side.   This served the club well up to 2002 when they moved all of 50 yards across the car park to the newly built Club House of today.
To find out more about the club and how to get involved, click here: http://stalbans.rfc.wales/