Two new accredited courses are coming to the Learning Lounge at Willows High School, Tremorfa, in May 2019 and they are open to local residents.
The Creative Writing and Gardening courses are free and come with a level 3 accreditation.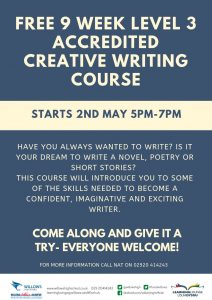 Creative Writing – 18 hours, 10 credits, Level 3
The creative writing course starts on Thursday the 2nd of May and will run for nine weeks.  The sessions will be held in the Learning Lounge at Willows High between 5pm and 7pm.
Over nine two-hour sessions, participants will have the opportunity to write and workshop fiction, prose and poetry. Participants will develop their own writing skills to produce short stories, flash fiction, poetry or extended writing pieces for their creative writing portfolio.
Gardening
The gardening course starts on Thursday the 9th of May and will also run for nine weeks.  Sessions will also be held in the Learning Lounge at Willows High between 10am and 12.30pm.
Participants can expect to learn the basics of gardening and how to seed, pot and plant vegetables in raised beds.  Learn how to grow food using permaculture and organic food growing techniques. This course includes seed sowing, transplanting, potting on, natural soil management, natural pest management
and weed management.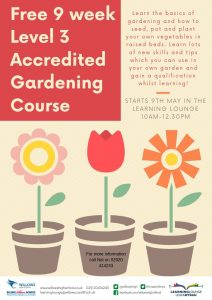 Course delivery and accreditation
In collaboration with the First Campus Adult learning programme, Live Local Learn Local is Cardiff University's outreach programme that delivers short courses in community settings to encourage people to consider further and higher education.  All courses are FREE, accredited at Level 3 and run for 18 hours in community venues.  There are NO previous learning requirements.
Booking a place on a course
Everyone is welcome – there is no connection to the school required.
For more information or to secure your place call 02920 414243