Splott always has more on offer than people think, and lush lunches are abundant in our little part of The Diff.
Sometimes we forget what's on our doorstep, so here's a handy reminder of the delicious dishes you can feast on in Splott…
Pregos
Street food is a massive growing trend in the UK and it's bloomin' brilliant that here in Splott we have our very own initiative in Pregos, a family business selling the best steak sandwich in town!
Their speciality is the Prego, a very typical Portuguese steak sandwich with all the trimmings.  Theirs is specifically Madeiran as its made with a homemade sweet potato bread, something that is seen all over Portugal nowadays but still relatively new here in the UK.  They specialise in Portuguese dishes and dishes inspired by the travels of Portuguese across the globe, from Goan chicken curry to Venezuelan empanadas which they have adopted back home.
You can follow Pregos on Facebook and Twitter (@Pregos_No1)
You can find Pregos on Freshmoor Road in Splott (off Lewis Road which has Splott Market on it).
Pregos is open Monday to Saturday, 9pm – 2pm.
Read more about what's on offer here: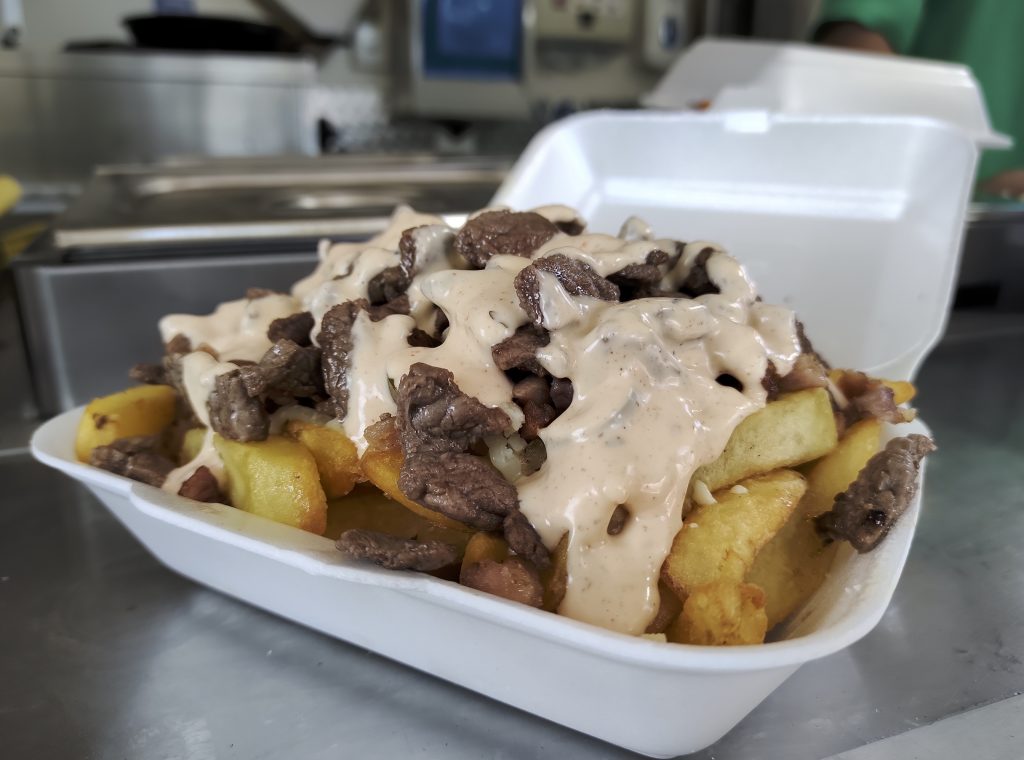 Oasis Cardiff
Enjoy global eats in the sun in the outdoor seating area at Oasis Cardiff Tuesday-Thursday from 12-2:30pm
Wash down your chicken taco, falafel wrap or mezze box with a glass of mango lassi or hibiscus lemonade
Find Oasis Cardiff on Splott Road opposite Splott Chippy.
Read more about the Oasis Global Eats here.
Follow them on Twitter or Facebook.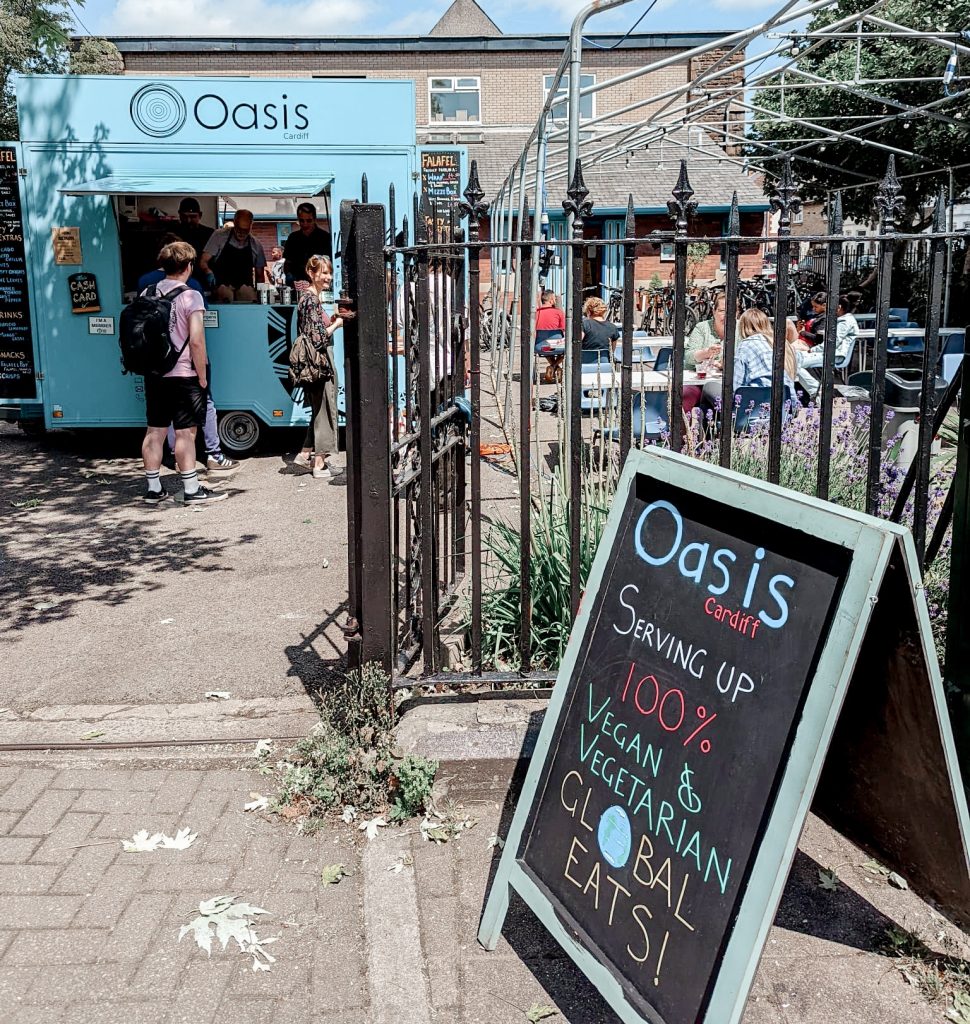 Mabin Eatery
Mabin is established to bring tasty, healthy and affordable food to everyone in our community. Based at the STAR Hyb in Cardiff, they have created a space to engage with food, nature and other people for the nourishment of body and mind – a place where you can eat delicious food to fuel your physical activities and social interactions.
Mabin offers breakfast, lunch and an all day snack menu to serve alongside a selection of teas and coffees, cakes and sweet treats.
The pantry is full of preserves and sauces that will zhuzh up any meal. They cater for seasonal community events to bring people together and bespoke catering service for special events.
Find out more about Mabin Eatery here (really must get over there and interview Fran and Cat!)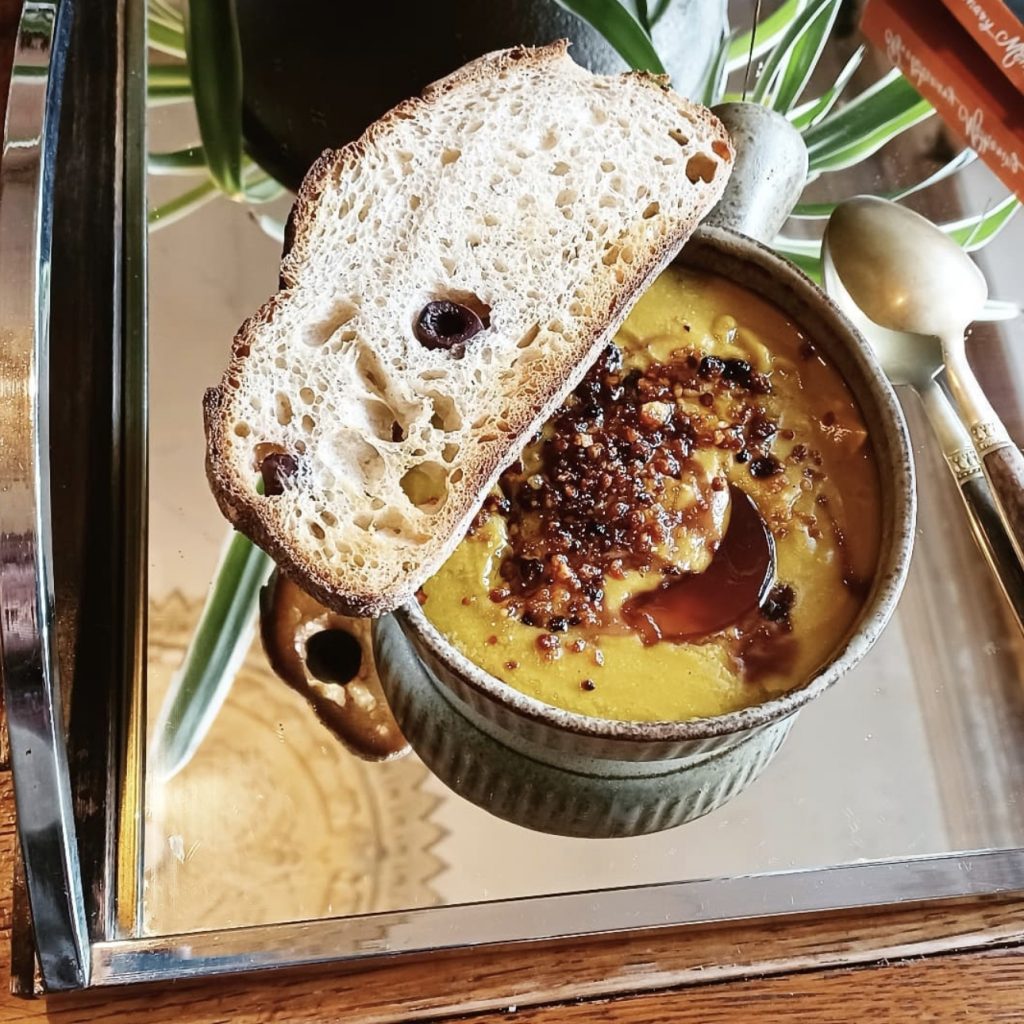 The Old Favourites
We can't do a piece on lush lunches without some of the Splott staples!
Imperial Cafe
The Imperial Cafe is an institution here in Splott and is open seven days a week, serving breakfasts, lunches and roasts on the weekend.
Imperial Cafe is on Splott Road – follow them on Facebook.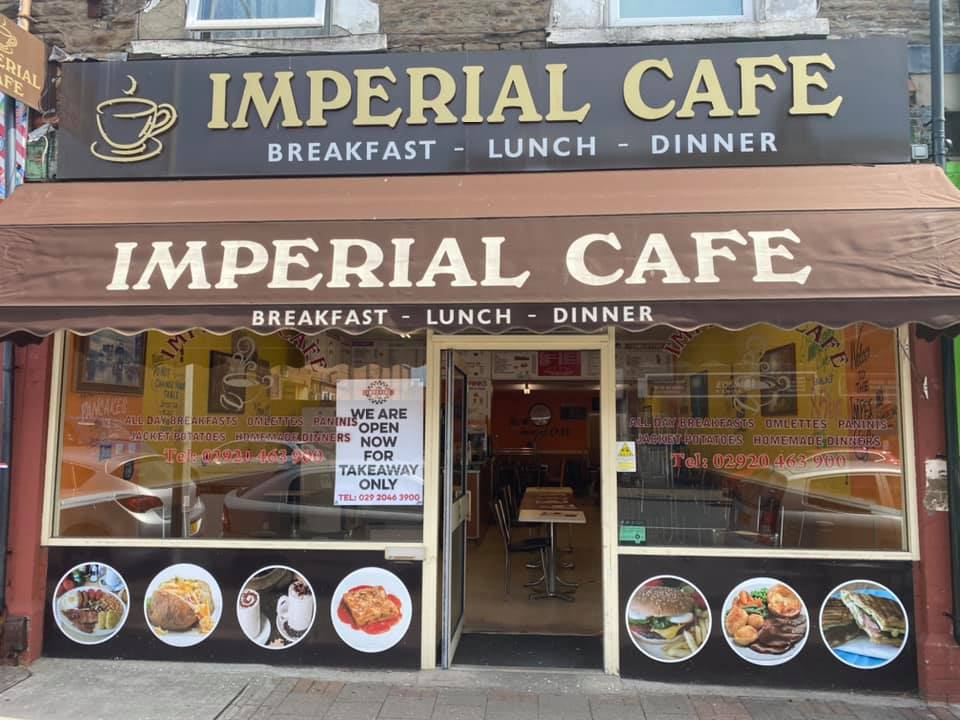 Cheese & Wine Lovers:
Benedito's of Cardiff, 15 Splott Road
Benedito's Portuguese Delicatessen at the top of Splott Road is a bit of an institution in Splott – it's been there ages and sells almost everything you could imagine:
Fine wines, beers and spirits, Meat, Cheese, Fish & Seafood,
Poultry & Game, Soft Drinks, Tremocos, Tinned and Packet Foods,
Olives – Olive Oils, Biscuits, Cereals, Portuguese cakes, Nuts, Bread, Pasta, Vegetables, Confectionery and Ice Cream!
You can buy a bottle of Portuguese green wine and some delicious cheese and olives to nibble on as you drink it. You can also buy salt cod here and a number of different hams and sausages.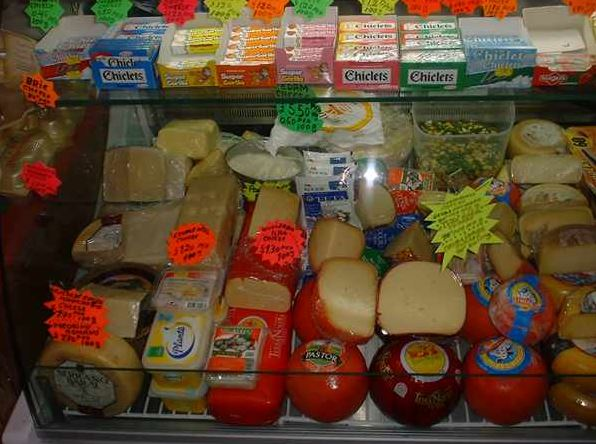 According to the website, 'whatever the occasion you will find all the ingredients for that special meal' in Benedito's.
For more information on the deli, click here: http://www.beneditos.co.uk/
Bread & Pastries:
Carlisle's, 16 Splott Road
For a mind-boggling selection of super-yummy breads, cakes, pies, pasties, sausage rolls and other delicious items, Carlisle Bakery on Splott Road is king.
They have some super deals on as well, like buy any pasty and get chips for 50p, coffee and a cake for £1.65, breakfast roll with tea or coffee for £2.30 (the list goes on and on). You can also buy a Jamaican pasty for a pound!
The Danish pastries are sublime and the bread is delicious. Carlisle bakery is a true local gem and a tasty one at that.
Top tip: try the sausage rolls. They are the business.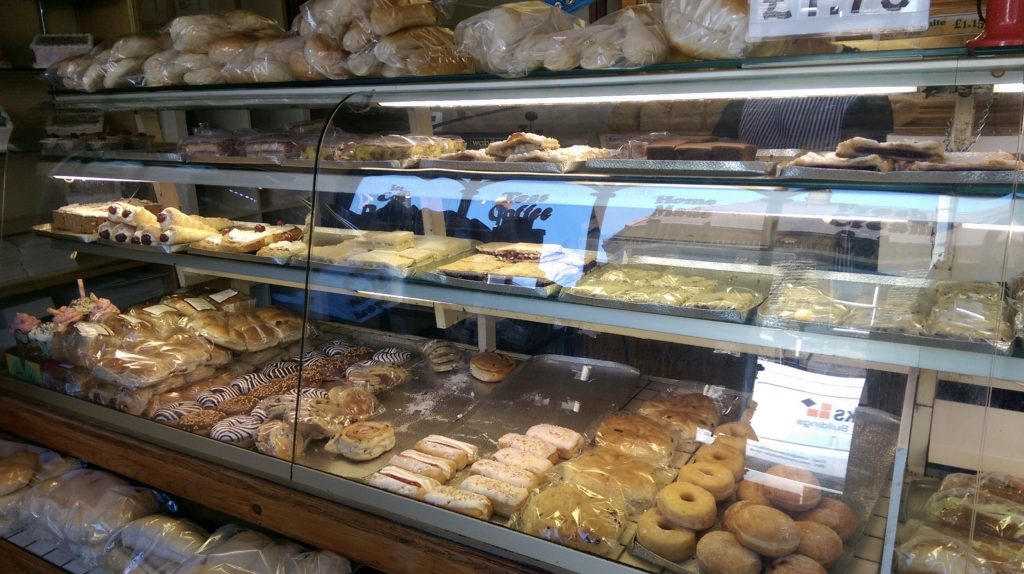 Other options:
Baker's Dozen, 17 Splott Road
What I love about this bakery is that, in addition to the usual bread and pastries, they sell good quality meals in tupperware for between £2 and £3, making them excellent value and really handy for people who are less than Nigella Lawson in the kitchen.
Like in Carlisle bakery, the staff are friendly and uber-helpful and are never too busy that you can't have a chat with them.
Brutons the Bakers, 31 Carlisle Street
Established in 1898, Brutons has a number of bakeries in Cardiff. For more information on Brutons, go here: http://www.brutonsthebakers.co.uk/
Reader's recommendations:
Jivey's
Fiona Drennan says:
Jivey's on Tweedsmuir Road does a HUGE freshly cooked breakfast for £7 .. sausages are totally lush! And its cooked to order, Jivey's has a garden area also for the kid's .. Closed on Mondays. Tuesday to Saturday 8am til 4pm I think.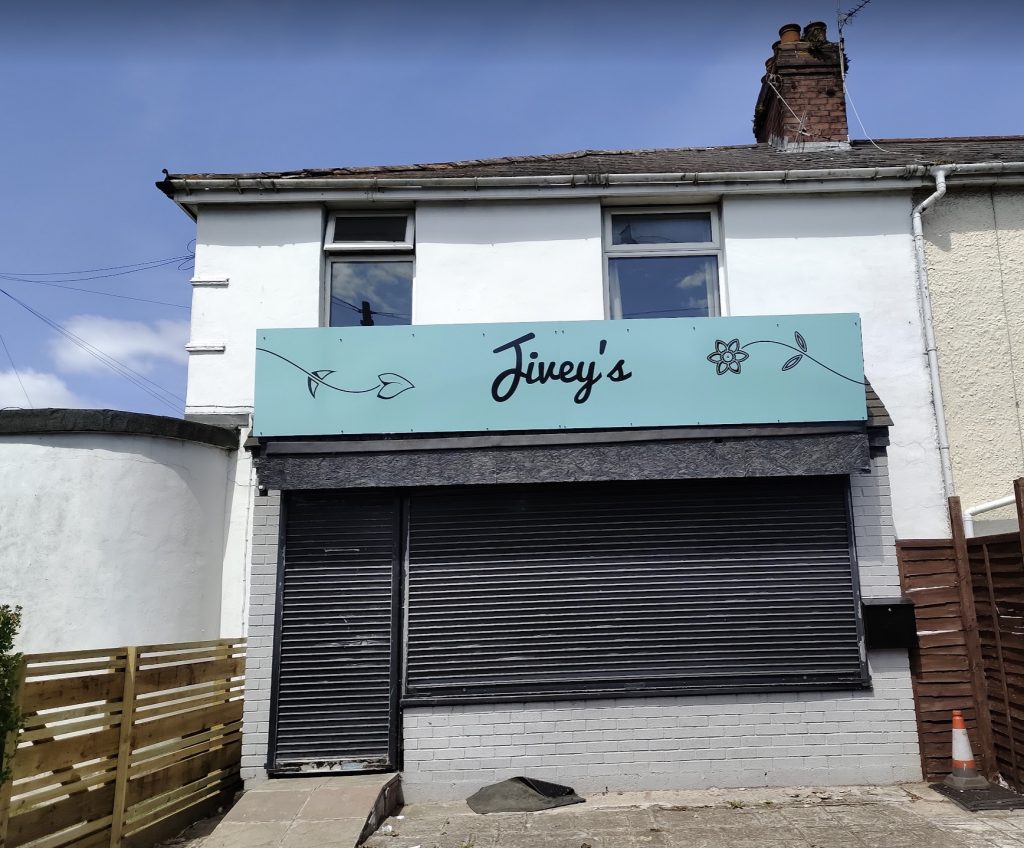 I think I took this photo before it opened a while back, but this is what it looks like from the outside!
Coming Soon!
Toast on Things
Coming soon to Railway Gardens, hot off the press, is Toast On Things!
Heather McDowell says:
After spending a glorious four years working with wonderful people in communities across Cardiff I can categorically say I've been inspired. Watching them follow their dreams and making the impossible possible its's given me the motivation to take on a new adventure.

In the not too distant future I will be picking up the keys to my very own container set within Railway Gardens in Splott.

Amongst a new community of creative people I will launch 'Things on Toast'. Bringing the community an array of affordable and innovative sustenance with a real focus of the joy it brings and memories it will make.

There is a long term plan to make sure this is a venture that will give back and by working with the community I will make sure this runs throughout my approach to creating something special.

This is going to be the best thing since sliced……. toast