Street food is a massive growing trend in the UK and it's bloomin' brilliant that here in Splott we have our very own initiative in Pregos, a family business selling the best steak sandwich in town!  This week we interview the owners, Ally and Duarte.
Inksplott: Hi Ally and Duarte, thank you for being interviewed for Inksplott.  Can you tell us a little about yourself and your business, Pregos Street Food?
Pregos: We are a husband and wife team who both love food and enjoy cooking so we decided to go find a way to turn our passion into our careers.
We set up Pregos just over a year ago.  Duarte has worked exclusively in the restaurant business for the past 12 years and I have worked in the food industry usually along my 9-5 over the years, and we wanted to set up something on a small scale to provide something a little bit different than what people expect to find on the side of a road.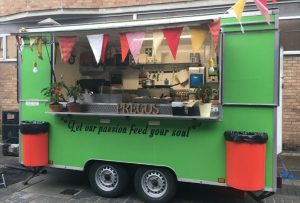 Inksplott: How did you get into this?  Can you please tell us a little about the history of your business?
Pregos: By chance actually!  We hadn't considered a street food business, however one day Duarte was so hungry and we were in the middle of nowhere and so we stopped at a burger van for food, only to find it to be the usual suspects, and that's where it ignited.  We started chatting about how great it would be to have food trucks all over the city but ones that catered to different tastes and had freshly prepared, wholesome foods.
We then started making enquiries and as we got into it we realised that the street food movement is gaining momentum, it was still a long term plan until Duarte got ill, (all is well now) and that's when we decided to get the wheels in motion sooner rather than later to change our lives and make the most of our family life and do what we enjoy.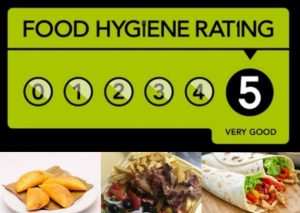 Inksplott: And how come the business is in Splott?
Pregos: We don't live in Splott now, however we have strong ties with the area.  I grew up here and worked here early on in my youth with Joe and Iddy at the Imperial Café.  I also worked the bar in the STAR Leisure Centre as it was known, and some others in Clifton Street.  Duarte's mum and dad still live in the area and we knew that it has one of the biggest industrial areas of the city with a good mix between office, residential and industrial customers, so we do get to serve a really diverse group of people in the city.
Inksplott: What's your speciality?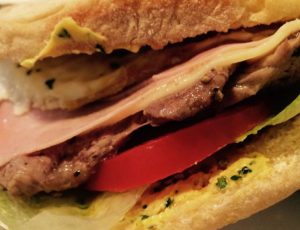 Pregos: Our speciality is the Prego, a very typical Portuguese steak sandwich with all the trimmings.  Ours is specifically Madeiran as its made with a homemade sweet potato bread, something that is seen all over Portugal nowadays but still relatively new here in the UK.  We specialise in Portuguese dishes and dishes inspired by the travels of Portuguese across the globe, from Goan chicken curry to Venezuelan empanadas which we have selfishly adopted back home.
Inksplott: What's your best story since setting up the business?
Pregos: There are so many already, amongst realising that a moving restaurant needs to have lots of storage to stop everything roaming free whilst you move, to getting a little stuck in a grass field after and event but I would say the highlight so far has to be Michel Roux Jr liking one of our tweets about the homemade sweet potato bread on the day that it marked our 1st year of business, it was a great birthday present indeed (I'm a bit of a fan!).
Inksplott: Tell us a secret or something about Splott that we won't know.
Pregos: We probably know less about it than you guys but something most people wont know is that Splott probably has the biggest Portuguese community in Cardiff, originally attracted by the proximity of town and the affordability of housing during the 80's and 90's.  Many arrived and enjoyed the diversity it offers and how part of the community they were made to feel.
Inksplott: That's an awesome fact – thanks!  Any exciting plans or events on the horizon?
Pregos: Yes, lots!  We open 6 days a week and unless it's a bank holiday we always aim to be there and available to our customers.  We are however a mobile unit and as such do take up some events like the street food circus which we did last year, we have been away this year already to events in Abergavenny, Bridgend, the Cwtchfest and are expected in St Fagans in September for their food festival.  We are also getting into events and weddings so lots to keep us on our toes, but with a very young family to care for too, we are aware that whilst they are so young we can only grow at a certain pace to try and keep a favourable work/life balance.
Inksplott: That's great – thank you so much for the interview!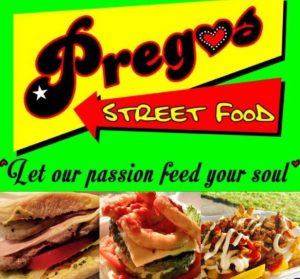 You can follow Pregos on Facebook and Twitter (@Pregos_No1)
You can find Pregos on Freshmoor Road in Splott (off Lewis Road which has Splott Market on it).
Pregos is open Monday to Saturday, 9pm – 2pm.