People in Splott may have shrugged their shoulders and thought 'so what?' when the world's most extensive bikeshare operator – nextbike –  arrived in Cardiff on the 26th of March with the first installation of five docking stations and 50 bicycles in the city centre.
However, things have recently got much closer to home with the full launch of the scheme this month when 25 stations and 250 bikes will be installed, including a station at our very own STAR Hub in Splott Park!  Though no bikes are there yet, they will be soon!  This is the perfect accompaniment to the nextbike station already on Clifton Street in Adamsdown.  This is awesome! When my feet are hurting on the walk home, I can just hop on a bike! Blooming marvellous!
Even better, the numbers will then be doubled by the end of August, taking the scheme to full strength when 50 stations and 500 bikes will be located in and around Cardiff.
So what is Nextbike and how does it work?
Well, you can cut right to the chase and check it out at https://www.nextbike.co.uk/en/cardiff/information/ but if you can't be faffed with that and want to have the shortcut version, here goes:
Nextbike is a bike rental scheme where you can collect a bike at one station and drop it off across town, making cycling much more accessible to all and offering people an environmentally friendly and healthy way of travelling across town.
To use the bikes, first of all you have to register. You can do this by downloading the app, calling the customer service centre at 020 8166 9851 or going to the website.
Next you find a bike at one of the stations and enter the bike number or scan the QR code using the app on your phone. You'll receive a 4 digit lock code – you pop that into the bike computer and press OK.
This will release the bike and you're free to cycle off to your destination.
When you're done, you pop your bike back into any official nextbike station in Cardiff and the app, hotline or bike computer confirms the return. Job done.
Is it free? Not exactly.
So what are the costs?
Well, casual use is £1 for 30 minutes and £1 for an additional 30 minutes.  The maximum charge for 24 hours is £10.
If you sign up for a monthly subscription it's £0 for the first 30 minutes but you have to commit to £5 a month.  Additional 30 minutes is then charged at 50p and the maximum charge for a day is £5.
If you sign up for a year, it's £0 for the first 30 minutes but you have to pay £60 for the whole year subscription. Additional 30 minutes is then charged at 50p and the maximum charge for a day is £5.
More info…
The initial five stations and 50 bikes are located near City Hall, Cardiff Central Train Station, Cardiff University's Bute Building in Cathays Park, and at County Hall in Cardiff Bay.
The scheme is backed by Cardiff Council and financially supported by the Welsh Government, and will help to reduce congestion, free up parking spaces and will provide a healthier way to travel around the city.
Splott Councillor and Leader of Cardiff Council, Huw Thomas, said in response to the news:
"I'm over the moon that as local councillors, we've managed to secure a Nextbike station in the ward. There was a lot of competition for them from neighbouring areas, so I hope they're well used. They'll offer a quick and convenient way of getting in to town, especially once we build all the new cycle lanes we've got planned."
Huw is one to put his money where his mouth is, having been a champion of Keep Splott Tidy since its first litter pick in August 2016 and getting his hands (very) dirty cleaning up the streets of Splott, including fly-tipping hotspot The Black Bridge at the end of Sanquhar Street, so it is no surprise to learn that he's been using Nextbike to get about town since its launch.
Cllr Caro Wild, Cabinet Member for Sustainable Planning and Transport has welcomed the first phase of the scheme.
"A bike hire scheme is a vital part of a true cycling city and I am delighted nextbike have recognised the great potential for cycling in Cardiff. When we announced the scheme was coming to Cardiff we asked residents to get in touch with us and give their feedback on where the bikes should be located. All of the feedback has been considered as we have planned the future phases of the scheme.
"We've seen in London how their bike scheme really increased the accessibility and visibility of bikes and we think nextbike will do the same for Cardiff. Cardiff is a compact and relatively flat city so cycling is a good option for shorter journeys. This scheme is only part of the Cabinet's plans to improve the cycling infrastructure to encourage people that live in or close to the city to leave their cars at home and consider alternative options."
Scheme operator, nextbike, is the world's most extensive bikeshare provider with more than 120 projects across four continents.
Julian Scriven, MD of nextbike UK, said the benefits to Cardiff would be enormous.
"It's exciting to see the bikes start to roll out in Cardiff. From reducing congestion and creating new jobs, to improving health and mobility, bikeshare is having a real impact wherever it goes," he explained.
"Our research shows that bike sharing users spend more at local stores, property prices by docking stations increase and car parking demand falls, as does congestion and the resulting pollution."
The bikes will feature advanced technology and enhanced security features, including integrated front locks and GPS tracking, which will make using them easier than ever.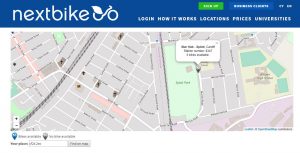 The Council has launched a Green Paper on Clean Air in the city and is urging residents to take part in the conversationabout the big ideas that could shape the future of Cardiff's transport system and the way the city could look and feel in the future.
The Transport & Clean Air Green Paper is available to view on www.cardiff.gov.uk/transportgreenpaperand a series of questions have been asked in each section to get feedback from residents on the proposals and ideas before the consultation closes on 1st July.
How you can get involved – join the conversation by:
Completing the online survey at https://www.snapsurveys.com/wh/s.asp?k=152154762388
Emailing comments directly to:  consultation@cardiff.gov.uk
Respond in writing to: Cardiff Research Centre, County Hall, Atlantic Wharf, Cardiff, CF10 4UW
Contact on Facebook / Twitter: @cardiffcouncil