There's lots going on in the land of the speedbump this month, with local school Willows High and volunteer group Splott Community Volunteers organising some great nights out.
First up is much loved regular Friends of Willows High Curry and Bingo night on the 19th March.
Tickets are £5 per person which includes all bingo tickets and food on the night.  Alternative options to curry are available.
Organisers also put on a great raffle (I won a bottle of Prosecco at the last one – now if that's not divine intervention, I don't know what is) and comedian Mike Bubbins is guest bingo caller, making for a fun, sometimes risqué night!
No need to book – just turn up at Willows High at 7pm and get your dabber at the ready (which is kindly provided by the organisers).
Proceeds will go towards this year's fantastic bonfire and firework extravaganza.
One night later on the 20th March sees the relaunch of the Willows High Community Choir.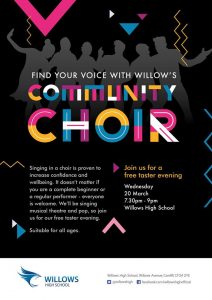 If you're a fan of musical theatre and pop then this is for you (oh, and singing of course, though the organisers are also hoping for some volunteer tea-makers).  Suitable for all ages, the choir will practice between 7.30pm and 9pm at Willows High in Tremorfa.
Wouldn't it be fantastic to see a Splott & Tremorfa choir get really good and go on one of those talent shows on tellybox?  Or perform at Wales v England.  Come on mun; you have to aim high!
Plus this taster session is free of charge, so no excuse not to rock up and…well, rock!
Last but definitely not least is Splott Community Volunteers' Quiz and Curry night on the 23rd of March. 
Here's the blurb from the organisers: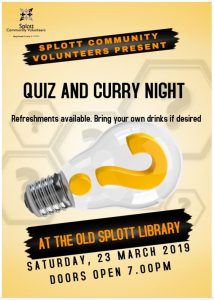 Get your teams together and get your skates on to buy your tickets for another great fun Quiz and Curry Night on 23rd March at the Old Splott Library, Singleton Road.
Doors open at 7.00pm.
Vegetable or chicken curries and accompaniments will be on offer, plus refreshments.
Bring your own alcoholic drinks if desired (erm, no brainer! – that bit's me, not the organisers!)
Please bring/join a team and support this fundraising event.
Music, laughter, fun and games…..all for just £5 per head!
Proceeds will go towards the fantastic work that the group do locally, including events and the much-loved and needed breakfast clubs, where nutritious breakfasts are provided for just £1.
So come on Splott – let's show our support for these awesome organisations and make these events nights to remember.
Peace out (I may have had some wine).