It was standing room only at last Saturday's Green Squirrel community coffee morning in the Old Library in Splott to showcase the final plans to create a community hub from waste land in Splott.
The site at the back of Railway Street has been donated to the group by Cardiff Council. Following a series of community consultations plans were developed to create a unique space which will offer workshops and training space; composting; space to grow food; support for bio-diversity; habitats for pollinators, outdoor learning events and, wild play for young people.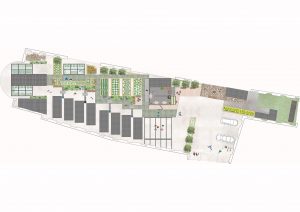 The site plan is now complete
The site turned out to be a bit more complicated than expected. Sandwiched between the railway and people's back gardens, there are many restrictions on what can be built, where things can be placed, and how to build or install it. This is made more complicated by the discovery of a large district sewer beneath the centre of the site – which cannot be built upon – and the positioning of power and water coming onto the site. Luckily, appointed architects, ALT Architecture, were not deterred by these challenges!
There's also a little something called SuDs. SuDs are Sustainable Drainage Systems designed to mimic natural drainage and prevent flooding by managing surface water run-off as close to source as possible. All new developments are now required to include drainage systems which comply with National Statutory SuDS Standards. Working out SuDs calculations and building these systems into the design took expert help from Arup.
What's included in the plan?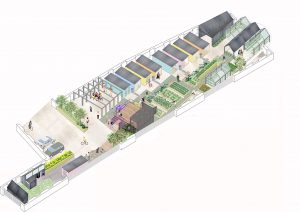 A community hub – more on this below.

8 small business pods – those are the colourful shipping containers on the left of the picture above. These will be installed and managed by The Bone Yard who have bring their extensive experience of creating and running these kind of flexible business spaces to the project. The plan is to prioritise social, ethical, and sustainable businesses on this site.

A mini allotment – this includes accessible raised beds, greenhouses and potting sheds

Beehives – in a screened apiary area so they can be observed without worrying about low flying bees!

An outdoor events space – perfect for school visits, markets, play and lots more.

Toilets including an accessible toilet with baby changing

A play structure – more details coming soon. There will also be plenty of opportunities for play activities across the site

A biodiversity corridor – planting along the length of the site will support biodiversity and help with sustainable drainage. If you're familiar with Greener Grangetown then it's a bit like a mini version of that.

Plenty of places to sit and relax – including a roof terrace on the hub
What will the hub look like?
The community hub building has been designed by local company Kitsch and Sink. It's made from recycled shipping containers and all other materials will be salvaged and repurposed wherever possible. Like the rest of the site, it's been designed to be as flexible as possible so many different groups can use it in different ways. Downstairs is a workshop/ classroom/ meeting/ social space with a small kitchen and a serving hatch to the outdoor seating area. The front of the building can open up to connect what's going on inside with what's happening in the events space directly opposite.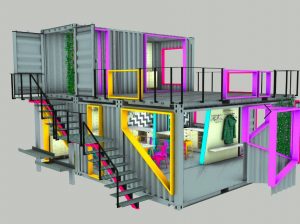 Stairs on the outside of the building lead to a roof terrace overlooking the site and a smaller, cosier indoor space, perfect for small meetings, groups, or just playing a board game and drinking a cup of tea. Beneath the stairs are outdoor sinks for anyone getting their hands dirty in the allotment.
What happens next?
The planning application will be submitted in early February. This will take around eight weeks to receive a decision. Green Squirrel will share the planning reference so that residents can submit a supporting comment to the application if they wish.
Once planning permission has been granted then this fulfils the conditions needed for the lease and access to the land to be granted (Green Squirrel is planning a celebration event to mark the occasion).
Team Green Squirrel has raised £60,000 for this project, which should be enough to get the initial ground works completed on the site. It doesn't cover the cost of the hub building or other site structures, onsite events and activities, or the two paid staff roles that are planned. In spring 2020, Green Squirrel will continue to apply for grant funding to move the project forward and welcome any and all suggestions on how they can raise money in addition to grant funding – please do get in touch if you can suggest an avenue of funding or you'd like to fundraise for the project.
How can I get involved?
As the project moves forward we'll have many more volunteering opportunities. If you'd like to get involved then email hannah@green-squirrel.co.uk to join the volunteer mailing list. If you could let the team know what kind of things you're most interested in – admin, helping at events, fundraising, DIY, social media for example – that would be really helpful.
Spread the word. Please do share this website and social media posts about the project, tell your neighbours, and share the news with any community groups or schools you're involved with.
Let Green Squirrel know if your group is interested in using the site once it's open, or if you're interested in finding out more about a business space. No commitment at this stage obviously but it would be good for them to have a chat and find out more about what you do!
A final word from Becca and Hannah, the dynamic duo behind Green Squirrel:
"Stay in touch! Please do drop us an email at any time if you've got questions, comments, feedback or anything you'd like to share, we'd love to hear from you!"
To read the full blog post and find out more, visit https://www.railwaystreet.co.uk/post/the-site-plans-are-here