Better Leisure Centres is preparing to re-open its Cardiff fitness facilities from Monday the 3rd of May, including the pool and gym at the STAR Hub.
This follows the confirmation announcement from the Welsh Government allowing indoor gyms and pools to re-open.
Better Leisure Centres in the city have been forced to close during the most recent lockdown which has had an impact on income and the health and well-being of members.
Demand from customers keen to return to exercising has been positive, with training slots being booked via the Better app throughout this week.
Swimming lessons will also re-start and family swims for £1 will be available on the Bank Holiday Monday.
Indoor fitness classes will not resume on the 3rd of May.
Here is the Splott timetable for Bank Holiday Monday:
STAR Hub
09.00 – 17.00
Gym
09.00 – 17.00
Jnr Gym
14.00 – 15.00
Swim for Fitness
09.00 – 12.00
Swim for all £1
12.00 – 17.00
The following locations in Cardiff will be offering activities on Monday 3 May: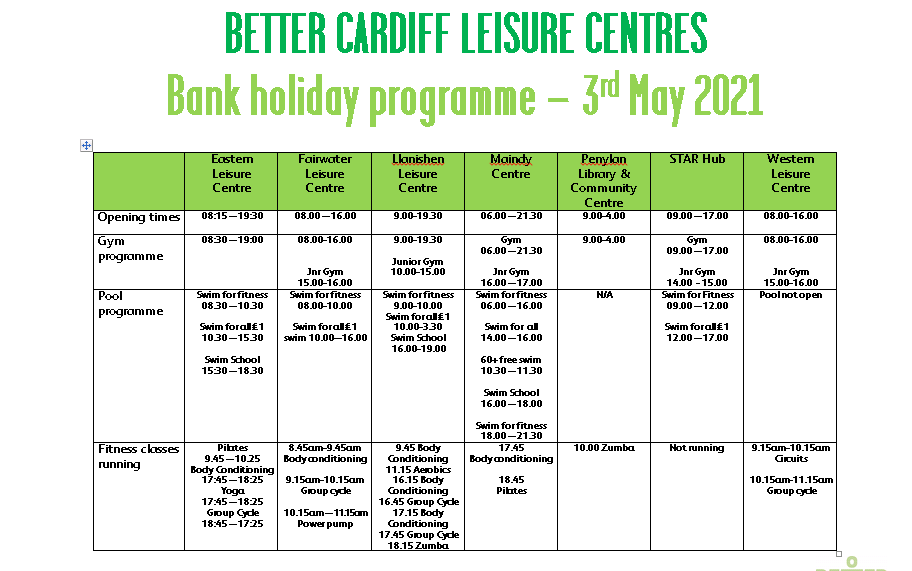 Bookings open from the evening of the 28th April.
Further information on timetables, activity pricing, directions and parking access (where available) is available on better.org and then clicking on the name of the Centre (or you can click here for the STAR timetable).
Rhys Jones, Head of Service at Better Cardiff, said:
"We are so glad to be able to offer exercising at long last after an extremely long lockdown period and our re-opening date being pushed further away.

"Exercising has been tough throughout the lockdown winter months and people have been robbed of the opportunity to enjoy regular exercise. This has had untold consequences on the physical and mental health of our population and for every day that leisure facilities remain closed, public health deteriorates further, and the risk of obesity and stress becomes critical. As the main leisure provider in Cardiff, we are glad that we have been given the go ahead to resume our crucial role in preventing a health crisis."

"We would like to thank members and users for their continued patience and support during these unprecedented times. We are thrilled to be welcoming customers back safely."
Upon arrival, participants will need to follow all Covid-secure measures to keep themselves and others safe.  Advance online and app bookings only to manage the number of customers within the facility at any one time.
Bookings open from the evening of the 28th April.