Keep Wales Tidy has unveiled this year's Green Flag Award winners – the international mark of a quality park or green space – and Tremorfa is one of the selected sites. 
StarGarAllot Community Allotment has been awarded the prestigious Green Flag Community Award in recognition of its dedicated volunteer involvement, high environmental standards and commitment to delivering a quality green space.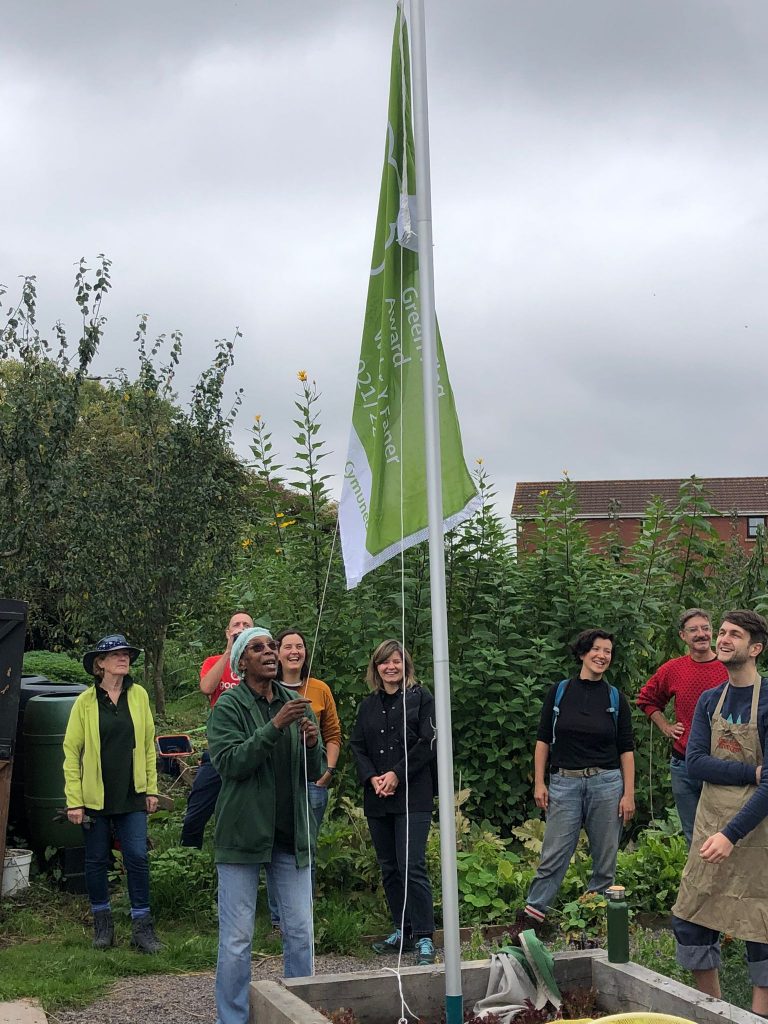 StarGarAllot is a community growing organization with a base at the Pengam Permanent allotment site. As volunteers we not only grow fruit and vegetables to share with each other but also support and help the communities of Splott, Tremorfa, and Adamsdown by…
transforming our plot into a Keep Wales Tidy Local Place for Nature with wild flowers, ponds and using nature-friendly growing methods
donating most of the food we grow to three local food service groups (Oasis, Tremorfa Community Pantry and Splo-Down Food Coop), who distribute it to people unable to leave their homes; those with little money; asylum seekers and refugees; and people wanting to try locally grown fresh food
recycling wood, plants, seeds, paint and tools donated by local people
running volunteering sessions to improve people's  health and wellbeing
making the site accessible for people with a range of disabilities
organising workshops to improve gardening & growing skills such as tree pruning, fruit and salad growing, tool maintenance and nature-friendly approaches
lending tools to new allotmenteers; people without transport; and to other local community growing groups (such as Railway Gardens).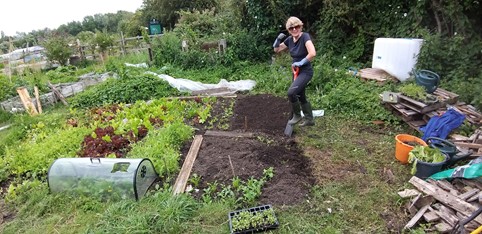 "We are thrilled to have been given this award in recognition of our efforts to make our community allotment, greener, cleaner and friendlier to people and nature. It's inspiring us to become even greener and showcase how we can reduce our impact on the environment!"
Liz Court Chair StarGarAllot
Across the country, 145 community-managed green spaces have met the high standards needed to receive the Green Flag Community Award. This means Wales still holds a third of the UK's community Green Flag sites.
The Green Flag Award programme is delivered in Wales by environmental charity Keep Wales Tidy, with support from Welsh Government. Independent green space experts volunteered their time in early autumn to judge applicant sites against eight strict criteria, including biodiversity, cleanliness, environmental management, and community involvement.
Julie James, the Welsh Government's Minister for Climate Change, said:
"Green spaces are vital for mental and physical well-being and throughout the pandemic we have seen how important these spaces have been for local communities.  
"Wales still holds more than a third of the UK's Green Flag community sites and it is fantastic to see more places in Wales receiving Green Flag Award and Green Flag Community Award.  
"These landscapes play a vital role in delivering rich ecosystems and vibrant and resilient communities, and I congratulate all of the sites for providing excellent, year-round facilities and events for people in Wales."
Lucy Prisk, Green Flag Coordinator at Keep Wales Tidy said:
"The pandemic showed us just how important high-quality parks and green spaces are to our communities. With more visitors than ever enjoying our green spaces, I'd like to congratulate the hard work of staff and volunteers who have maintained excellent standards at these sites."
A full list of award winners can be found on the Keep Wales Tidy website www.keepwalestidy.cymru/greenflag
For more information on StarGarAllot, please contact: Camilla Lovelace on stargarallot@gmail.com
Find them on Facebook: https://www.facebook.com/stargarallot