Food is wasted every day in every cities across the world and one local organisation has decided to do something about it.
Wasteless Cardiff believes that we all have a part to play in reducing food waste, whether it's the big supermarkets, food growers and producers, small food businesses, or each of us at home in our own kitchens and is bringing together local food businesses and food lovers to inspire positive change and pave the way for Cardiff to reduce its food waste.
Wasteless is a collaborative pop up hosted by Lia Moutselou (Lia's Kitchen) and local Splott resident Rebecca Clark (Green City Events) and is supported by the Sainsbury's 'Waste less, Save more campaign', designed to help communities to provide innovative ways to help households cut food waste on their own doorsteps.
Lia and Rebecca believe it's time to make a change in Cardiff and they are inviting you to join them for food surplus feasts on 3rd and 31st March 2018.
Wasteless Suppers will bring together some of Cardiff's best local food businesses, working together to each create a unique dish showcasing often over looked ingredients and all coming together to serve an exceptionally delicious meal.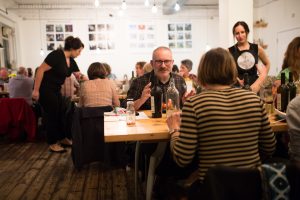 Ingredients for the dishes will be donated by local supermarkets and food businesses and the menu itself will only be finalised just twenty four hours before the event as the talented local chefs will only know what they have to work with in the week leading up to Wasteless.
Want to go wasteless?  Here's where, when and how you can partake in the innovative and feel-good feasts:
Wasteless #2 – Saturday 3rd March at Cafe Sio, Lloyd George Avenue, Cardiff CF10 4QH
Wasteless #3 – Saturday 31st March at Milk & Sugar, The Hayes, Cardiff CF10 1BH
Bookings can be taken at either of the venues or online via this link: www.greencityevents.co.uk/wasteless-supper
Follow the Wasteless journey online using the hashtag #WastelessCardiff
Read the Wasteless Diaries: https://liaskitchen.com/2017/12/05/the-wasteless-diaries-1/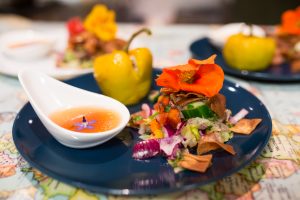 Dishes from the previous Wasteless menu include pickles from around the globe, Skordalia bread and walnut dip, stuffed peppers with rice/veg or meat, Welsh pork, apple and root vegetable stew and baked yoghurt with preserved fruit. Even the drinks menu will have a zero waste approach with cocktails created using infusions of citrus peels that would have been wasted.
The first event went down very well.  Celine Anouilh from the Chartered Institute of Waste Management in Wales said:
'I so much enjoyed this first WasteLess dinner raising awareness of food waste. Lia and Rebecca used all the right ingredients to produce a tasty meal and an inspiring event: a partnership between enthusiastic and ethical businesses, forgotten food from super markets shelves, great cooking skills, creativity and passion! I ate a delicious meal and met wonderful people.'
Local businesses have also shown their support.  Anna from Mezza Luna, Wasteless partner 2017 said:
'As a food business, we at Mezza Luna believe it is our social responsibility to be at the forefront of the fight against food waste. And by doing so encourage people to have better awareness of food and the environment. Middle Eastern cuisine is a great example of the WasteLess approach. For example, all parts of an animal are used for cooking in different dishes. We strongly believe in this approach and we aim to encourage greater respect for food.'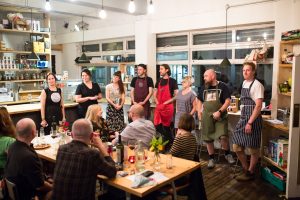 Wasteless is also an opportunity for our guests to learn more and share their ideas and practices. Inspired by the innovative menu, the aim is for guests to take back new ideas and approaches to their homes and businesses.
Rebecca from Green City Events said:
'Wasteless is a collaborative venture and we could not do this without all our amazing Wasteless partners offering their time and skills. We really believe in the value of sharing best practice and inspiring others to do try out new methods. Nobody likes to think they waste food but we all do it. After working on food reduction projects over the years I'm still learning new tips and tricks today and that's why it's important to keep sharing our collective knowledge.'
The idea of the WasteLess suppers hatched in the winter of 2016, while Lia and Rebecca worked together on another food reduction project. Over the past three years Lia and Rebecca joined forces to deliver a series of food waste projects and initiatives in Cardiff, in collaboration with Love Food Hate Waste campaigns and other local organisations and businesses. From community cook ups with food destined for the bin, to roadshows, school lunch clubs and pop up street food stalls, Lia and Rebecca have inspired, engaged and educated to encourage action and behaviour change relating to food waste.
Lia from Lia's Kitchen said:
'WasteLess will broaden our work to include other food businesses and aspires to create a platform for them to join forces on reducing food waste. It is very important that we set up a platform that allows local businesses to tap into their creative and sustainable practices in order to showcase elements of Cardiff's existing 'green' food movement.'
Lia's Kitchen is an ethical food venture inspired by sustainability, Greek cuisine and world flavours run by Lia Moutselou. Lia runs cooking classes and pop-up dinners, develops recipes and menus, works on important projects that support the environment, communities and ethical messages, and she loves to blog about it all. Lia's Kitchen work on food waste and seasonal food led the venture to be a commended finalist for Cynnal Cymru's Social Enterprise award in 2016. www.liaskitchen.com @LiasKitchen
Splott-based Green City Events is a group of experienced local green experts and eco-enthusiasts, passionate about sustainable living and the environment. They offer fun, affordable and practical workshops, events and activities for all ages. From getting your hands muddy and exploring nature, to gaining practical skills in living more sustainably; they create both regular exciting public events and bespoke eco-experiences and projects to suit everyone. They love to collaborate, share skills and create exciting campaigns and projects. Green City Events is a not for profit Community Interest Company. This means that the work they do aims to benefit and improve our surrounding communities and that any profit created by the business is put straight back into the pot to achieve this, rather than into an individual's pocket.
@GreenCityEvents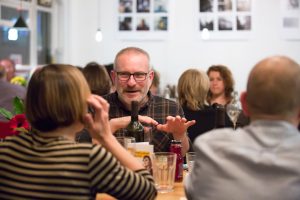 Sainsbury's Wasteless Save More campaign Waste less, Save more was launched by Sainsbury's in 2015 to help combat the growing issue of food waste. Following an innovative 12-month trial in Swadlincote, Derbyshire, the retailer has unveiled a pioneering 10-point plan, which includes a further £1 million investment to support 29 UK-wide Discovery Communities. The plan is informed by trial data and qualitative insights from the pilot town and is based on three focus areas which the retailer is taking forward: Tech and Tools; Education and Inspiration and Community Engagement.
Paul Crewe, Project Lead for Waste less, Save more, at Sainsbury's, said:
"We've learnt a huge amount as a result of our 12-month pilot and we are really excited to be rolling out the next phase of Waste less, Save more across our 147 Discovery Communities. We've learnt a lot over the last 12 months about how we can help households waste less food and save money, but we're now casting our net wider to see the innovative ways communities up and down the country tackle food waste."