An earthquake of 4.7 magnitude hit South Wales this afternoon just outside of Swansea, with the effects reaching Splott and beyond.
Inksplott first got wind of the geological event via Twitter, with people tweeting 'did you feel that?' and 'my house just shook'.
Turs out, there was a tremor just outside of Swansea that has been reported as far away as Liverpool and Cornwall.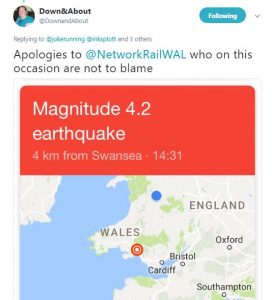 People in Splott originally through that Network Rail works to install piling for the electrification process was to blame, but this was quickly dispelled on Twitter by local Tweeter @DownandAbout
People looking to find out more can go to https://m.emsc.eu/earthquake/earthquake.php?id=649041
People closer to the epicentre have been sending their experiences to EMSC,  Read the testimonies on this site for an insight into how the quake affected people.  A couple of my favourites are:
I WAS SITTING IN MY ADJUSTABLE ARM CHAIR AND I THOUGHT SOMEONE WAS OPPERATING THE ADJUSTABLE MECHANISM MY HUSBAND WAS MAKING UP THE FIRE IN THE LIVING ROOM WHEN THE LOG BURNING FIRE ACTUALLY SHOOK WE BOTH SHOUTED WHAT THE HELL WAS THAT?
And
Was scooping some ice cream into a bowl when I heard a long, low-level rumble. It was loud enough to make me think about it but we have so many fighter jets flying overhead that I did think that perhaps it was just another jet. It was a different rumble to a jet though but, as I say, we get so many jets flying overheard that I didn't give it a second thought. However, within minutes, friends were texting whether I had just felt the earthquake so clearly many people felt it across Swansea. If this had happened in London I imagine that the BBC and Sky News would be talking about it endlessly for the next week. But as it happened in West Wales I can see that it is barely registering a mention on the news. The ice cream was lovely. Strawberry with bits of scones from the Co-Op. I am going to eat some more now to help me get over the trauma of surviving the Great Welsh Quake of 2018.
Local lass Louise's mam who lives in Banwen, said:
"First off all, one word; palpitations! I was in the kitchen and all of a sudden it looked like the wall was physically moving.  It didn't feel like I was moving myself but the wall looked like it was moving.  I could see everything shaking; I thought my boiler had gone up! My God Daughter was in her house and her TV has fallen off the shelf.  She happened to be looking outside and a car nearly drove into the field.  She went outside to check what was going on and couldn't work it out. It was only later on Twitter that she found out what was going on.  Absolutely terrified; never felt anything like it!"
People closer to home have also reported the effects of the #DiffQuake:
Our lights flickered but I thought it was from the work on Splott bridge!

and

It made all the lights go mad!!! And I thought that it was my heavy bara brith!!!
If you're on Twitter, you can follow #DiffQuake to see people's comments.
Were you affected?  Message in and let us know!