Inksplott recently caught up with Tom Coleman, Marketing Manager of local business, Infinity Trampoline, who told us all about the bouncing business…
Tom: Hi, I'm Tom Coleman, Marketing Manager for Infinity Trampoline Park Cardiff.
Inksplott: Hi Tom, can you tell us a little bit about the history of the business?
Tom: Infinity Trampoline Park Cardiff was born on August 1st 2015 and has quickly established itself as a leading recreation and leisure sport facility in Cardiff and throughout the wider South Wales region. Initially opening in a smaller park on the St. Catherine's Park industrial estate, we were overwhelmed by the amount of business coming through the door. We turned away just as much business as we were taking. It became apparent straight away that some of our customers in particular families would appreciate the extra space for facilities.
We had to do this fast, opening a bigger park was essential to giving our customers the best trampolining experience possible.  So we worked hard, raised the capital required and moved to a bigger unit in St. Catherine's Park. And we did it! In March 2016 having only opened our first park 7 months earlier, we opened the new park, it doubled in size with over 60 trampolines set out a creative format in addition to a coffee shop, party rooms and mezzanine seating area.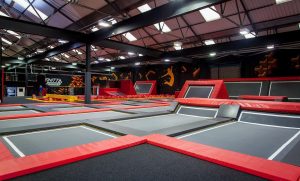 Inksplott: Impressive stuff! What's your history with the business?
Tom: I joined the business in August 2016 as the directors wanted to bring all marketing activity in-house. I've since gone on to manage park programming, run the specialist sessions and coordinate all marketing, PR and communications activity for the Cardiff site whilst assisting our sister park in Inverness with internal marketing advice and support. Having never set foot in a trampoline park prior to my job interview for my position, it was a new challenge to take on the marketing a trampoline park in an industry that is rapidly expanding. I look forward to the opportunities the job will bring me including the rollout of our 2017 strategy and opening of our third park in Newport.
Inksplott: What have you got going on at the moment?
Tom: Infinity Trampoline Parks is a chain of creative trampoline parks located in Cardiff, Wales and Inverness, Scotland. Home to in excess of 100 trampolines across both parks, the business markets itself as a recreational and leisure sport facility primarily targeted at young people and families, although we cater to all ages and have been known to attract families bringing with them up 3 or more generations to visit. This is due to our parks providing mezzanine seating so spectators can watch participants on the trampolines whilst enjoying a brew from our coffee shops. We provide a range of sessions across both sites including Inclusivity, Infinity Active and Open Jump. We are soon to launch Infinity After Dark, imagine a disco on trampolines and the Infinity Academy, master classes for children and teenagers to up-skill in trampolining and we will seek to act as a feeder academy to competitive trampolining clubs in the Cardiff area.
Inksplott: Why is the business in Tremorfa?
Tom: Our directors David and Taran originally sought to open their first park in Edinburgh as they both hale from Scotland, but could not source an industrial unit where the owner thought they could make a profitable business to cover the costs involved in renting such a large space. Over the space of a year, they enquired and visited over 50 industrial units across the country to present their business plan and were not given an opportunity until they contacted the letting agents for St. Catherine's Park. They originally opened in a smaller unit within the industrial estate to prove concept which smashed expectations then moved to the larger unit which you find us located in today.
Inksplott: What would you say is your speciality?
Tom: This would be our Open Jump sessions. An open jump session allows anyone over the age of 6 unlimited access to the entire park for 1 hour. It populates the majority of our park programme and is only ever replaced for another session during quiet periods.
Inksplott: Why should people visit you?
Tom: With the winter months coming up and the rainy season drawing in, people will want to be able to go out the house to spend leisure time with friends and family somewhere indoor and warm, we are the perfect day out for this. As all our customers benefit from an indoor park with heating and a coffee shop to grab a bite to eat or coffee to help you warm up if the heating does not quite cut it. We have free onsite parking and free wifi for spectators. If you decide to bring the little ones aged 1-5 who can't attend an open jump session, we also have a toddler play zone to help keep them entertained. Our park really has something for everyone.
Inksplott: What are your opening hours?
Tom: Mon – Fri 10AM – 9PM, Sat 10AM – 8PM, Sun 10AM – 7PM
Inksplott: What are your price ranges?
Tom: Open jump sessions at priced at £8 per person during the off-peak period (Mon – Thu, Fri until 3PM during term time) and £10 per person during the peak period (Fri from 3PM, all day Saturday and Sunday, bank holidays and all week long during school holidays).
Inksplott: Tell us a secret about Tremorfa.
Tom: A certain trampoline park in Tremorfa does a special deal on Tuesdays at 6:30PM every week, where you can bounce for 90 minutes for the price of 60!
Tom's top tips about trampolining:
Always land on two feet to minimise the chance of injury
Wear loose clothing so you can move freely
300 seconds of trampolining per day helps to increase oxygen circulation within the body and improve fitness
You can find Infinity Trampoline Park here:
First Unit, St. Catherine's Park, Tremorfa, CF24 2RZ
Telephone: 02920 003323
Email: community@infinitycardiff.co.uk
Website: https://infinitycardiff.co.uk/
Facebook: https://www.facebook.com/InfinityTrampolineParkCardiff
Twitter: @InfinityTPark