There are a few new additions to Splott and Adamsdown this week, courtesy of Green City Events and local plant-lovers.  Four community planters have been delivered (thanks Cardiff Council!) and filled with soil and a variety of fruits, herbs, salads and vegetables which, when fully grown, can be harvested by local people and enjoyed by the community.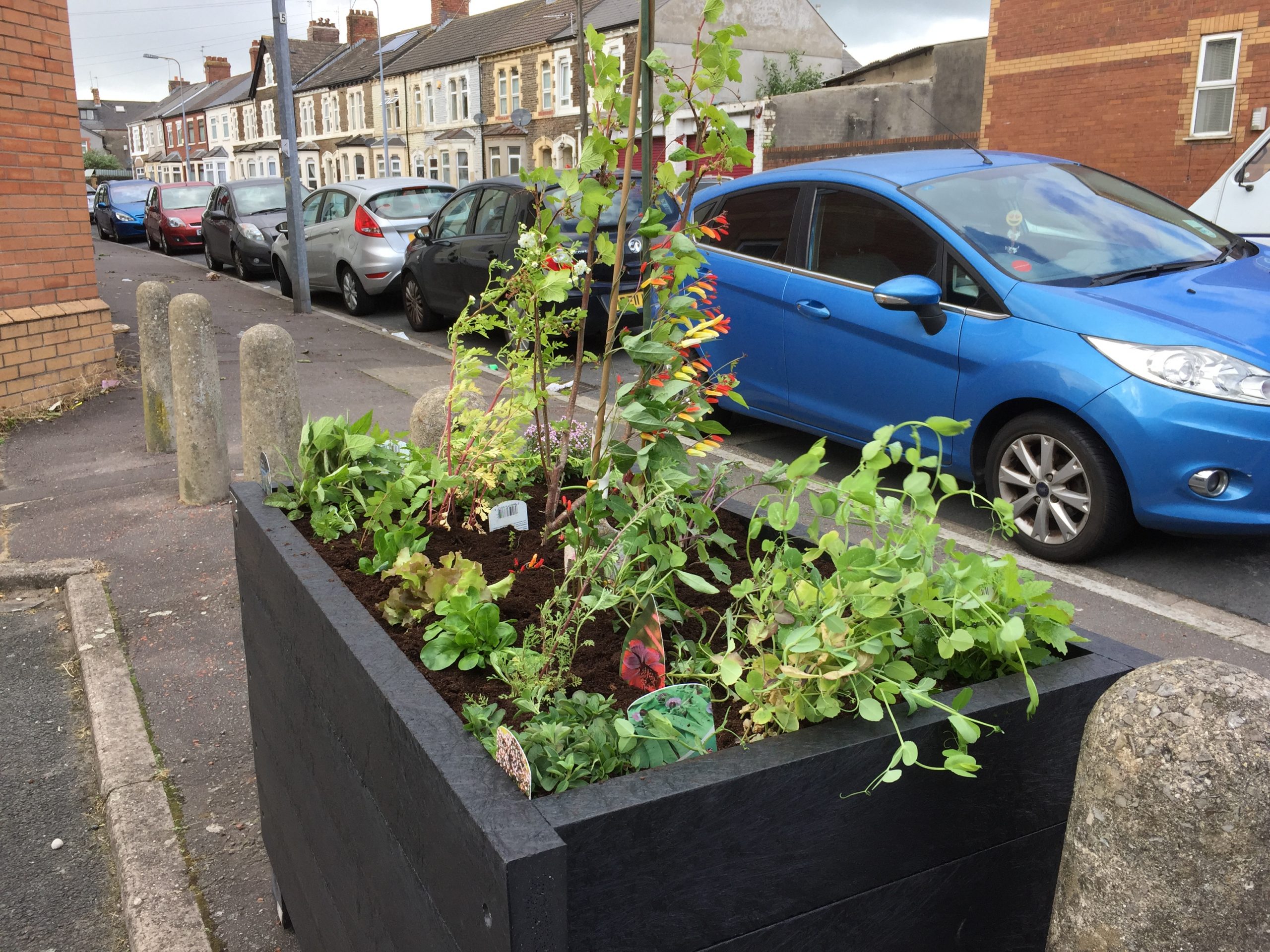 There are four planters in total:
Aberystwyth Street (Splott), Old Library end
Railway Street (Splott), both ends
Topaz Street (Adamsdown)
The idea came about through some organic (he he he) chat between people in Splott and Adamsdown on how the area could be made greener and lusher (in all senses of the word).  A few individuals, along with members of Keep Splott Tidy and Keep Adamsdown Tidy, came together with local environmental project Green City Events to talk about possibilities.  Planters were one of the first suggestions and one that everyone got behind quickly, being easier to manage than a whole allotment plot or garden patch.
The seed was sown (he he he, sorry!) and Green City Events, led by Becca Clark, got to work organising delivery of the planters and coordination of local 'managers'.  It was surprising and quite lovely how quickly people put themselves forward as 'green stewards' to look after the new arrivals.
The planters contain a variety of edibles like:
Herbs: sage, mint, basil
Veg: Pak Choi, Courgettes, kale
Fruit: blueberries, tomatoes
Salad: lettuce (lots of)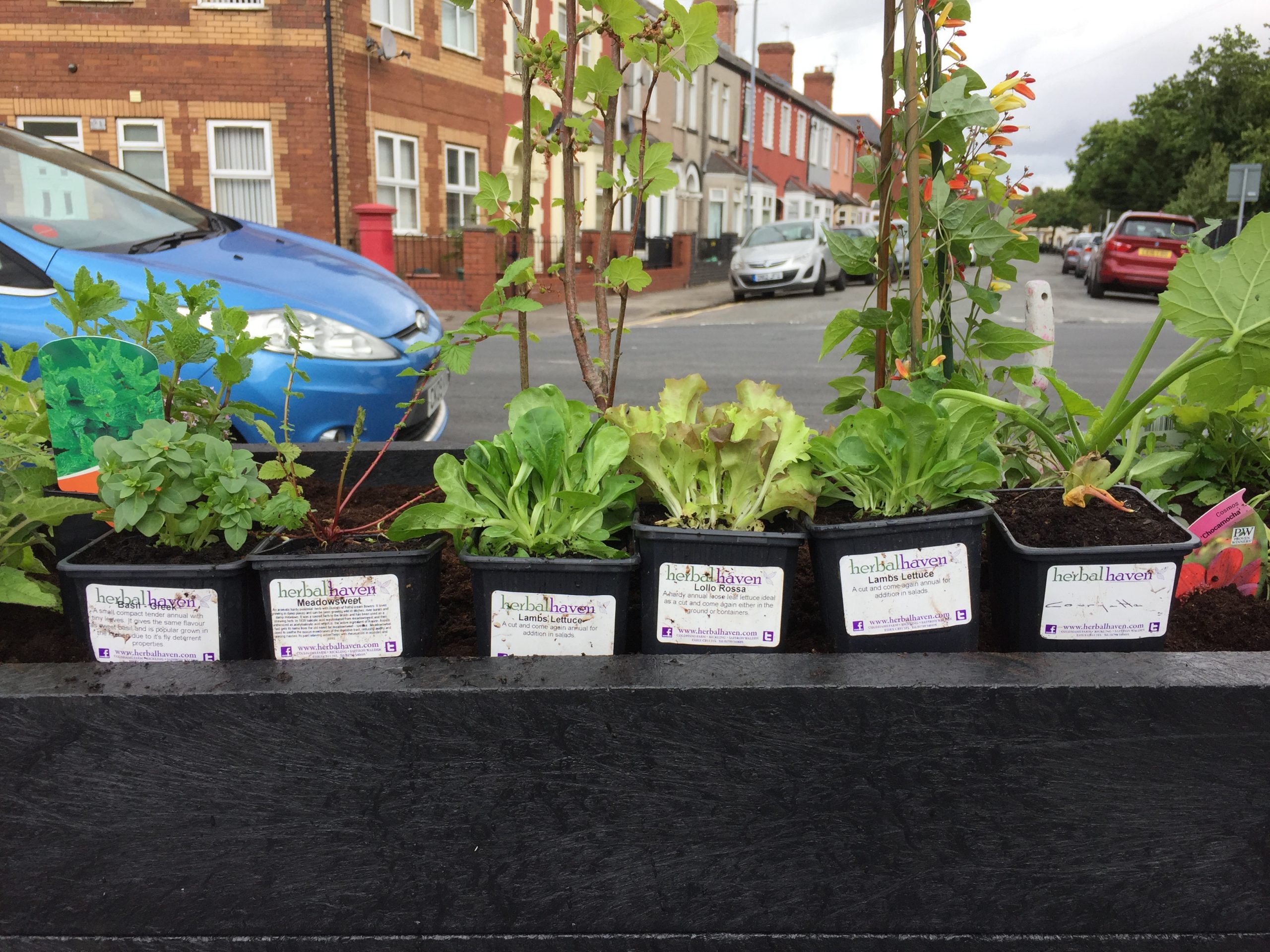 The response has already been fantastic and organisers are hoping that residents local to the planters will help maintain them and look after the wee little plants until they are hardy enough to look after themselves.
There was also a lot of support from the community:
 "Love this so much"

"It looks wonderful.  Hope it will be respected."

"I live right by it – I'm up for watering."
Some of the funnier comments on Twitter include:
"LOVE our local planter – different herbs to the ones we are used to smelling around Nora Street…… #green #mint #parsley"

"I wonder if some 1 will try to grow cannabis in it :-o"
The planters come off the back of a fruit tree planting initiative led by Edible Adamsdown which saw planting in the park on Hinton Street and some guerrilla gardening activities led by…well, it wouldn't be guerrilla if I told now would it!?
This is just the sapling stage (sorry, I'll stop now – promise!) of a wider ambition to make Splott and Adamsdown greener and help people who want to get in touch with their environmental side achieve ambitions of growing and cultivating in an inner-city suburb.  One idea that Keep Splott Tidy hopes to take forward this year is planting shrubs in the concrete triangle opposite the New Fleurs and Alexander Autos off Walker Road.  Initial noises from Cardiff Council are supportive, so hopefully there will be a bit more nature and a little less cement there in the not-too-distant future.
Finally, thanks to all individuals involved in achieving germination (can't stop, sorry!) of a wonderfully simple but effective idea to bring Splott and Adamsdown to life (seriously think I have a pun problem).
If you would like to get involved in future green activities, contact me here on Inkplsott.
For more information on the planters, contact: